Lima Charlie profiles a non-profit that gives free and discount tickets to shows and sporting events to current and former members of the military and their families. Vet Tix, founded by veterans Mike Focareto and Eddie Rausch, just surpassed 500,000 registered users.
| "Give something to those who gave." This is the mission statement of the national nonprofit Vet Tix, founded by veterans Mike Focareto and Eddie Rausch. Last month, their organization surpassed 500,000 registered users.
Vet Tix is a non-profit that gives free and discount tickets, ranging from gun shows to Broadway musicals, to current and former members of the military and their families. "There are about a million tickets every day not used," Chief Marketing Officer, Al Maag, said in an interview with Lima Charlie News. "We want to get those into the hands of veterans."
Al joined the Vet Tix team three years ago after retiring from his job as Chief Marketing Officer of Avnet, Inc., a tech distribution company. "When I first got involved with Vet Tix, I was running marketing for a 27 billion dollar company … I met with the Vet Tix folks, and started giving them tickets. They were the only people who said thank you. They were kind enough to ask me when I retired to join them and help them market their organization." Since he joined, Vet Tix has gone from 250,000 registered users to 500,000. He attributes this to good word of mouth in the military community. "It's a great story."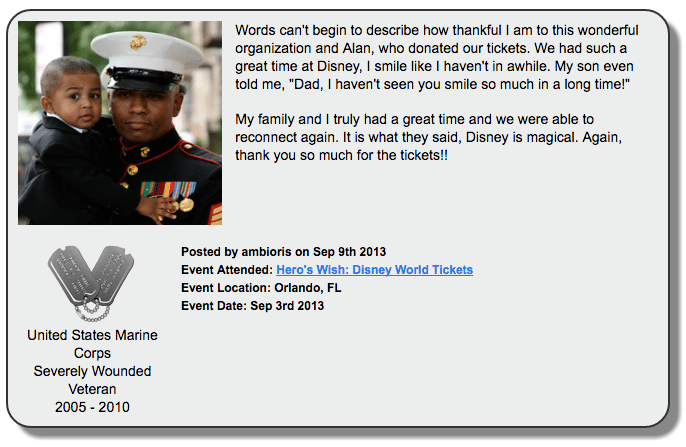 In 2008, Mike Focareto attended Superbowl XLII between the New York Giants and the New England Patriots. He had some friends in the color guard that performed at the half-time show. But when the half-time show ended, he realized they weren't allowed to stay and watch the rest of the game. Right beside was enough empty seats for his friends to have sat down. Nine years later, Vet Tix has become one of the highest praised non-profits in the country, not just for military veterans, but among charities in the United States. "95% of our [donations] go into buying tickets."
Of course, there are some IT costs. When they started, Mike and his team were buying tickets themselves and mailing them out individually. But today, they can distribute over 70,000 tickets in a single month, which they did this past January. Since 2008, they have provided 2,637,994 tickets in all 50 states.
Vet Tix acquires tickets through a combination of partnering with sports teams, entertainment venues, and theme parks, as well as purchasing tickets directly to provide them at cheaper prices. Live Nation is their biggest donor.
"Our delivery charge is under $15 for 4 tickets. We don't tell people where our tickets are at. You could have the worst seats in Yankee stadium, or front row, owner's tickets. You never know where you're going to sit."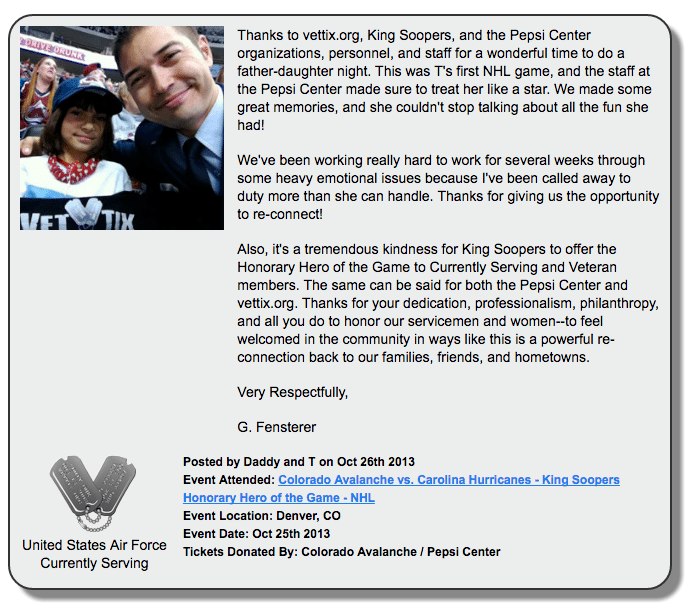 The Vet Tix community has been grateful for the opportunity to see these events and get out of the house. There are over 150,00 testimonials on their webpage thanking Vet Tix for the services they provide. Many of them struggle with post traumatic stress, and fear of going into public places.
"15% of our folks feel uncomfortable going out in public," Al Maag said. "Once people start venturing out of the house, [they're] probably with 25 other people, and they're all vets. They don't mind getting out now."
All tickets are free, just a small delivery fee is required. It is part of their mission to integrate veterans and current servicemembers back into the community, so they have to bring a friend or spouse along with them. The impact of this can be tremendous on a struggling veteran's life.
In addition to the Tickets for Troops program, Vet Tix also runs a smaller operation called "Hero's Wish," which creates once in a lifetime experiences for those servicemembers who have suffered the most. Veterans who have been seriously wounded in combat, or are Active Duty within a six month window of a deployment, or are a gold star family, can make a request of Hero's Wish. So far, Vet Tix has fulfilled 100% of the requests made. Past requests range from meetings with NASCAR drivers, to tickets for Broadway's Hamilton.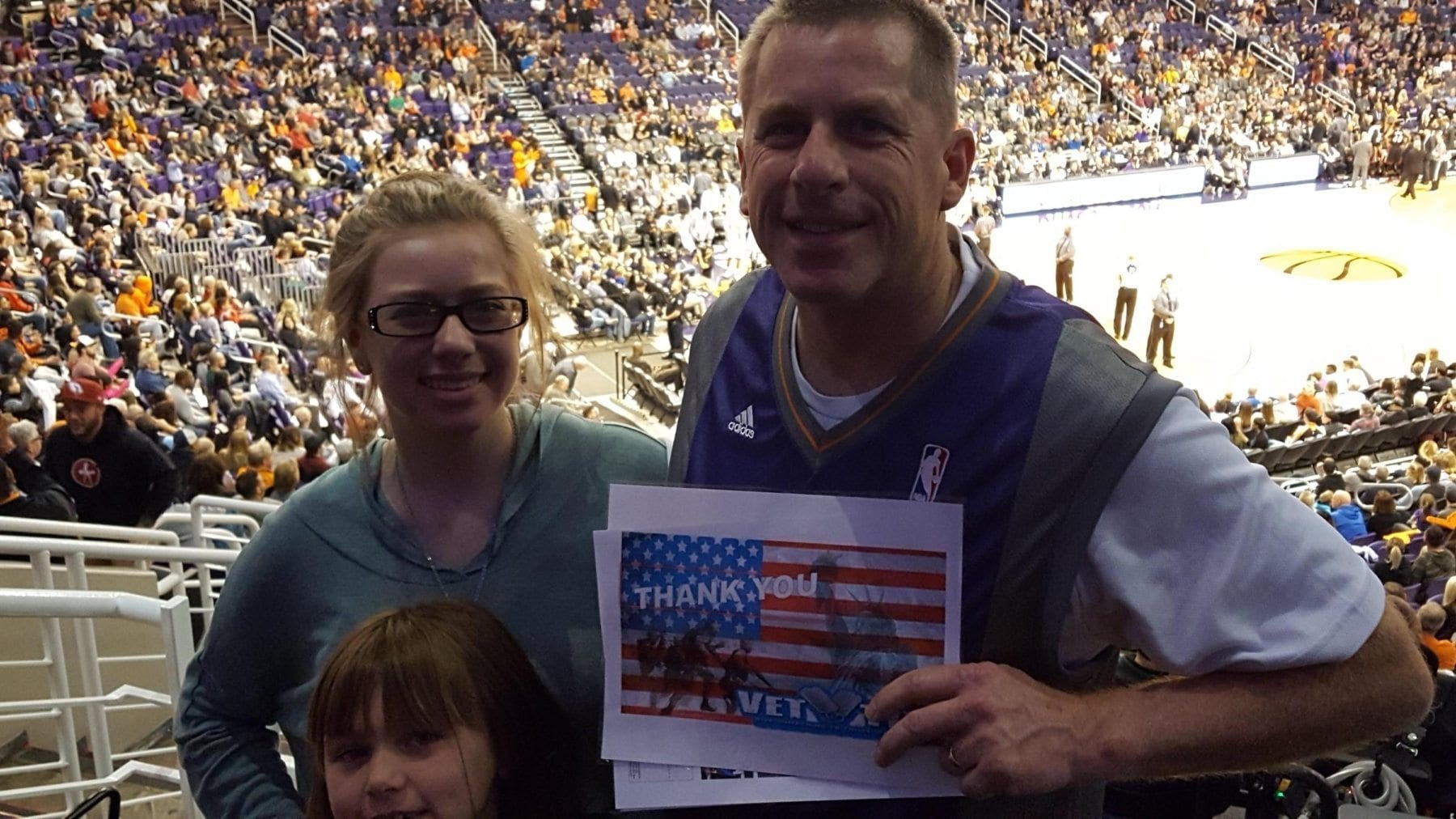 Vet Tix hopes that their ability to provide for veterans and the military will keep improving. "We're just scratching the surface," Al Maag says. "We get tickets from teams, colleges like Notre Dame, Georgia, Georgia Tech. Texas University gives a lot of tickets. Then you've got the pro-teams. I wouldn't say we have them all, we have a good number… but not to the extent they should be. I'm being blunt about that, because we get 80,000 baseball tickets. Some teams have 80,000 tickets on a weekend."
The Vet Tix formula of public service is simple. They are using empty seats to foster a community around military service, reintegrate veterans into civilian life, and provide positive experiences for military members and their families. The team at Vet Tix feel honored to do this.
"A lot of people think about veterans at veterans day in November, but we're taking care of veterans every day," Al Maag said. "Every day is veteran's day for us."
Check out their website to join or donate. If you're a veteran, scroll below for more information about joining.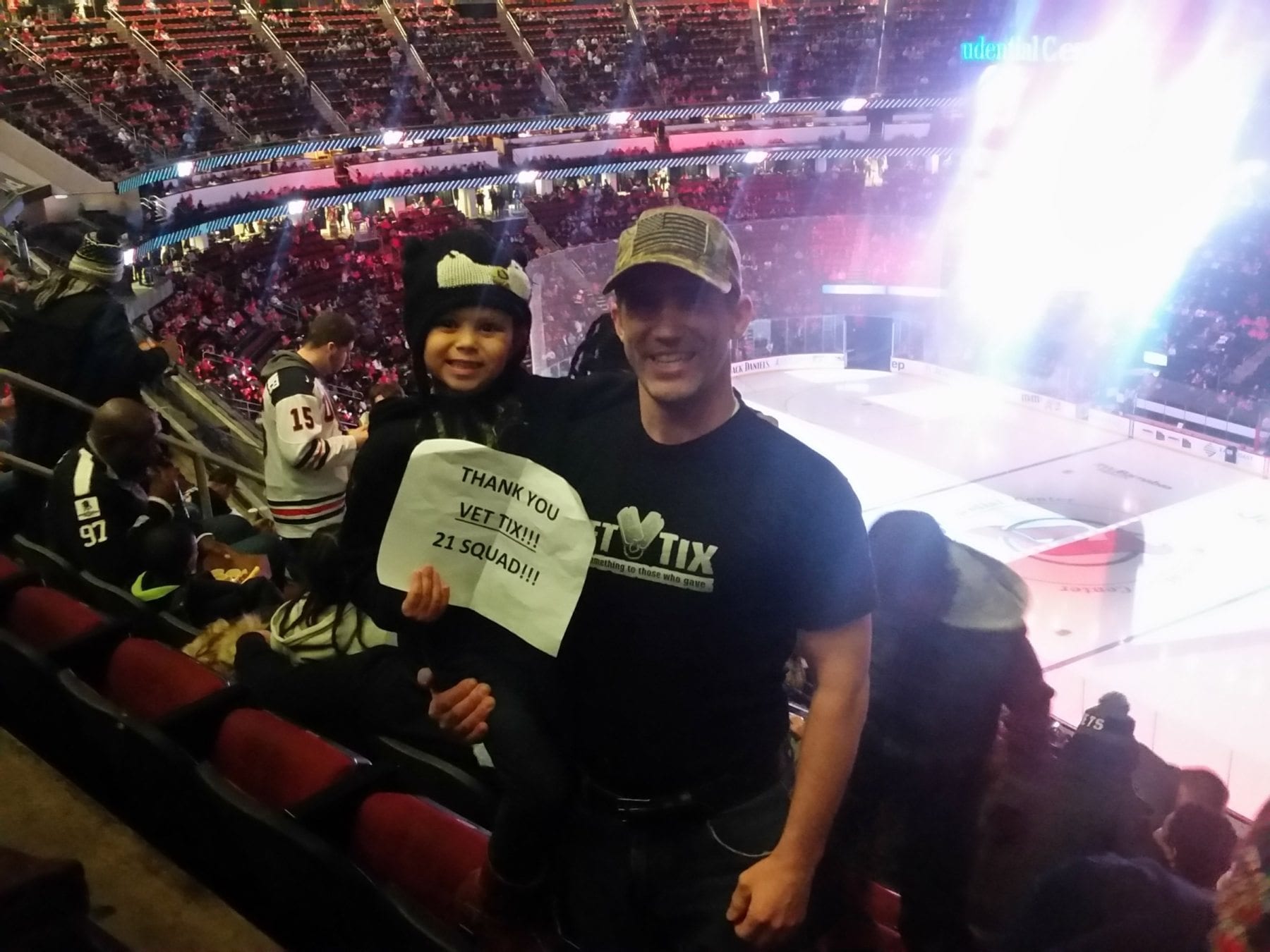 Cool! I'm a veteran/active duty/family of servicemember. How do I get in on that action?
In order to participate and receive tickets, you must first create an account and verify your status. The process is simple. You can either verify instantly with ID.me, or submit your paperwork (DD-214 or otherwise). As a veteran, it took me 5 minutes while writing this article.
That sounds easy. How does it work?
Once you've created an account, you can browse through the tickets made available to Vet Tix. If you qualify, you may submit requests through "Hero's Wish" to attend specific events. If you cannot find the ticket you'd like, Vet Tix also provides links to other outfits, like FNGTickets.com, that might provide what you want at a cheaper price.
Is there a downside?
I'll let you know!
So, I'm not a veteran, but I want to help.
Thank you for your interest! You can also become a member of Vet Tix and donate. You can donate directly to Vet Tix, or to specific requests. Donations to Vet Tix help them fulfill Hero's Wishes. They currently have a goal of $50,000 for 2017. If you would like to help fulfill certain requests, you can visit their Current Hero's Wishes page.
Wait, don't go yet!
If you represent a military base or a non-profit organization, you can also sign up to receive overflow tickets.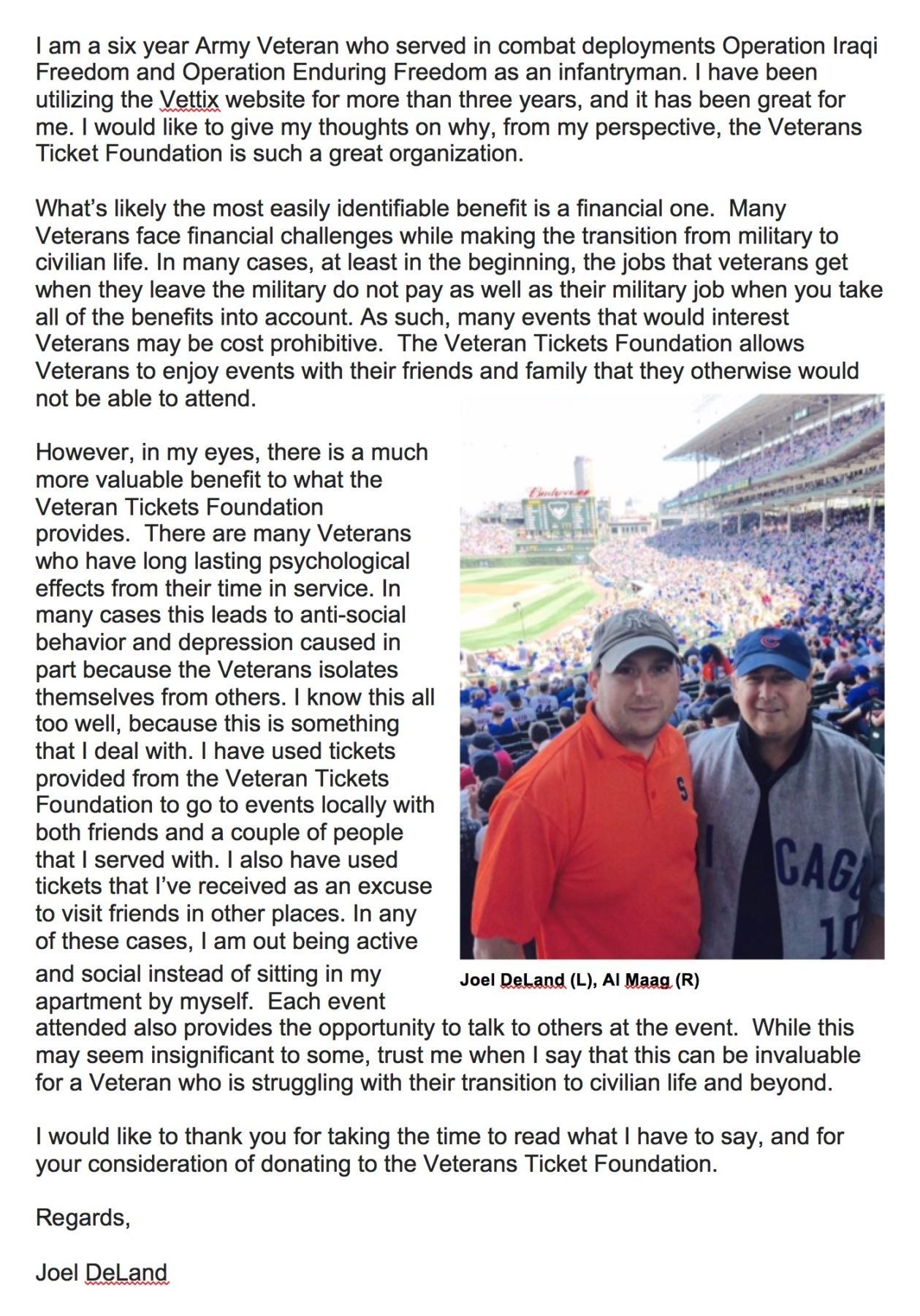 David Polsdorfer, Lima Charlie News
David Polsdorfer served in the United States Navy from 2008 until 2013 as a Cryptologic Technician Collector. He worked in the intelligence community at NIOC Hawaii and completed one tour to Afghanistan in 2011 as an LLVI operator. In 2014 he was selected to be part of The Daily Show's Veteran Immersion Program and continued there as an intern in the fall. In 2015, he worked as a production assistant with Sara Taksler and Sarkasmos Productions, LLC on the documentary film, Tickling Giants. He recently received his Bachelor's from Columbia University in Political Science. He writes and edits. Follow David on Twitter @DPolsdorferLC 
Lima Charlie provides global news, insight & analysis by military veterans and service members Worldwide.
For up-to-date news, please follow us on twitter at @LimaCharlieNews