SEPT 29 – South East Asia News Briefing: Philippine's Duterte Plays Russia-China-U.S.; U.S. Enforces North Korea Sanctions; Eruption in Indonesia; Thailand Torture; A Lizard.
Philippines
Philippine President Rodrigo Duterte said Monday that Philippines-U.S. relations were at "the point of no return" and that he would seek closer economic ties with China and Russia. Duterte told Russian Prime Minister Dmitry Medvedev, "I'm about to cross the Rubicon between me and the United States. At least for the next six years. I would need your help," according to local media outlet GMA News Online.
Duterte's troubling comments over the last few months, coupled with a deadly war on drugs that continues to draw harsh Western criticism, has fueled growing uncertainty among the international investment community. "Global funds sold Philippine stocks for a 23rd straight day amid nervousness about the fallout from Duterte's anti-drug war and his outbursts against the U.S. and the United Nations," Bloomberg reported.
This week Philippine stocks fell 1.18% to close at 7,632.46 points, and the peso was down 0.5 per cent to 48.25 to the U.S. dollar, hitting a seven-year low against the U.S. dollar.
In response to concerns, Duterte has said "I am not really going to break ties [with the U.S.] but we are opening alliances with China". Duterte asserted that he will maintain the military alliance with the U.S. to honor the existing RP-US 1951 Mutual Defense Treaty.
Last week he said he would visit China, and that Russian Prime Minister Dmitry Medvedev was expecting him in Moscow.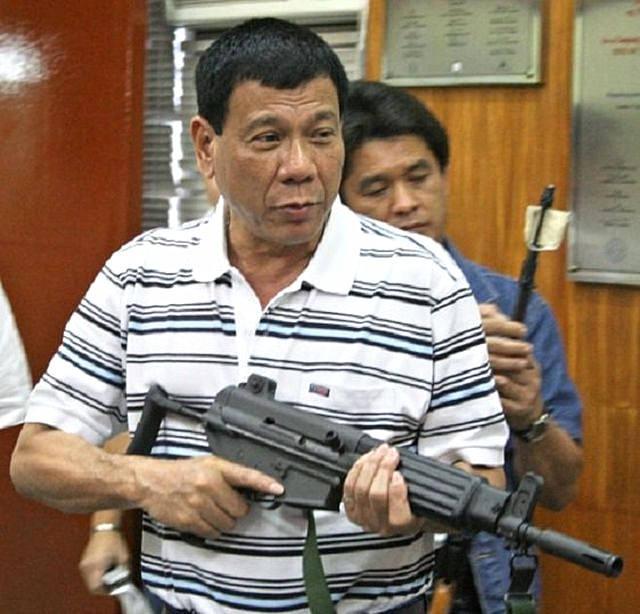 As Duterte seeks closer economic ties with Russia and China, it appears the Philippines does not want the U.S. involved in its row with China over the South China Sea. Foreign Affairs Secretary Perfecto Yasay said on Tuesday, that the involvement of the U.S. in negotiations with China over the South China Sea will further "complicate the issues." "It will have the tendency to bring about other concerns of other countries that will prevent the peaceful settlement of our own," Yasay said, adding "particularly our dispute with China, insofar as our 200-mile exclusive economic zone is concerned, is simply a dispute with China and the Philippines."
Although the U.S. is still the Philippines' largest investor and trading partner, with over $24 billion in goods and services, it appears for the next 5 years that the Philippines under Duterte will chart its own course while alienating its traditional ally.
Despite strained relations between the U.S. and the Philippines, both militaries are scheduled to hold joint exercises early next month, October 4 to 12 (PHIBLEX 33), following up from the "Balikatan 2016" (Filipino meaning "shoulder-to-shoulder") annual exercises that concluded this past April.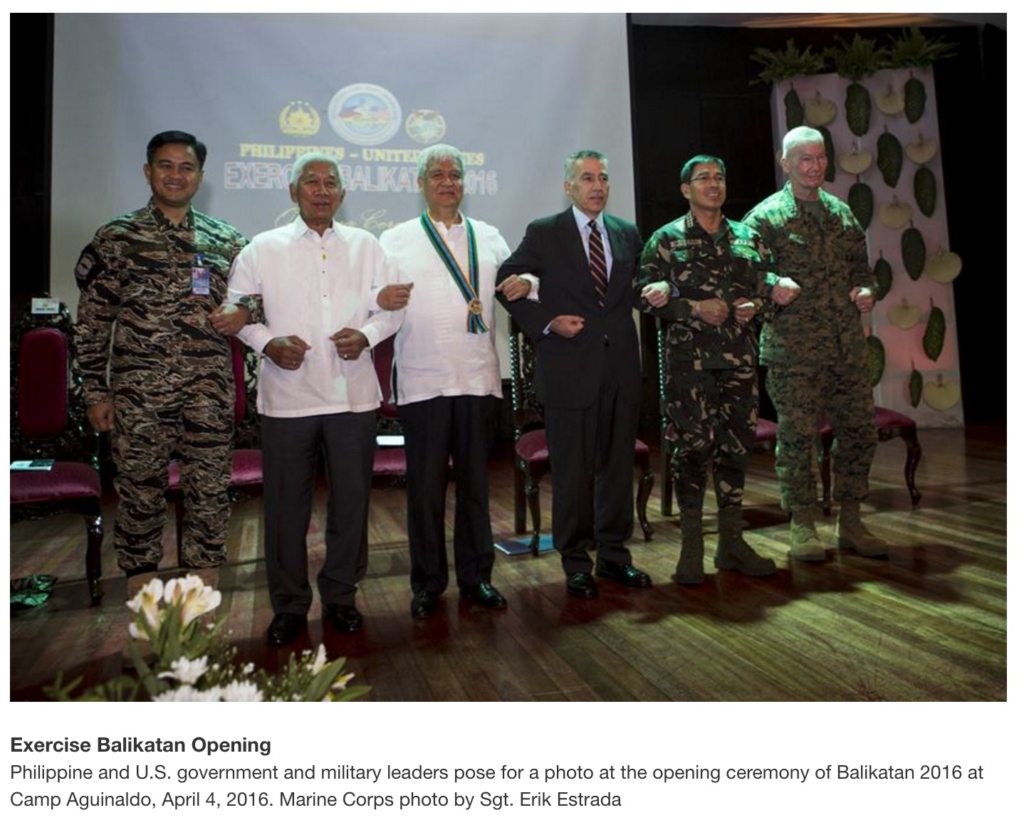 North Korea
Following up to Lima Charlie's report last week, earlier this week the U.S. and South Korean Navies held joint exercises in a show of force in response to North Korea's recent nuclear and ballistic missiles test. The U.S. guided missile destroyer USS Spruance, was joined by submarines and aircraft from the South Korean Navy. The naval exercises were carried out close to North Korea's eastern coast.
Aside from shows of military force, central to the U.S. policy of containing North Korea's nuclear ambitions is sanctions. This Monday, along with an unsealed indictment, the U.S. Department of Justice announced that:
"Four Chinese nationals and a trading company based in Dandong, China, were charged by criminal complaint … with conspiring to evade U.S. economic sanctions and violating the Weapons of Mass Destruction Proliferators Sanctions Regulations (WMDPSR) through front companies by facilitating prohibited U.S. dollar transactions through the United States on behalf of a sanctioned entity in the Democratic People's Republic of Korea (North Korea) and to launder the proceeds of that criminal conduct through U.S. financial institutions."
The criminal proceeding, brought in the U.S. District Court, New Jersey, names Dandong Hongxiang Industrial Development Co., Ltd., a Chinese industrial machinery and equipment wholesaler, accused of aiding North Korea's Korea Kwangson Banking Corp. which is under U.S. and U.N. sanctions for supporting the proliferation of WMDs. The company's founders, Ma Xiaohong, Zhoa Jianshu, Hong Xinhua and Luo Chuanxu have also been charged with conspiring to violate sanctions and international money laundering.
The Justice Department alleged that multiple Chinese nationals conspired to evade U.S. sanctions using the China-based trading company and several of its front companies, by facilitating monetary transactions in U.S. dollars through the U.S. on behalf of at least one, and possibly more, sanctioned entities in the Democratic People's Republic of Korea. They then, allegedly, laundered the proceeds of their criminal conduct, through U.S. financial institutions.
It is believed that millions of dollars have been laundered for bank accounts associated with Dandong Hongxiang and placed into shell companies.
Adam Szubin, the U.S. Treasury Department's acting under secretary for terrorism and financial intelligence, said "Today's action exposes a key illicit network supporting North Korea's weapons proliferation … DHID and its employees sought to evade U.S. and U.N. sanctions, facilitating access to the U.S. financial system by a designated entity."
South Korea has welcomed the move by the USDOJ against the Chinese firm. South Korea's Foreign Ministry said, "By exposing the risks of trade with North Korea, we expect this measure to raise the alarm for individuals and entities in third countries as well as China that are trading with North Korea." China's Foreign Ministry said last week that Dandong Hongxiang was being investigated for illegal behavior and economic crimes following the provisions of U.N. Resolution 2270.
Last week President Barack Obama and Chinese Prime Minister Li Keqiang met to agree upon tighter sanctions after the North's latest nuclear test. Although China agrees with tougher sanctions and continuing their obligations in non-proliferation, it remains unclear as to how far they will go in pressuring the North. China fears that a collapse of the North Korean regime could cause a catastrophic humanitarian problem on its border with North Korea. They also fear that any reunification of the Korean peninsula would result in domination of the U.S. and its allies in the region.
As the DPRK's nuclear program accelerates at an alarming rate and more Chinese firms are implicated, it is beginning to appear that Beijing may have a hand in the DPRK's nuclear program.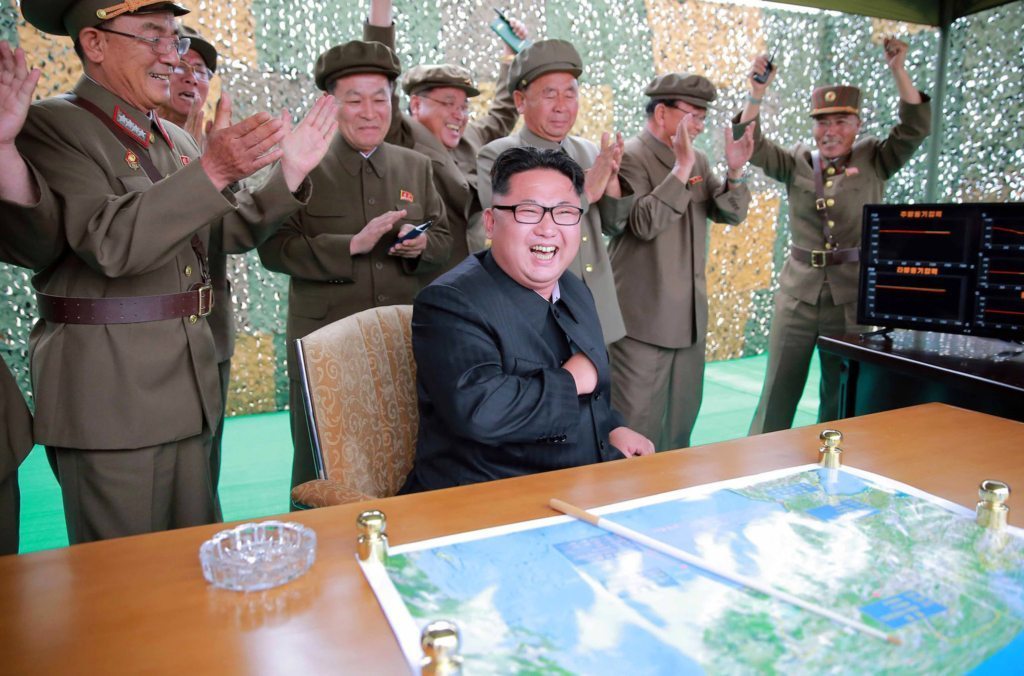 Indonesia
On Tuesday afternoon, Mount Barujani, on the Indonesian Island of Lombok, erupted sending columns of smoke and ash 2 kilometers into the sky.
By Wednesday morning Indonesian authorities dispatched rescue workers to evacuate around 400 tourists who were said to be hiking the very popular destination. The AFP reported that the majority of the hikers who entered the national park since Sunday were foreign nationals. The big concern for rescue teams is trying to locate hikers who my have strayed from the official route to the summit.
Indonesia is home some of the most active volcanoes in the Pacific "Ring of Fire" with roughly 130. The nation of Indonesia is situated between the Eurasian Pacific Plate and the Indo-Australian Plate, which form a subjective zone as one tectonic plate moves under another, forcing the plate down into the mantle. It remains a hot bed of volcanoes and seismic activity due to being situated over a subduction zone.
There have been no reports of injuries from the eruption, but there have been reports of a thin layer of gray ash blanketing the surrounding area.
Thailand
On Wednesday, international human rights group Amnesty International was due to hold a press conference at a hotel in Bangkok, when it was cancelled last minute after officials warned that the speakers could be arrested under local labor laws.
Amnesty was set to release a report that lists 74 alleged cases of torture since the Thai military sized power in a 2014 coup. The rights group has accused the military regime of cultivating a "culture of torture".
The regime has denied accusations of torture, including beatings, waterboarding, and electric shock, that were allegedly carried out by soldiers and police. "Our investigations into such allegations have shown no indication of torture, I have seen no indication of torture and the Thai people have seen no indication of torture," Gen. Sansern Kaewkamnerd, a spokesman for the Prime Minister's office, told Reuters.
However, Rafendi Djamin, Amnesty International's Director for Southeast Asia and the Pacific said, "Empowered by laws of their own making, Thailand's military rulers have allowed a culture of torture to flourish, where there is no accountability for the perpetrators and no justice for the victims."
In #Bangkok, Thailand's authorities prevented Amnesty International from launching torture report. Read more: https://t.co/abIYfkRe9T

— AmnestyInternational (@amnesty) September 28, 2016
It was reported that the conference was cancelled when men wearing jackets with tags identifying them as Ministry of Labour officials, accompanied by police, said the speakers could face arrest. Omar Waraich, media manager for Amnesty International in Asia, told Reuters, "We are here on business visas, we have an office in Thailand, we are not singling out the Thai government." Waraich added that Amnesty had received no communication from the government on the report or the launch.
Article 44 of the Thai interim constitution gives the military the power to suppress anything that is deemed to be a threat to national security. On the 15th of September, days before Prime Minister Prayuth Chan-ocha was supposed to leave for the UN General Assembly, he stated, "Those who evoke human rights and democracy, look at what happened in the past." He added, "Foreigners have to understand what we're going through … Every country has gone through rough times. We're just a little late. Don't tell us that we abuse rights, you also abuse the rights of others. You create problems too."
Prime Minister Prayuth Chan-ocha has repeatedly said he would stick to his word and hold general elections in 2017.
###
Meanwhile …
Officials in the city of Bangkok decided they can no longer let their city be overrun by water monitor lizards.
It is estimated that there are hundreds of these prehistoric predators, living in the city's parks, ponds and canals. Last week the city started rounding reptiles known as "Hia" in Thai, which is a vulgar word meaning an anal orifice. Tawee Somnamee, who works in Bangkok's famous Lumpini Park, explained to the Bangkok Post, "In the past hia used to steal people's food, so that's why people cursed them."
But some people say the creatures are good luck, and if one is found in your room, it is said to bring you great wealth.
The average water monitor can grow up to 4.9–6.6 feet in length and weigh as much as 43lbs. The lizards are not known to harm people, and are more of a curiosity for tourists. They mostly eat birds, rodents, frogs, snakes, dead fish, turtles, and occasionally, rotting trash. The real reason for their removal might have to do with their destructive nature.
Suwanna Jungrungruang of Bangkok's Environmental Department told the Khao Sod, "They don't hurt people, but they destroy nature, all the trees and flowers we have grown. Also the lake's banks have been ruined." The trapped lizards are to be taken to the Khaozon Wildlife Breeding Center in Ratchaburi province.
The big question is, after their removal, what impact it will have on Bangkok's ecosystem, as the lizards tend to keep other creatures that infest Bangkok in check.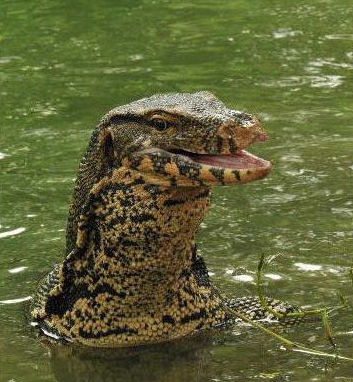 +++END
Lima Charlie's ASEAN Bureau, with Raymond Pagnucco
For up-to-date news about South East Asia, please join us on Twitter at @LimaCharlieNews
Lima Charlie provides global news, insight and analysis by military veterans and service members Worldwide.
#ASEANNews #ASEAN #LimaCharlie #LimaCharlieNews