SEPT 22 – South East Asia News Briefing: Russia-China-U.S. Flex Muscles in the Pacific; Duterte's Philippine Drug War; Kim Jong Un's Korean Nuclear Dreams; Thailand's Freedom of Speech.
South China Sea / Philippine Sea 
This week two major naval exercises came to a close, one centered around the South China Sea, the other the neighboring Philippine Sea. While one exercise has been conducted biennially since 2006, the other is a big first.
From September 11 through September 22, air and surface ships from the U.S. Navy, U.S. Marine Corps and U.S. Air Force, conducted training operations in the Philippine Sea known as "Valiant Shield 2016."
VS16 is one of various naval operations conducted by the U.S. Pacific Fleet, and it runs concurrently with CARAT 2016 (Cooperation Afloat Readiness and Training), an annual, nine-country exercise between the U.S. and Bangladesh, Brunei, Cambodia, Indonesia, Malaysia, Singapore, the Philippines, Thailand, and Timor Leste. CARAT 2016 runs from June 1 through November 30, 2016.
(VIDEO – USS Green Bay launches a RAM (rolling airframe missile) during Valiant Shield 2016)
These exercises may appear the norm, but this year, U.S. Pacific Fleet operations occurred in the midst of three challenges to U.S. naval dominance: China, Russia, and the ongoing disputes over the South China Sea. As reported by Lima Charlie News, the Hague ruling in July, and China's defiance of it, continues to resonate in the region. Compounding the situation, is rising tension between the U.S. and Russia over the failed Syrian ceasefire agreement this week, as reported by Lima Charlie News.
Joint Sea 2016
Beginning on September 13, Russia and China engaged in an eight-day joint exercise in the South China Sea dubbed "Joint Sea-2016". It was the largest joint exercise between the two navies and their first in the contested South China Sea.
A total of 13 warships took part, including two Chinese submarines. China provided ten ships, which included two destroyers, the Zhengzhou "151", and Guangzhou "168", along with 11 aircraft, eight helicopters, and 160 Chinese Marines with amphibious armored vehicles.
Russia's participation included three warships, the Udaloy class destroyers Admiral Tributs "572" and Admiral Vinogradov "554", a Ropucha landing ship, helicopters, armored amphibious tanks and 90 Russian Marines.
The operations were carried out near Zhanjiang, and north of the South China Sea's Hainan Island, the location of China's main regional military base.
Among various exercises, the most notable was a staged amphibious assault to seize a small island, complete with Chinese and Russian marines storming the beach with landing boats and amphibious tanks.
The exercise was considered a success, as tweeted by the Russian Defense Ministry and promotional videos.
Завершение совместного российско-китайского учения #МорскоеВзаимодействие2016https://t.co/G9oLRJbSVy

— Минобороны России (@mod_russia) September 20, 2016
The warming of relations between China and Russia, due in part to the strong ties between Xi Jinping and Vladimir Putin, adds yet another level of concern to those nations in the region that hold great interest in the South China Sea, and the vast trade and territory at stake.
Philippines
Philippines President Rodrigo Duterte would like six more months to continue his war on drugs, a war that has already claimed the lives of over three thousand suspected drug dealers and addicts since it began roughly three months ago.
Duterte, dubbed "The Punisher," claims he needs more time to "put everything in order". "Give me a little extension, maybe of another six months," he said, according to Reuters. Duterte added, "I did not realize how severe and how serious the problem of the drug menace in this republic was until I became president." He also accused some government officials of having ties to the drug business.
While Duterte made his case for more time to continue his war on drugs, allies in the Senate voted to remove Senator Leila de Lima as chairman of the Committee on Justice and Human Rights. De Lima, who is an outspoken critic of Duterte and his war on drugs, put fourth a self-confessed hit man who worked for Duterte when he was mayor of Davao City from 1988 to 2013. Edgar Matobato, who claims to have been part of a six man vigilante death squad, accused Duterte of ordering over 1,000 murders. Matobato said his job was to kill criminals, drug pushers, rapists and snatchers.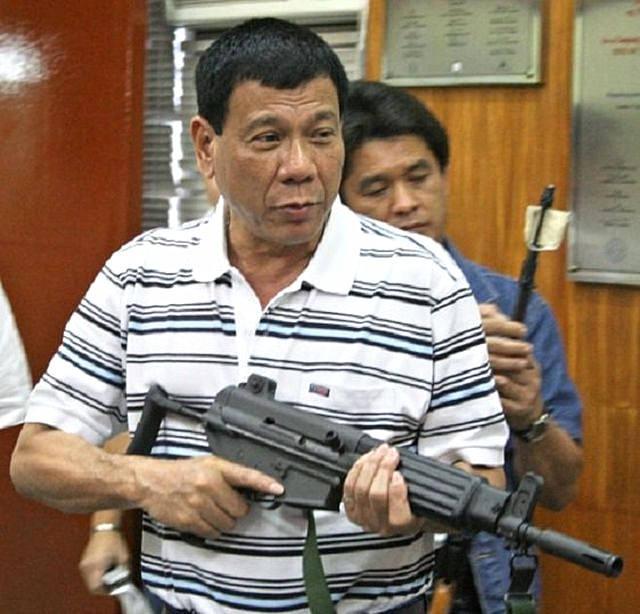 At a senate hearing in Manila on September 15, Matobato described how victims would be mutilated and disposed of in a mass grave at a quarry owned by a police officer. He went on to say that at times they would dump the victims' remains at sea, and in one case, they fed a victim to a crocodile. Matobato also claimed to have witnessed Duterte shoot an agent of the National Bureau of Investigation with an Uzi after an altercation.
Duterte and his allies have offered the defense that Matobato is a "perjured" witness who offers nothing but "lies and fabrications".
Senator Alan Cayetano accused de Lima of "destroying the integrity and reputation of the Senate … in her desire to destroy the President," according to the Straits Times. The House of Representatives is now prepared to hold hearings on allegations de Lima received pay-offs from drug kingpins serving time in the national penitentiary. Senate President Aquilino Pimentel, head of Duterte's political party, told reporters, "The majority in the Senate believed that by reorganizing we will have a more objective chairman."
It appears that Duterte is attempting to consolidate his power by having his allies take control of the Senate. This move will likely help Duterte continue his war on drugs, unabated by critics from within the government and human right's groups.
Despite international condemnation of his tactics, Duterte remains highly popular amongst the Philippine people.
Thailand
On Tuesday, British rights activist Andy Hall was found guilty of criminal defamation by the Bangkok South Criminal Court, and given a three year suspended sentence. The court also ordered him to pay a 150,000 baht fine ($4,325).
Hall's lawyer, Nakhon Chomphuchat, announced that he was found guilty of defamation, and under Thailand's Computer Crimes Act, the court sentenced him to four years in jail, reduced to three.
Hall, an activist for Migrant Worker Rights Network, was found guilty of defaming the Natural Fruit Company over a 2013 report he helped author for Finnwatch, a Finland based watchdog group.
The report, "Cheap Has a High Price," alleged that the Natural Fruit Company, a pineapple wholesaler that supplies to the European Union, had committed various labor abuses at a processing plant, thus leading to the cancellation of contracts by several companies.
The court reduced Hall's sentence by one year "due to his history of doing public good and his record as a rights defender." In its ruling, the court said that Hall did not interview a large enough sample size in his report, and that the investigation by state auditors found no widespread abuses at Natural Fruit Company. It added that Hall did not give the company enough time to respond before submitting the report to Finnwatch.
The Natural Fruit Company is now seeking US$10 million in damages over the report.
Sunai Phasuk, a Thailand researcher for Human Rights Watch told Reuters, "The verdict against Andy Hall sends a chilling effect to the human rights community in Thailand." Finnwatch tweeted that it is a "Very sad day for freedom of speech in Thailand."
@Finnwatch1 @Atomicalandy Next time you send someone to a foreign country check their laws and don't break them !

— CSI Samui (@samui_csi) September 20, 2016
Rights groups are troubled by the verdict because it demonstrates the ruling military government's use of the defamation and cyber crime laws as a tool to restrict freedom of speech in Thailand.
After the verdict, the president of Natural Fruit had a harsh warning for others who might issue similar reports. "No foreigner should think they have power above Thai sovereignty," said company President Wirat Piyapornpaiboon.
Hall has said that he stands by his research and plans to appeal the verdict.
The Thai food industry has been plagued for years by a poor track record of labor abuses, including slave labor, child labor and human trafficking. Efforts by the ruling military government to clean up the industry have led the US State Department to upgrade Thailand from tier 3 to 2, in its trafficking in persons report. Despite the upgrade, the Thai food industry continues to be plagued by allegations of labor exploitation.
North Korea
On Tuesday, North Korea conducted a ground test of a new rocket engine designed to launch satellites into space.
Kim Jong Un, who reportedly supervised the test, hailed it as a success and "expressed great satisfaction." Kim is now calling for preparations to launch the satellite "as soon as possible." He also called for more rocket launches to turn the country into a "possessor of geostationary satellites in a couple of years to come," according to the state-run KCNA.
The new test comes amid global condemnation of North Korea's 5th nuclear test held on September 9th, as reported by Lima Charlie. Many scientists and defense experts believe that this test was not designed to launch a satellite into space, but rather the testing of a missile that could reach the East Coast of the United States.
A geostationary satellite must be propelled to an altitude of 36,000 km, a Unification Ministry official was quoted as saying by South Korea's official Yonhap News Agency. "The distance to the eastern part of the United States is some 12,000 km. The North is thus showing off its ability to hit the US east coast," the official added. Rocket scientist Chae Yeon Seok at South Korea's Aerospace Research Institute said that with the new engine, the North is "coming close to having an inter-continental ballistic missile (ICBM) that could hit the US mainland," reports the Straits Times.
Meanwhile the U.S. Department of Justice is preparing to announce legal action against Chinese firms suspected of providing financial assistance to Pyongyang. Liaoning Hongxiang Industrial, is suspected of conducting more than $500 million in trade with the North in the last four years, according to a report by the Asian Institute for Policy Studies in Seoul, and C4ADS in Washington.
"While no judgment is being made on the final use of these funds, trade at this volume is of particular note. By one estimate, this amount would have been almost enough to both fund North Korea's uranium enrichment facilities, and to design, make and test its nuclear weapons," the report said according to Reuters.
Despite the seriousness of these allegations by the Department of Justice, there is speculation it could be beneficial for US-China relations. Chang Yong-seok, senior researcher at the Institute for Peace and Unification Studies, Seoul National University, said this case was symbolic and could have real practical impact. "This was the U.S. taking China into consideration and working with China. More such cases may follow if the U.S. or South Korea have firm evidence … Chinese companies that have capacity for producing or securing goods for North Korea may be worried now," he told Reuters.
In a continued show of force this week, on September 21, a U.S. Air Force B-1B Lancer strategic bomber flew from Andersen Air Force Base, Guam, landing at Osan AB in the Republic of Korea. U.S. Pacific Command reported that it is the first time the Lancer has landed on the Korean peninsula in 20 years. According to Lt. Gen. Lee Wang-Kuen, ROK Air Force Operational Commander, "The Korean Peninsula Faces a grave security crisis as a result of North Korea's 5th nuclear experiment along with its continued launching of SLBM and ballistic missiles despite the concerns of the International community … Should the enemy provoke us once again, the Combined Air Forces will respond and eliminate their will and capability to fight."
B-1B #Lancer #bombers deploy to Korean Peninsula for first time in 20 years, bolstering ironclad ROK-U.S. alliance. https://t.co/gzCgzLWDpW

— U.S. Pacific Command (@PacificCommand) September 21, 2016
Closest US bomber flight to #NorthKorea in history the 1st of many steps we are taking to deter #DPRK provocations pic.twitter.com/0PFObl3Lu4

— U.S. Pacific Command (@PacificCommand) September 22, 2016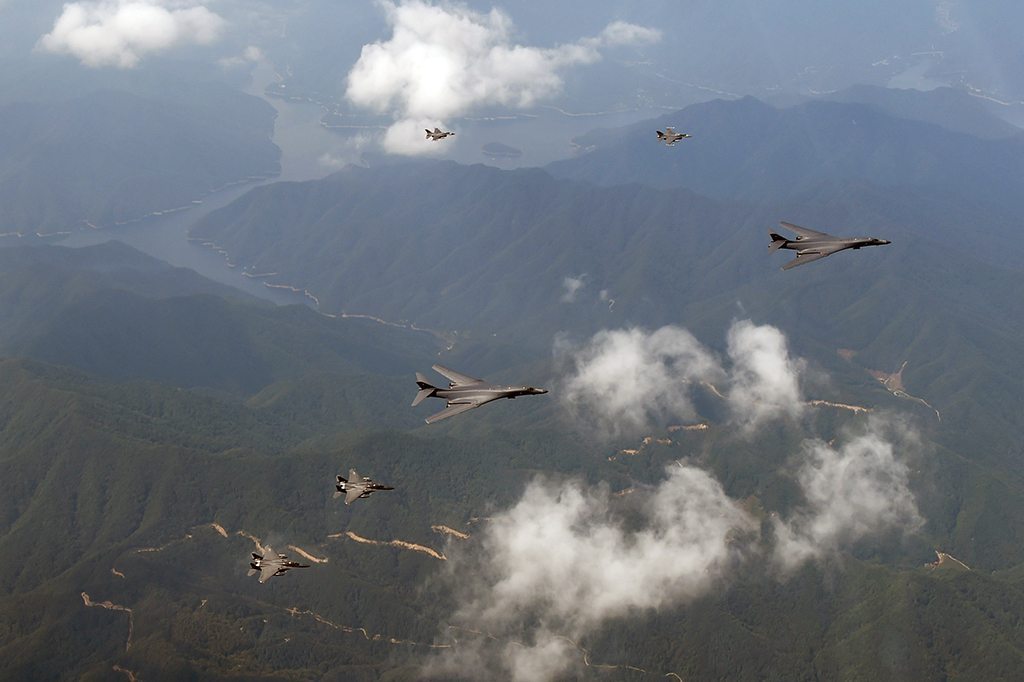 US Pacific Command North Korea flyby Sept 21
+++END
Lima Charlie's ASEAN Bureau, with Raymond Pagnucco and Anthony A. LoPresti
For up-to-date news about South East Asia, please join us on Twitter at @LimaCharlieNews
Lima Charlie provides global news, insight and analysis by military veterans and service members Worldwide.
#ASEANNews #ASEAN #LimaCharlie #LimaCharlieNews