U.S. Ambassador Samantha Power chastised Russia at an emergency meeting before the UN Security Council amid claims the U.S. set out to intentionally undermine the Syria ceasefire agreement, while Syria's military has declared an end to the truce.
|New York, New York – Just two days after U.S. Ambassador Samantha Power gave a heated speech at a UN Security Council emergency meeting called by Russia to address claims that U.S. air strikes had killed Syrian troops battling ISIL, Syria's military declared an end to the week old ceasefire. In a posted statement Syria's Ministry of Defense cited that "armed terrorist groups took advantage of the truce."
It is unsure if the statement by the military means an absolute end to the September 9th agreement, as the 7 day ceasefire was brokered through extensive U.S.-Russian efforts. The truce technically expired at 11:59 p.m. on Sunday, but was supposed to renew every 48 hours as long as certain conditions were met. The U.S. air strike, with ensuing U.S.-Russia banter over the weekend, likely did not help the situation.
Immediately after the air strikes on Saturday, Russia accused the U.S. of deliberately jeopardizing the agreement, claiming the strikes allowed ISIL fighters to overrun a Syrian army position near Deir al-Zor airport. The Syrian military called the air strikes a "serious and blatant aggression" against Syrian forces, stating this was "conclusive evidence" the U.S. supports ISIL militants.
While Power acknowledged there had been a U.S. airstrike in eastern Syria, she chastised Russia's emergency call to the UN as a "stunt replete with moralism and grandstanding – uniquely cynical and hypocritical."
"We are investigating the incident," Power said. "If we determine that we did indeed strike Syrian military personnel, that was not our intention, and we, of course, regret the loss of life."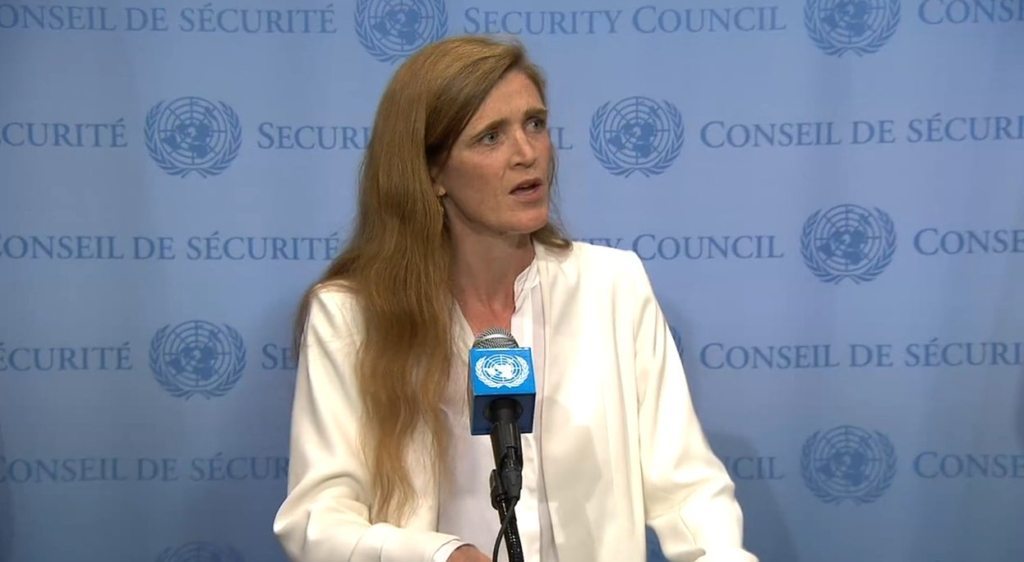 Britain's Ministry of Defense, Danish Armed Forces and Australian military sources have since acknowledged that they participated as well in the coalition strikes.
Power's speech before the Security Council, at times apologetic, at times emotional, and at times expressing deep condemnation for both Russian and Syrian military operations, added to the already escalating tensions between the U.S. and Russia. The emergency meeting came in the midst of the 71st UN General Assembly session (#UNGA), with U.S. Secretary of State John Kerry and Russian Foreign Minister Sergey Lavrov scheduled to attend a UN Security Council High-level meeting on Syria this Wednesday, September 21.
According to a statement released by the Russian Ministry of Defense:
"On September 17, two F-16, two A-10, and an attack UAV of the US Air Force carried out strikes on positions of the government troops located in 6 km to the south from the Deir ez-Zor airfield. The strikes have been stopped by the demand of the Russian party. ISIS insurgents launched [an] offensive simultaneously with the strikes in this area … The American air strike on positions of the Syrian government troops killed 62 people, injured 98 ones, and destroyed 11 pieces of military hardware."
US Central Command said in a statement that the coalition believed it was attacking ISIL positions and that the raids were "halted immediately when coalition officials were informed by Russian officials that it was possible the personnel and vehicles targeted were part of the Syrian military".
Power's UN speech included scathing words directed at Russia and the Assad regime:
"Now, because of a single airstrike – a strike that, if it struck regime forces, did so in error; a strike that we have swiftly acknowledged and committed to investigating – again, none of which the Assad regime or Russia have done in their airstrikes on innocent civilians. Now, of all times, Russia calls the entire UN Security Council to convene urgently so that it can stand up here and express outrage. Imagine how often this Council would be meeting if we were to gather every time the regime or Russia struck a hospital, or a school, or a bread line. Imagine if we gathered every time they blocked vital aid from reaching children who are eating leaves – leaves – so that they do not starve to death, or who block medicine from reaching people who are dying every single day because they are forced to drink foul water and because they have no antibiotics."
The September 9th ceasefire, the result of UN mediated negotiations between U.S. Secretary John Kerry and Russian Foreign Minister Sergey Lavrov, is considered a significant achievement, and includes assurances of humanitarian aid access to conflict areas, as well as the conducting of joint operations and targeting against Jabhat Fateh al-Sham and Islamic State terrorists. Additional negotiating points were apparently raised earlier in the week. TASS reported that Lavrov and Kerry also discussed via telephone "the need for achieving the implementation of the Minsk package of measures for a settlement of the Ukrainian crisis and ensuring security in Northeast Asia," according to the Russian Foreign Ministry.
Syrian rebels have claimed, however, that the deal was skewed in favor of President Bashar al-Assad.
Other than a successful initial 48 hours of peace, the ceasefire has been undermined by repeated accusations of violations on both sides. Humanitarian aid has also been delayed. Russia claimed that 50 violations were recorded over the last 24 hours alone. The Russian Ministry of Defense set up a live camera feed, ostensibly "in order to provide transparency of ceasefire regime implementation in the Syrian Arab Republic by the sides."
The incident and Russia's call for an emergency UN Security Council meeting created a PR battle between Russia and the U.S., complete with a Twitter-style war between the U.S. Embassy-Syria, the Russian Embassy-Syria, and various government agencies.
In a statement posted by the Russian Ministry of Defense:
"If this air strike was caused by the wrong coordinates, it is a direct consequence of the stubborn unwillingness of the Americans to coordinate with Russia in their actions against terrorist groups in Syria."
On Sunday, the US Embassy in Syria tweeted Ambassador Power's speech:
.@AmbassadorPower: Since 2011, the Assad regime has been intentionally striking civilian targets… 1/4 #Syria pic.twitter.com/ode6SLKsX5

— U.S. Embassy Syria (@– — USEmbassySyria) September 18, 2016
Power: There is better way forward but Russia needs to stop the cheap point-scoring & stunts & focus on what matters pic.twitter.com/ptipFKBN16

— U.S. Embassy Syria (@– — USEmbassySyria) September 18, 2016
In her speech, Power assailed the Assad regime for atrocities, while criticizing Russia for inaction:
"Since 2011, the Assad regime has been intentionally striking civilian targets with horrifying, predictable regularity. They have besieged civilian areas, prevented life-saving humanitarian aid from reaching people who are starving to death and dying of illnesses that could be treated with basic medicine – which is ripped out of trucks and pocketed by Syrian regime forces. The Syrian government has patented the practice of double-tap strikes – hitting a civilian target, waiting for heroically brave individuals to run into collapsing buildings – burning buildings – and then striking again so they can hit the rescue personnel. The regime has routinely used chemical weapons against its own people. It has tortured tens of thousands of people in its prisons, which now double as torture chambers. And indeed, in those prisons, it documents systematically what it's doing to the people in its custody: serial numbers, written notes carefully documenting the torture of people with such savagery – meticulous detail.
And yet, in the face of none of these atrocities has Russia expressed outrage, nor has it demanded investigations, nor has it ever called for a Saturday night emergency consultation in the Security Council …"
After her speech, Power walked out when her Russian counterpart, Vitaly Churkin, began to speak.
The Russian Ministry of Foreign Affairs was quick to issue a statement in reply Sunday, that was also tweeted from its Embassy account (translated below):
Действия коалиции в Дейр эз-Зор -на грани преступной халатности и прямого потворствования ИГ https://t.co/7FREGw9WVt pic.twitter.com/mNA8wtWzyx

— МИД России (@MID_RF) September 18, 2016
"Moscow is deeply concerned about what happened. We urge the US partners to conduct a detailed investigation and take measures to avoid such incidents in the future. Unfortunately, in connection with this, is the unconstructive and unclear position of the U.S. at the emergency UN Security Council meeting convened by Russia. US officials were not only unable to give an adequate explanation of what has happened, but they also tried in their custom, to turn everything upside down.
We regard the incident as a natural result of the persistent US refusal to establish close cooperation with Russia in the fight against ISIL, "Dzhabhat en-Nusra" and others affiliated with these terrorist groups, to which Moscow relentlessly urges Washington, and to the Russian-US agreement made in Geneva with Russia on September 9.
The actions of the coalition pilots, if they are, we hope, not ordered by Washington, are on the borderline between criminal negligence and direct support of the terrorists indulging ISIL.
Particularly alarming is that the incident occurred in the background of proliferating documented facts of violations of the cessation of hostilities by illegal armed groups of the Syrian opposition, which, according to the American side, allegedly joined in the ceasefire. Once again, we urge Washington to provide the necessary pressure on illegal armed groups, that they are supporting, to execute RPBD conditions flawlessly. Otherwise, it may compromise implementation of the entire range of Russian-American agreements reached in Geneva on September 9, which would be contrary to the interests of the entire international community."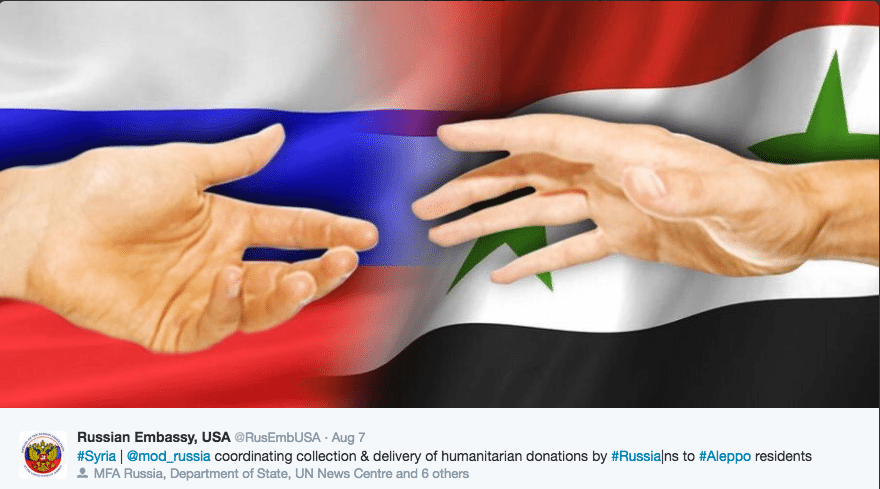 RT reported that Russian Foreign Ministry Spokesperson Maria Zakharova fired back as well on Sunday, posting on Facebook:
"Dear Samantha Power, in order to know the meaning of the word 'embarrassed,' I highly encourage you to travel to Syria and talk to the people there for yourself. And by that I do not mean the Al-Nusra Front militants, nor the moderate opposition, whose humanitarian situation Washington seems to be so worried about. I likewise am not referring to the Western warriors for justice for Syria. I'm referring to the actual people that continue to live there in spite of the bloody experiment that has been waged on their homeland for over six years, with active participation by Washington."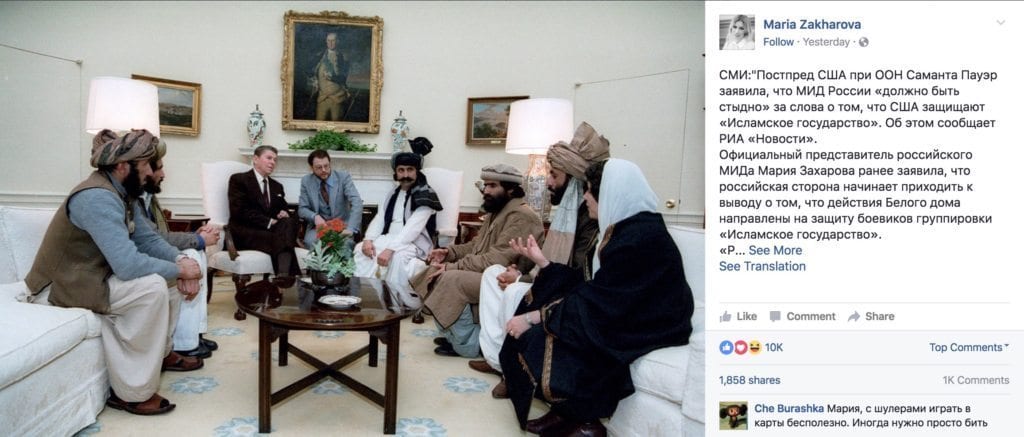 Sunday was reportedly the deadliest day of the ceasefire so far, according to the Syrian Observatory for Human Rights, with 11 civilians killed in areas where the ceasefire was supposed to have taken hold. The Syrian Observatory has claimed that the number of documented deaths in Syria since the start of the conflict has reached more than 301,000. The BBC reported Sunday that four air strikes hit rebel-held parts of Aleppo, according to Syrian Observatory reports, but it was unknown who carried out the strikes.
While the ceasefire agreement is meant to allow for "unimpeded and sustained humanitarian access" to besieged areas in Syria, which includes Aleppo, according to Al Jazeera, the Syrian foreign ministry has said the Syrian government would reject any aid deliveries to Aleppo not coordinated through itself and the UN, particularly from Turkey. Turkey has reportedly made preparations to deliver humanitarian aid to Aleppo, where some 250,000 people in rebel-held areas are under siege.
On Monday, Secretary Kerry stated that Syrian President Bashar al-Assad "evidently is indiscriminately bombing, including of humanitarian convoys."
Whether the ceasefire agreement can survive the events of the weekend and renewed fighting on Monday is unknown.
Amidst the backdrop of U.S.-Russia-Syria tensions, Sunday evening polls closed in Russia's parliamentary election for representatives in the State Duma, resulting in an overwhelming lead for the pro-Kremlin, pro-Putin United Russia party.
Lima Charlie US Bureau, with Anthony A. LoPresti
Lima Charlie provides global news, insight and analysis by military veterans and service members Worldwide.
For up-to-date news please follow us on Twitter at @LimaCharlieNews
#LimaCharlie #LimaCharlieNews