Yemen: Saudi airstrikes kill over 150, wound 534 at funeral ceremony the day after senior pro-Saudi commanders were killed in al Houthi attack.
Battlefield Yemen continues as the ongoing international conflict between Saudi, Iranian, U.S., Russian, ISIS, al Qaeda and local militia forces continues to devastate the country and its civilian population. On Saturday, OCT8, three consecutive airstrikes carried out by the Saudi led coalition killed at least 155 people and wounded another 534 in attendance at a funeral ceremony at the Jalal al-Ruweishan ("The Great Hall"), in the Haddah neighborhood of Sana'a. The airstrikes are believed to have been carried out by Saudi Arabian Air Force jets, and utilized the "double tap" strategy to effect maximum loss of life.

Hakim al-Masmari, the editor of the al Houthi affiliated Yemen Post, stated that the venue was hit by four strikes. The airstrikes appear to have been precision strikes judging from the miniscule damage to surrounding buildings. Some local al Houhi affiliated reports indicate that a secondary air strike utilized incendiary bombs.
The reports indicate that Sheikh Ali al-Rawishan, father of Interior Minister Galal al-Rawishan, an ally of both the al Houthis and their chief ally, former President Ali Abdullah Saleh were in attendance and could be amongst the dead. "Senior intelligence and military officials were present, and Sanaa's mayor Abdul-Qader Hilal was confirmed killed," al-Masmari said.
The attack caused the building to come ablaze, and destroyed the building. Images from the scene show several bodies being severely charred.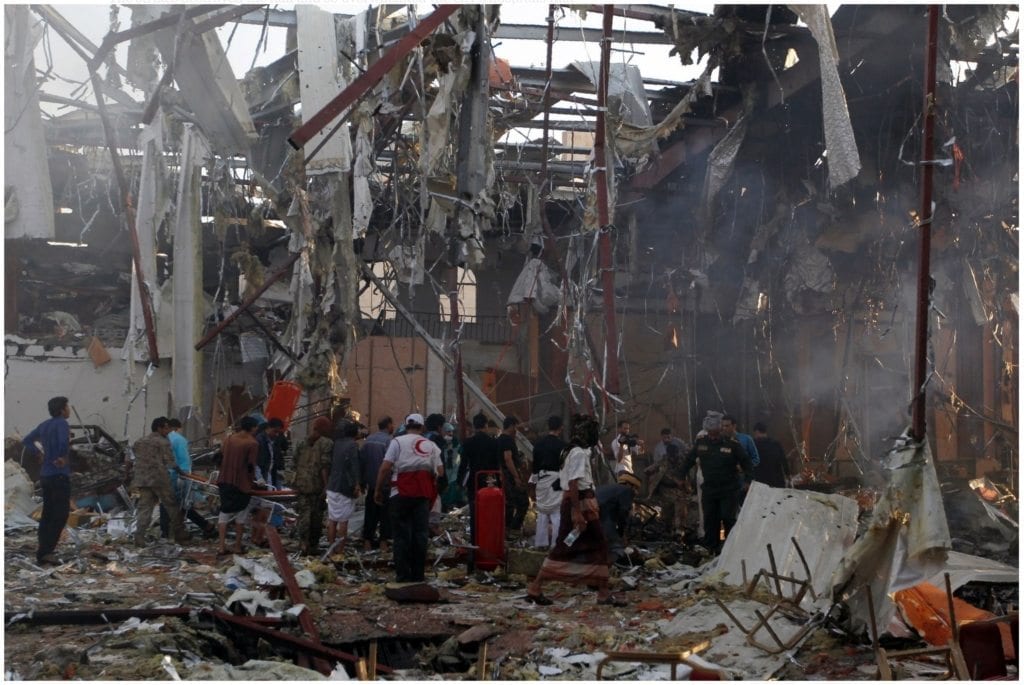 At 1600ZULU+2, the al Houthi affiliated acting health minister in Sana'a had stated at a press conference that the official death toll was "at least 82 people." Since then that number has risen, and may be as high as 200. UN Secretary-General Special Envoy Ismail Ould Cheikh Ahmed stated that it is his hope "an agreement for a 72-hour renewable truce will be announced in the coming days."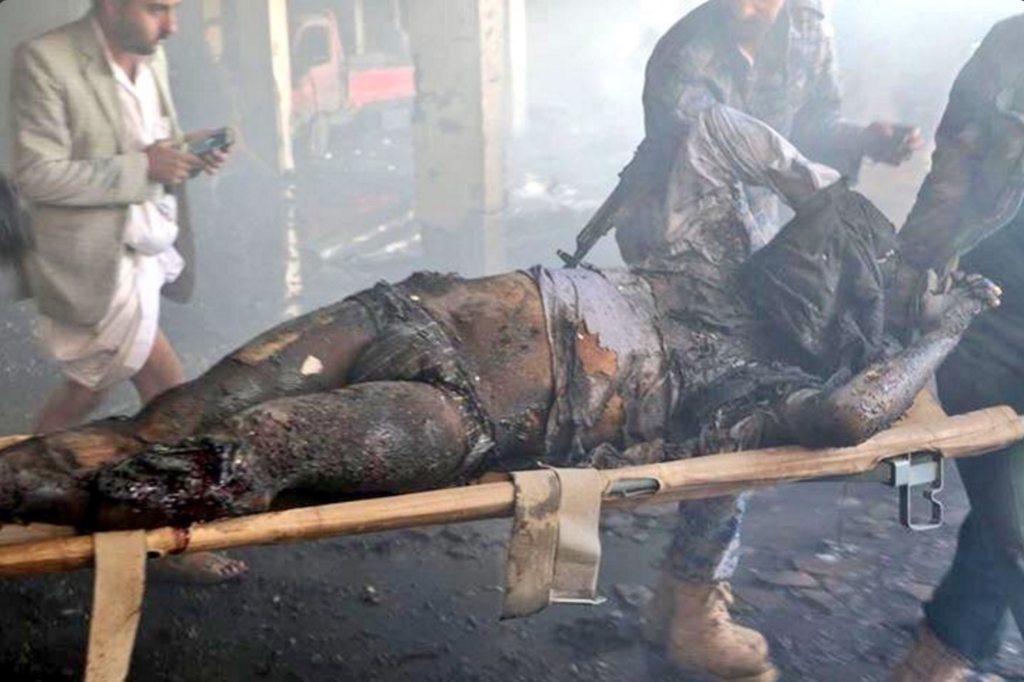 Meanwhile, the Red Cross in Yemen has announced it will be sending "300 body bags and medical supplies" to Sana'a.
As previously reported by Lima Charlie News, Yemen has become an international battleground. In early 2015, Houthi rebels, backed by Iran, drove out the U.S. supported government taking over Sana'a. The situation quickly escalated drawing in Saudi, Iranian, U.S., Russian, ISIS, al Qaeda, and local militia forces. An estimated 10,000 people have been killed in a largely ignored conflict that has left millions in need of critical aid and facing famine.
#Breaking VIDEO: Watch 2nd of 4 Saudi airstrikes that attacked funeral hall in #Yemen capital #Sanaa today killing/injuring 700+ civilians. pic.twitter.com/T5pFxmMmm0

— Yemen Post Newspaper (@YemenPostNews) October 8, 2016
A day before today's strike, on OCT7, Saudi coalition and Hadi loyalist Major General Abdul-Rab al-Shadadi was killed alongside three of his senior tribal militia commanders while at an outpost outside of Marib. The Major General was reportedly directing frontline Hadi loyalist forces during the coalition's offensive at Sana'a. al Houthi affiliated forces reportedly launched a missile against the outpost, killing the 3 tribal militia leaders, and mortally wounding the Major General, who died shortly thereafter. According to local reports, the missile used was a locally produced variation of an Iranian design.
The Major General is the highest ranking military official to have perished on the coalition side since the beginning of the conflict some nineteen months and thousands of lives ago. Late September, the head of al Houthi Special Forces, Major General Hassan Almalsi, was killed while leading a unit of al Houthi fighters trying to infiltrate Yemen's southern province of Najran. Major General Almalsi would have been the highest ranking casualty on the al Houthi side, not including ranking al Houthi family members to date.
On OCT1, the al Houthi movement also carried out a successful rocket attack on a high-speed logistical naval vessel operated by the United Arab Emirates, off the Yemeni coast near the Port of Aden. al Houthi claimed they used C-802/Noor anti-ship missiles during the attack.

The UAE military reported that an "incident" had occurred, there were no casualties, and that the ship was carrying unspecified aid at the time of the attack. Saudi Arabian officials, however, reported that their naval forces had rescued passengers, while U.S. destroyers USS Mason and USS Nitze, along with USS Ponce, an amphibious transport dock, were dispatched to ensure the ship did not sink. Damage to the ship has been deemed "serious," and it was towed to an Eritrean port for evaluation.
Follow Lima Charlie News for the ongoing crisis in Yemen.
John Sjoholm, Lima Charlie News
John Sjoholm is the Lima Charlie's Middle East Bureau Chief, and the founder of the consulting organization Erudite Group. He is a seasoned Middle East connoisseur, with a past in the Swedish Army's Special Forces branch and the Security Contracting industry. He studied religion and languages in Sana'a, Yemen, and Cairo, Egypt. He lived and operated extensively in the Middle East between 2005-2012 as part of regional stabilizing projects, and currently resides in Jordan.
Follow John on Twitter: @JohnSjoholmLC
Lima Charlie provides global news, featuring insight & analysis by military veterans and service members Worldwide.
For up-to-date news from the Middle East, please follow us on twitter at @LimaCharlieNews and @JohnSjoholmLC