GOP and Vocal Protesters Gather For #RNC2016
Cleveland is a proud city with a proud history. Today, the Republican National Convention kicked off in the Buckeye State, the nation's most recent focus of political division and strife. That tension played out at the Cleveland Mall, in front of the Soldiers and Sailors Monument, a three minute walk from the official venue at the Quicken Loans Arena.
The monument stands as a testament to the 10,000 Cuyahoga county residents who fought for the Union in the Civil War. Their names are etched in the marble inside the edifice's Memorial Tablet Room, a tribute to the unity they sought to restore to their nation.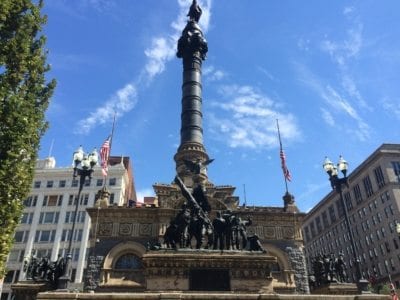 As Republicans flocked to Ohio Monday, to usher in the new face of the party ticket, this monument—and Cleveland Square—served as a backdrop to a palpable dichotomy:
On one hand, presuming that the new insurgency in the Republican Party is unable pull off an upset, the events at the convention will turn into a multimedia coronation of Donald Trump—the official beginning to the GOP's opportunity to coalesce around the nominee.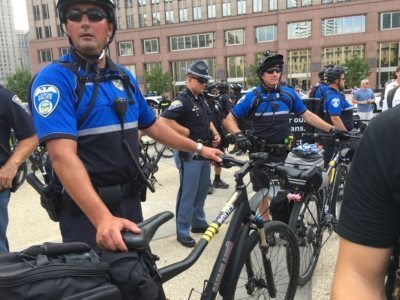 On the other side of the coin, outside during a comfortably warm and mostly dry week, protestors from dozens of different groups vied for attention at the foot of a monument meant to celebrate the city's role in winning the Civil War. Black Lives Matter supporters, members of the Official Public Street Preachers, and anti-Trump activists butted heads in Cleveland Square.
#RNC Protests increase at Cleveland Mall. Crowds growing significantly. pic.twitter.com/IrIdstc2gs

— Joshua Gates (@JoshuaGatesLC) July 18, 2016
The free speech and protest zones are effectively locked in behind ten-foot steel fences. Tension began to rise on Euclid Street, with carnival barkers of various camps yelling under the rotor wash of security helicopters watching from above. Shop owners have posted signs to protesters asking them to please spare their businesses, to enter and discuss events peacefully.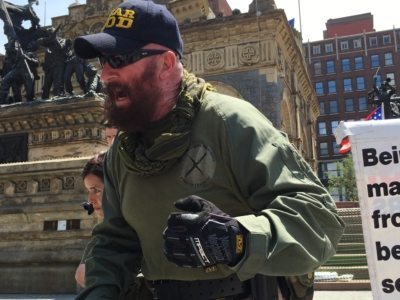 Amidst the shouting, Trump protesters shout louder "we are the revolution!" as they prepared to march on the RNC. At the fringes, heating up the protest, pro-Trump Christians wearing tactical equipment, clashed with anti-Trump, BLM and peace groups. For now with voices and not fists. Police move in to separate. The protest ends peacefully as groups begin to break away and move to another location to avoid conflict. To Settler's Park and onwards.
One wonders at how much the people of Cleveland want violence at the RNC vs. the media clearly wanting violence for ratings. #RNCCleveland

— Joshua Gates (@JoshuaGatesLC) July 18, 2016
One wonders at how much the people of Cleveland want violence at #RNC2016, versus the media clearly wanting violence for ratings. Cleveland watches, with one day of the RNC almost under its belt, waiting.
Joshua Gates, with Cy Derringer, Lima Charlie News
Joshua Gates (U.S. Marines, Combat Veteran) is a Senior Correspondent for Lima Charlie News. A 10 year veteran of the Marine Corps, Joshua conducted special operations and intelligence work in joint environments on four continents, which included time served in Kosovo, Iraq and Afghanistan. He has also worked in humanitarian relief to areas such as Mozambique and Northern Africa. Joshua is a documentary and narrative filmmaker and his fictional work has been published in literary journals and fiction collections. Follow Joshua on Twitter @JoshuaGatesLC
Cy Derringer joined the USMCR in 1990, served as a radio operator and intelligence analyst until 2005, deployed twice in support of OIF in 2003 and 2004, and has worked as a police officer since 2002.
Lima Charlie provides global news, analysis and opinion by military veterans and service members Worldwide.
For up-to-date news please follow us on Twitter at @LimaCharlieNews
#LimaCharlie #LimaCharlieNews
Image credits: Joshua Gates