|By Jacqueline Robotham and John Clubb
Lima Charlie News
On Monday, May 30, 2016, Memorial Day, the non-profit organization The Greatest Generations Foundation took ten WWII veterans back to Normandy, France, to return to the battlefields they fought on, enabling closure of their war experiences. Among those heroes is veteran Darrell Blizzard (B-17 Pilot, 381st Bomb Group). This is his story.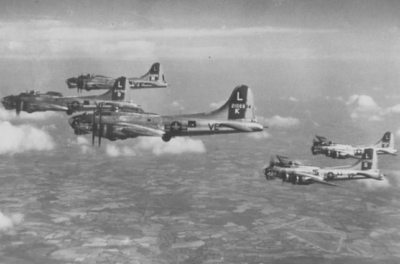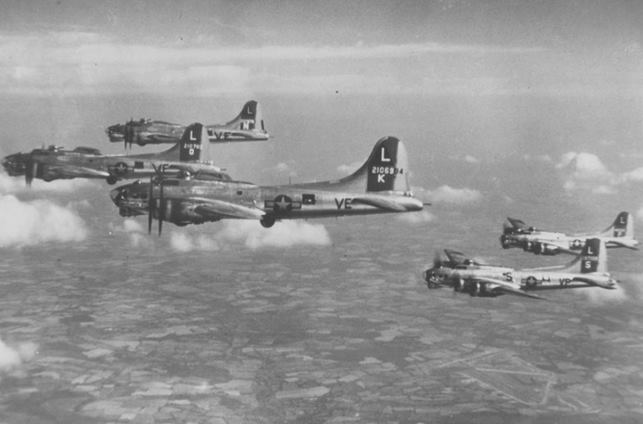 In 1970, I was nine years old and the kind of reader that all nerds can appreciate. The world of books was my escape from the terror of my house. In school they taught that reading was fundamental and I discovered a book about World War II pilots. My heart sang in joy and my soul was free. Hollywood glamorized the war and pilots and in this case they weren't too far off the mark about real life B-17 Bomber Pilots. The truth was never written in text books or taught in History classes. My Christmas wish of that nine-year-old was finally realized in my conversation with Darrell Blizzard, a B17 Bomber Pilot who served in World War II. I learned they came from all across this great country. He was twenty years old and knew his luck was up and his time to serve was imminent. I ran away from home to find my dream. Darrell grew up in an orphanage, served his country then came home to live his dream. Now as we stand, in the midst of the sixty-second anniversary of D-Day, Darrell Blizzard is my real life hero, an American hero from rags to riches.
He is humble, he is thoughtful, he is honest and most of all, he is the truth. Bomber Pilots protected Europe from the darkest plague the world has ever known has ever known until ISIS. Hitler was consumed with hate of himself and his fellow man. Darrell Blizzard has believed and maintained that there is a place for all humanity in this world. Family, God and Country. Simple but not so simple.
In 1927, when Darrell was five, his hero was Charles Lindbergh. The Christmas gift of a leather helmet and goggles cemented his dream. The circle of life and the power of faith can take you from the Allegheny's of Pennsylvania to the beaches of Normandy. But with that faith he needed an olive branch. His olive branch came in the form of his superiors who were officers in the Army Air Corps, who gave him the best advice to change his course in life to become a pilot like his hero, Charles Lindbergh. These officers were his adopted brothers who didn't snub their noses at him or dismiss him. They provided him with the foundation needed to fulfill his dream.
This dream would not come easy or without sacrifices. He had not completed college, he was drafted. He was not an officer, he was enlisted. His faith was not to be shaken. With the power of a mustard seed he dug deep and found his way into two excruciatingly pilot training courses and earned his wings. He stayed the course and accomplished what many said he wouldn't and couldn't. They chose him for a pilot's job in the fledgling Army Air Corps. He listened and made it his. Lindbergh broke the barriers of distance and courage. Darrell's adventures and journey started in the safety of his classrooms of Pennsylvania State University or Penn State. His head and heart was in the clouds he wanted to be his hero and fly.
He turned twenty-one on his voyage to England on the Queen Elizabeth, already the old man of the sea. From his humble beginnings, he acknowledged and recognized the dismissal of the black soldiers in the hold as he played craps with the white soldiers on deck. Finally, on Easter Sunday in 1945, Darrell Blizzard was able to join the fight for freedom over the skies of Europe. He wouldn't be there long, just five missions but those experiences would last a lifetime for him. The terror of being the lone ship limping home after leaving in a wall of airplanes of more than five hundred.
Many times during World War II my Appalachian family ate potatoes as their only meal. Darrell met Prisoners of War who survived on loaves of bread made from sawdust and potatoes barely edible, black and rancid. He shared what he had with them and recognized the disparity of how American POW's were treated as kings and the rest of the world as crap caught on the bottom of one's shoe. In meeting these men, he realized that war, hate and anger would not be what they would write about in the history books. The truth of war would be left on the battlefields. But thankfully, Darrell Blizzard has survived nine plus decades to tell his story and I as a humble student can relay the truth to you and the world.
Not every family member would live to return to Normandy. Like many others, Darrell's brother would be killed in a flight accident in Texas. His loss is just as real today as it was for me at the age of nine in 1969 when I first picked up my book to read about these great pilots of WWII. Like many veterans, Darrell came home a hero. No longer an orphan the world stood in awe to acknowledge his accomplishments and say thank you. Darrell and I both became commercial airline pilots. I didn't see combat and I am grateful he chose to fight for my freedom and the freedom of every American. He faced many daunting mechanical and weather challenges that were easier than the dangers of flak and the Luftwaffe. He brought the same determination to his passengers and his career, like his determination to bring his B-17 crew back from every mission.
In 1945 they had not yet coined the term PTSD. Did he have to deal with the stress of combat upon his return? Yes, he did, he got busy with his goal to earn his degree. He didn't isolate himself. He doesn't have the answers to PTSD, but recognizes the challenges that each veteran faces who returns from war. He has missed his brother for the last forty plus years and continues to miss him at the age of ninety-two. His three main beliefs are God, family and country. Those beliefs have sustained him through the darkest and happiest days of his life. He is humbled that the world would give pause to recognize the heroes he left on the battlefield of Normandy to celebrate them. He is even more humbled to have lived long enough to celebrate his brothers as a true American hero.
The people of Cologne will always have a special place in his heart. He will never forget the land destroyed by bombs and the devastation created by hate. May God bless and keep all who served in the name of freedom and humanity for all. God bless Darrell Blizzard.
John Clubb and Jacqueline Robotham, Lima Charlie News
John Clubb is a senior correspondent for Lima Charlie News. After serving 22 years in the military, John fulfilled his lifetime dream of becoming a commercial airline pilot in 1998. A Louisville, Kentucky native, John served in the Marine Corps after graduating high school, later attending Aviation Officer Candidate School earning his Naval Flight Officer wings in 1985. John served with Airborne Early Warning Squadron 114 (VAW-114) attached to Air Wing 15 and the aircraft carrier USS Carl Vinson (CVN-70), before becoming an NROTC instructor teaching midshipmen Naval History and Navy Weapons Systems. In his off time from flying airplanes, John is an author, business owner, screenwriter, short story teller, playwright, competitive rower and father. Follow John on Twitter @JohnClubbLC
Lima Charlie provides global news, insight & analysis by military veterans and service members Worldwide.
For up-to-date news, please follow us on twitter at @LimaCharlieNews