US President Donald Trump was greeted by King Salman of Saudi Arabia at King Khalid International Airport in Riyadh, on May 20th. Above them, and their extensive entourages, flew several Boeing F-15 Eagle fighter jets, having been sold to the Saudis by the US.
Riyadh is Trump's first stopover during his tour of the Middle East, and his first international junket as President of the United States. An honor guard escorted the two heads of state to the Royal Court, where Trump was presented with the Collar of Abdulaziz Al Saud, Saudi Arabia's highest civilian honor awarded to non-Muslim heads of state.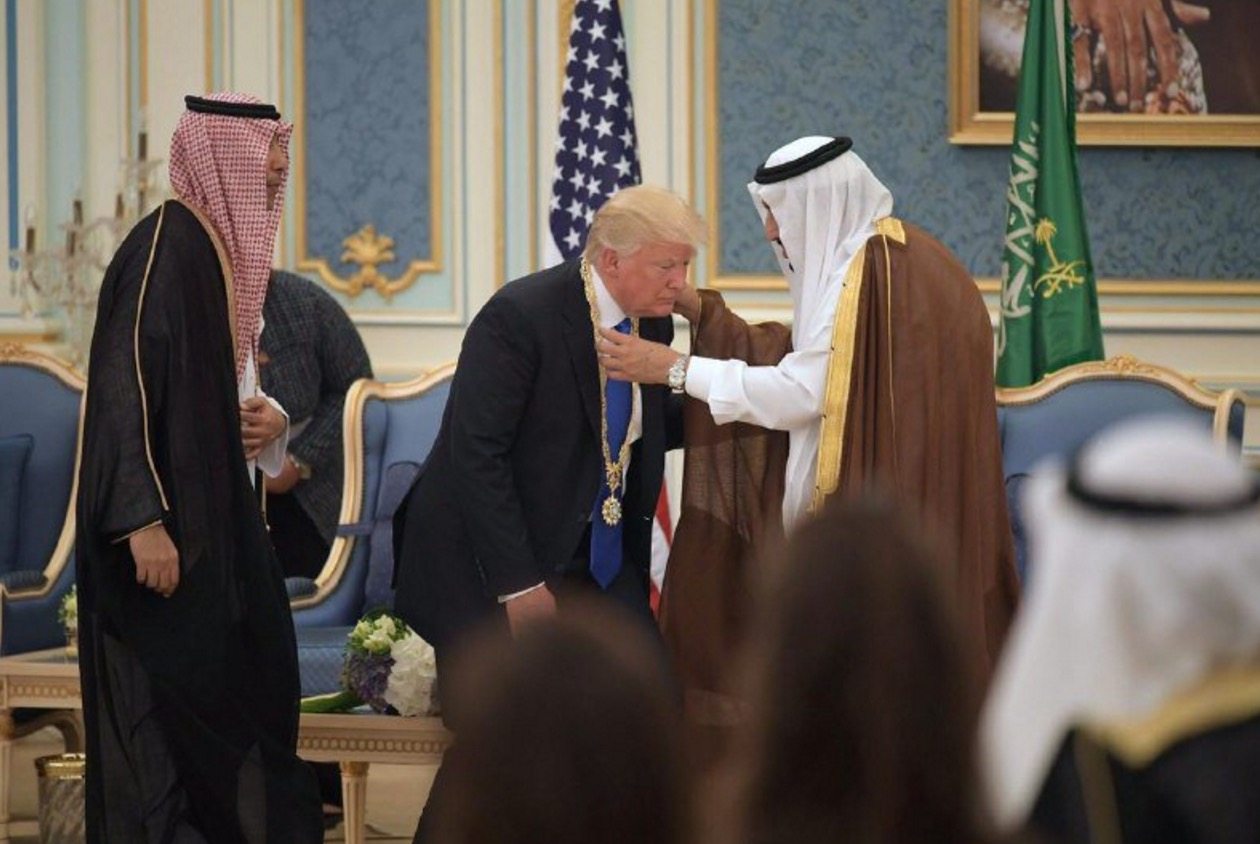 This visit to Saudi Arabia, and the Middle East at large, is not just about introducing Trump to the world stage. A key factor as to why visit Riyadh first, is the signing of a crucial trade agreement worth over $380 billion US Dollars. A mighty $110 billion of that agreement is the sale of arms and military technologies by the US, including the sale of the sophisticated THAAD missile defense system. Arguably a controversial sale by the Trump administration, the previous administration had refused sales of such technologies to Saudi Arabia citing broad humanitarian concerns.
Other items on the defense trade deal are naval ships, tanks, and armored vehicles, along with new explosive devices. It is not at the present clear if the sale includes renewed shipments of American made cluster munitions. US shipments of cluster bombs to Saudi Arabia were halted during the latter part of the Obama administration due to their apparent use against non-military targets in Yemen. The use of cluster munitions is banned under international rules of war, but the weaponry are still being produced, primarily for exports, by Russia, the US, and China.
#قمة_الرياض| #ولي_العهد يبحث مع الرئيس الأمريكي العلاقات الثنائية بين البلدين الصديقين والتعاون في مجال مكافحة #الإرهاب pic.twitter.com/Z1zbYMShCv

— وزارة الخارجية

The deal has been critiqued by humanitarian interest groups, and the Center for Human Rights has requested a congressional inquiry in the legality of the deal. A $1.15 billion arms transfer to Saudi Arabia was blocked last year by such inquiry. The chief architect of the 2016 inquiry, Senator Chris Murphy (D-Conn), stated that "Saudi Arabia is an important friend and partner for the United States, but they are still a deeply imperfect friend. $110 billion in weapons will exacerbate, not ameliorate, those imperfections."

Saudi Arabia has been engaged in a war against the Iranian backed al Houthi militia group in Yemen since 2015. The al Houthis took control over large portions of Yemen from the Saudi Arabian backed government of President Abdrabbuh Mansur Hadi, in 2014.

US Secretary of State, Rex Tillerson, stated in a separate press conference that the arms agreement will help the Kingdom to deal with the "Iranian influence" throughout the region. Adel al-Jubeir, the Saudi foreign minister, stated that the deal will create hundreds of thousands of jobs worldwide.

In addition to the defense aspect of the new trade deal came a further American investment in the Saudi oil and energy industry, much welcomed by the Kingdom as its state owned oil company, Saudi Aramco, is planning its initial public offering in 2017. The Aramco IPO is set to be the biggest such offering to date in the world. Aramco is currently negotiating contracts worth $70 billion US dollars with several US energy firms, including Schlumberger (SLB), Halliburton (HAL), Baker Hughes (BHI), Weatherford (WTF), General Electric (GE), National Oilwell Varco (NOV), Nabors Industries (NBR) and Rowan Companies (RDC). The deal with GE alone is valued at $15 billion dollars.

#قمة_الرياض| الرئيس الأمريكي: عظيم أن تكون في #الرياض pic.twitter.com/doWSrWTyEx

— وزارة الخارجية

The trade deal, and the controversial defense aspect of it, had been negotiated and agreed upon during a May 7th meeting between Saudi Crown Prince and Interior Minister Mohammed bin Nayef and US Secretary of Homeland Security John Kelly and Thomas Bossert, Trump's counterterrorism adviser. The trade agreement also underlined the premier US position as the top arms provider and exporter on the planet. From 2011-2015 the US stood for more than 33% of all worldwide arms exports, and in 2016 it stood for nearly 40%. The $110 billion dollar arms deal with Saudi Arabia will take that number significantly closer to 50%. Between 2011-2015, and despite the Obama administration's refusal to sell advanced anti-missile systems or authorize new cluster munitions shipments, Saudi Arabia was the top recipient of American made arms. The second largest receiver was the small country of the United Arab Emirates.

Drive them out of your places of worship, communities, holy land, and out of this earth. For our part, America is committed to adjust our strategies. We will discard those strategies that did not work, and will apply new ones. We are adopting a principled realism. Our friends will never question our support and our enemies will never doubt our determination.

– Donald Trump, May 21

On May 21 Trump gave a speech in Riyadh, in front of more than 50 Muslim-majority nations, detailing some of the administration's views on the Middle East. The speech was largely considered to have an appeasing and accommodating tone towards Islam, standing in stark contrast to the dogma that the President espoused during his 2016 Presidential campaign.

During the speech the President specified the need for Arab nations to create a "coalition" to fight terrorism, and that the US is not engaged in a war against Islam – but a war "between good and evil." He went on to say that terrorism is not a matter of worshiping religion, but worshipping death. "This is a battle between good and evil," Trump said. "Every time a terrorist murders an innocent person and falsely invokes the name of God, it should be an insult to every person of faith."

President Trump signing defense deal with Saudi Arabia, Riyadh, May 20, 2017

President Trump singled out Iran as a premier source of regional instability. "From Lebanon to Iraq to Yemen, Iran funds, arms, and trains terrorists, militias, and other extremist groups that spread destruction and chaos across the region. For decades, Iran has fueled the fires of sectarian conflict and terror." Trump further on accused Iran of refusing to be a "partner for peace", forcing other, more responsible, nations to work together to stabilize the region.

Shortly after making these remarks, Trump singled out King Salman of Saudi Arabia for the many investments the King has made in the US, and for leading the region towards a peaceful future. Trump concluded his speech by stating, "I ask you to join me, to join together, to work together, and to fight together— because united, we will not fail"

After his visit to Saudi Arabia, Trump will be visiting Jerusalem, Israel, to meet with Israeli Prime Minister Benjamin Netanyahu. After meeting with Prime Minister Netanyahu, Trump is set to meet with Palestinian President Mahmoud Abbas in Bethlehem. The President hopes to revive the long-stagnated peace process between Israel and Palestine.

John Sjoholm, Middle East Bureau Chief, Lima Charlie News

John Sjoholm is Lima Charlie's Middle East Bureau Chief, and founder of the consulting organization Erudite Group. He is a seasoned Middle East connoisseur, with a past in the Swedish Army's Special Forces branch and the Security Contracting industry. He studied religion and languages in Sana'a, Yemen, and Cairo, Egypt. He lived and operated extensively in the Middle East between 2005-2012 as part of regional stabilizing projects, and currently resides in Jordan. Follow John on Twitter @JohnSjoholmLC

Lima Charlie provides global news, insight & analysis by military veterans and service members Worldwide.

For up-to-date news, please follow us on twitter at @LimaCharlieNews

In case you missed it: