ISIS Attacks on Iraq's Energy Infrastructure Continue
| IRAQ (LC): #ISIS storms energy facilities in N. #Iraq on JUL31;
Two separate attacks were carried out by #ISIS today, JUL31. The first attack was against the AB2 gas compressor station outside of NW #Kirkuk at around 0300 ZULU+2 time. Four armed ISIS militants used hand grenades to break through a reinforced security door. Two of the station security guards were critically injured defending the station from the attack.
Once the ISIS militants had gained access to the inner areas of the station they captured the control room, executed 4 station employees, and planted multiple explosive charges.
Four of these explosive charges detonated, causing the station to shut down.
Kirkuk's Security Forces, the Counter Terrorism unit, responded and stormed the building. By the time the unit was able to retake the station the attackers had managed to evade capture. 15 station employees were rescued. The station employees had reportedly been hiding inside the employee dining area, where they had blocked the door and taken cover behind boxes. Militants had shot through the door, but not injured anyone inside the room.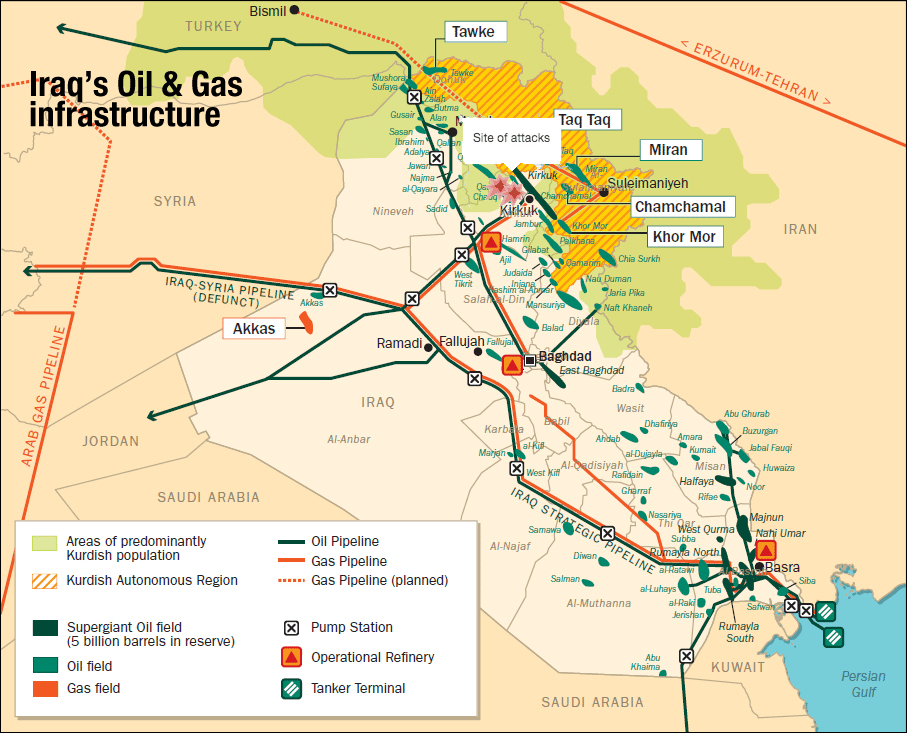 The Militants are believed to have escaped to the Bai Hassan oil station, 25 kilometers away from the AB2 gas compressor station, where they launched a similar attack.
To gain access to the facility, one of the militants detonated his suicide vest – which destroyed an external security gate. Once inside, 2 of the other militants detonated their suicide vests which destroyed an oil storage tank.
The 4th militant was caught in a fire exchange with responding security forces that were arriving to the scene. The fire exchange resulted in one of the facility engineers being killed, and 6 of the responding police officers wounded. This in addition to the 4 ISIS militants' deaths.
This attack rendered both facilities inoperable, and a loss of about 55,000 barrels per day in production for the Kurdish region. An official statement in regards to the repairs of both stations will be made available by the Energy Ministry of the KRG later this week.
At the time of this writing, Kurdish Peshmerga units are searching the nearby villages and holdouts for militants that could be involved in the events.
The ISIS news agency, al Amaq, was quick to publish a statement claiming the attack on Bai Hassan. The statement made no mention of the AB2 station attack.
This makes for the 5th time in under a month that ISIS elements have directly infiltrated and targeted oil and energy producing facilities in the area with explosives, such as the attack on the Khabbaz oilfield SW of Kirkuk.
JOHN SJOHOLM, for LIMA CHARLIE NEWS, MENA DESK.
1602 ZULU+1 JUL31 2016
(REUTERS, AFP, BLOOMBERG, and REGIONAL NEWS OUTLETS CONTRIBUTED WITH INFORMATION TO THIS REPORT)
[Image: Reuters]