The liberation of Raqqa, Syria, the self-proclaimed capital of ISIS, has begun. Operation 'Euphrates Anger' follows the U.S. backed coalition offensive in Mosul.
Raqqa, Syria – A US-backed alliance of Syrian militia groups launched a massive campaign late Saturday to retake the northern city of Raqqa, the de facto capital of the Islamic State in Syria.
On Sunday, U.S. Secretary of Defense, Ash Carter, announced that following the Mosul Offensive, the next step in the coalition campaign to defeat IS has begun. Carter declared that the US allied militia group, Syrian Democratic Force (SDF), had begun its operation to "free Raqqa from ISIL's barbaric grip".
The Raqqa offensive, dubbed Operation Euphrates Anger, began with members of US Army Special Forces operating in a supporting role to SDF. The massive twin offensives on Raqqa and Mosul are intended to bring an end to the self-styled caliphate declared by Islamic State leader, Abu Bakr al-Baghdadi, from the pulpit of a Mosul mosque in 2014.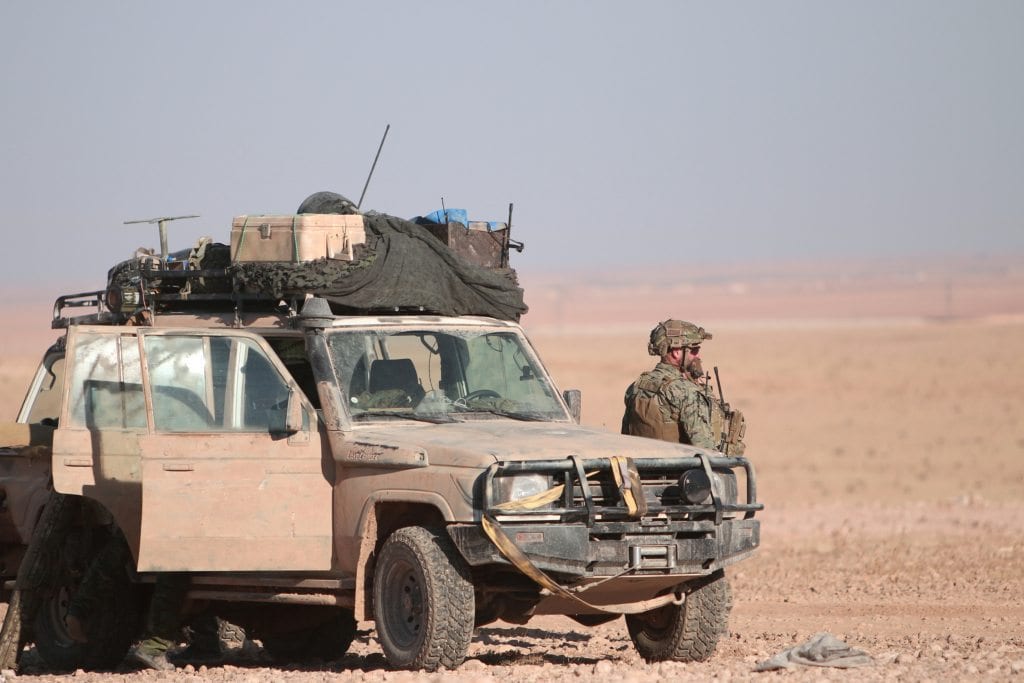 In a statement from Amman, Jordan, Special Presidential Envoy for the Global Coalition to Counter ISIL, Brett McGurk, reported, "The Raqqa campaign will proceed in phases, deliberate phases, there is an isolation phase which began today and subsequent phases to ensure we kick Daesh out of Raqqa."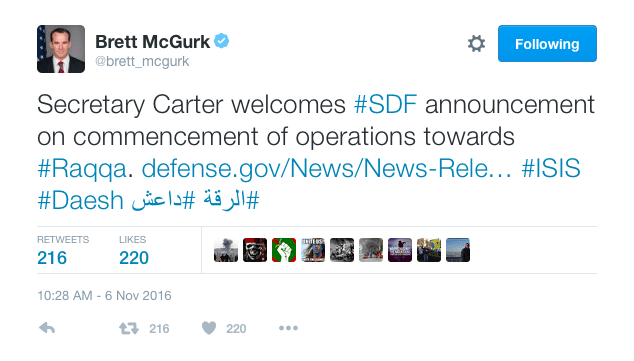 Kurdish #Peshmerga today launch offensive to clear #Bashiqa as Iraqi Army & Special Forces continue push into #Mosul neighborhoods. #الموصل

— Brett McGurk (@brett_mcgurk) November 7, 2016
According to reports, SDF troops were able to secure 5 villages outside of Raqqa during the first day of fighting. The SDF said in a statement that they had established a joint operations center Saturday night, which will coordinate the efforts of the forces involved in the campaign. The members include multiple Arab, Kurdish and Turkmen militia groups, and will be carried out "in coordination with international forces."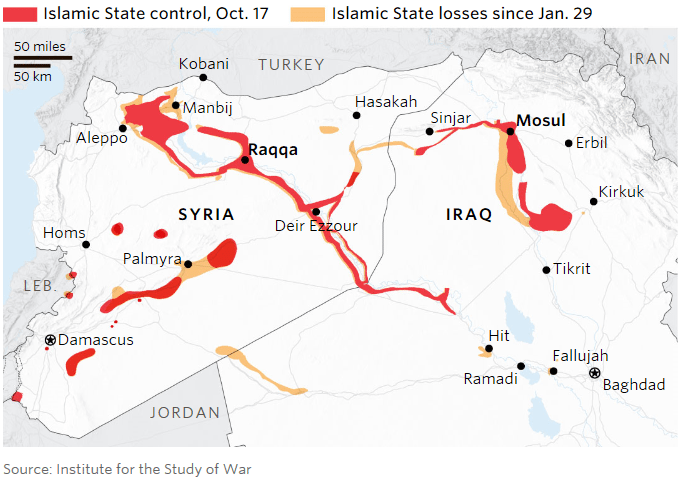 The assault on Raqqa comes as the Mosul offensive has begun to draw down due to weather, and intensifying street fighting by IS fighters. With the new offensive beginning, the coalition now has multiple ongoing fronts in Mosul, Raqqa, and Aleppo.
According to statements by US military officials, SDF forces will begin the campaign by working positions east of Raqqa in an attempt to shut down the "back door" escape routes from Raqqa, and to seriously disrupt IS supply routes between Raqqa and Mosul. As Kurdish forces advance, the intent of coalition forces is to secure villages of any strategic importance. This tactic mimics the successful strategy used during the Mosul offensive. BBC's Mark Lowen, widely considered an expert on the Islamic State, has expressed the belief that the fight for Raqqa will be significantly "tougher and longer than for Mosul."
A report by IHS Conflict Monitor in October 2016, said the jihadists had lost about 16% of the territory they held at the beginning of the year, and that overall they had lost just over a quarter of the territory they controlled in January 2015.
French Defense Minister, Jean-Yves Le Drian said on Sunday that, an offensive on Raqqa should be launched while the battle to push the group out of Mosul is under way. "We have to go to Raqqa; it will automatically be local forces that will liberate Raqqa even if French forces, US forces, and the coalition contribute with air strikes to dismantle Da'esh," Le Drian told Europe 1 radio, using an Arabic acronym for Islamic State. "Mosul-Raqqa can't be disassociated because Islamic State and the territories it occupies span that area," the French Defense Minister said.
We hope that Turkey will not interfere in internal Syrian affairs.
– SDF press conference, NOV6
The SDF alliance, which is dominated by the Kurdish Popular Protection Units (YPG), has emerged as a key ally of the US-led coalition over the past two years, leading the fight against IS in northern Syria. During the Mosul offensive, the Kurdish troop's successes have brought forward objections by observers, and coalition members, concerning the prominence of the YPG's continuing role. This has also raised questions over their suitability to capture the predominantly Arab city of Raqqa.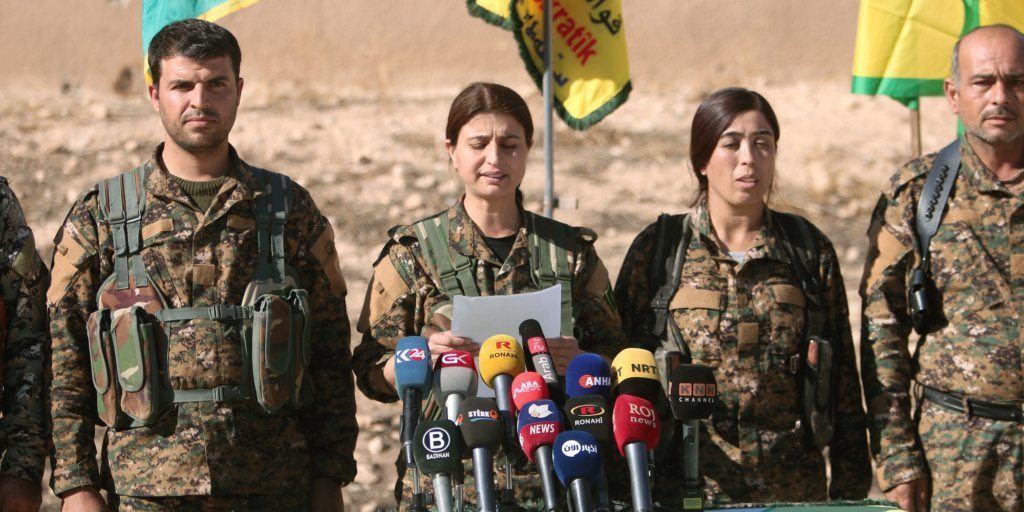 Turkey, which has battled Kurdish separatists for three decades, regards the YPG as a terrorist organization. Turkish officials have said Turkey will not accept a role for the Kurds in the liberation of Raqqa. To counter this concern, the SDF made an effort during a press conference to point out that Arab groups will be taking part in the operation, and will play a significant role.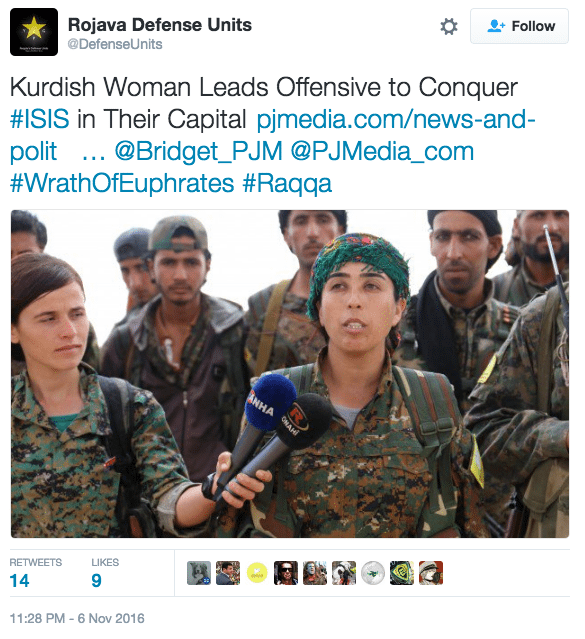 According to estimates by IHS Jane's 360 and other analysts, up to 25,000 YPG fighters make up the 30,000-member fighting force of the SDF.
Joseph Dunford, Chairman of the US Joint Chiefs of Staff, and General Hulusi Akar, Turkey's highest ranking general, met in Ankara on NOV6 to discuss matters behind closed doors.
For Lima Charlie News' ongoing coverage of the Raqqa Offensive, follow us here and on Twitter at @LimaCharlieNews and @JohnSjoholmLC.
By John Sjoholm, Middle East Bureau Chief, Lima Charlie News
John Sjoholm is Lima Charlie's Middle East Bureau Chief, and the founder of the consulting organization Erudite Group. He is a seasoned Middle East connoisseur, with a past in the Swedish Army's Special Forces branch and the Security Contracting industry. He studied religion and languages in Sana'a, Yemen, and Cairo, Egypt. He lived and operated extensively in the Middle East between 2005-2012 as part of regional stabilizing projects, and currently resides in Jordan.
Follow John on Twitter: @JohnSjoholmLC
Lima Charlie provides global news, featuring insight & analysis by military veterans and intelligence professionals Worldwide.