Listening to a Drake album for the first time while playing with your kids in your suburban enclave is the second most un-Drake setting possible. A Tibetan monastery came in first, a convent was third. That being said, I remember saving Thank Me Later for a Tuesday drive into downtown New Orleans, and holding Take Care through a week of training for a weekend bouncing between the Purple Tree and the Mad River in Charleston. As life changes, the amount of time you can spend consuming art in the artist's preferred setting becomes less realistic; it's hard to make time for Cle when I have to get Three, my youngest son, to daycare before heading to work. Evaluating More Life outside of a champagne room is easier because Drake seems more self-aware, but asking whether he owes us a hip-hop artist's commentary on life or a pop business juggernaut's commitment to excellence emerges as the work's central narrative.
Make no mistake, this is a very enjoyable showing from the crown prince of perfectly curated luxury. The three constants in Drake's music are here in spades: sparsely provided rapping with uncanny technical proficiency, lush beats provided mostly by Noah "40" Shebib, and a side-eye-inducing vacillation between preening confidence and pouty vulnerability. All three of these constants provide the familiarity that has sometimes eluded more experimental rap-sung wordsmiths like Mos Def and Andre 3000, and that consistency at this point is a blessing.
The album starts on a high note with "Free Smoke," the type of rap song that makes people who enjoy hip-hop wordplay wish that Aubrey would stop all this singing and just spit. It's a worthy successor to the legacy of first-song Drake opening with an especially potent salvo, fitting nicely beside Tuscan Leather and Legend. It's especially welcome after the brief detour into the pile of yak vomit that was Keep The Family Close. Drake continues to deliver on his promise, "…of all the things that I hear they be poking fun at/Never the flow tho…they know I run that" with standout rap verses both by guests (Sacrifices) and by himself (Can't Have Everything, my personal favorite).
Views was about his unhappiness with male betrayal, female companionship, industry fuckery, and expectations. It was rap as a sophomore-year philosophy thesis, brooded over for a semester and written with equal parts sugar-free angst and vodka-spiked self-importance. There's a selfishness to Views musically and tonally, where listeners could have any of twenty tracks, but they all had to be some shade of blue. Controlla, Feel No Ways, and With You worked in that color, but some of the reds and greens from If You're Reading This It's Too Late (Legend and Star 67 respectively, would have done wonders). The public's limp reception of an album Drake had been alluding to for years felt like a turning point, but the uncertainty was whether it would be the start of a personal evolution or slow decline.
The answer provided by More Life is both
Drake evolved, presenting more nuance in the topics and lyrics, but maintaining the personality flaws that have started to wear holes in the jeans. The wearying complaints about the women who moved on from his particular brand of $2000-sweater bullshit are less prevalent, but they're still here. So are his wild jumps between supreme teenage running back confidence and freshman dorm insecurities, that he passes off as introspection. It's more forgivable on More Life because the songs are executed better, the same way a Kobe fall-away looked like a brave shot when he made it. But execution masks an uncomfortable change in reality. Pre-45, people were getting a little tired of a good-looking, suddenly buff, rich, successful workaholic complaining about his trust issues and which women gave up on him in mediocre songs. Post-45, it remains to be seen how much more tolerance there is of this allusive half-misogyny, regardless of how catchy Blem is. I might just say I'm for real indeed. I'd love to see him move on from this on a personal level, but perhaps that is the last vestige of Drake the rapper that he seems so ready to shed.
That desire to move beyond being viewed as a rapper presents itself in a particularly jarring way: outside of a throwaway line by 2 Chainz on Sacrifices, there are no mentions at all to the, um, cultural goings-on of the last three years. Now I am a hip-hop moldy fig trapped in a millennials' sense of self-importance, so I prefer my rhymes with at least a side of acknowledgement of Chuck-D's "black CNN." I could be totally wrong, and there are plenty of trap, ringtone rap, and mumble rap artists to tell me that I need to pop a molly and start flexing. But in between Views and More Life in my iTunes library lie Blank Face, Blonde, We got it from Here, Black America Again, Awaken, My Love!, 4 Your Eyez Only, and Lemonade.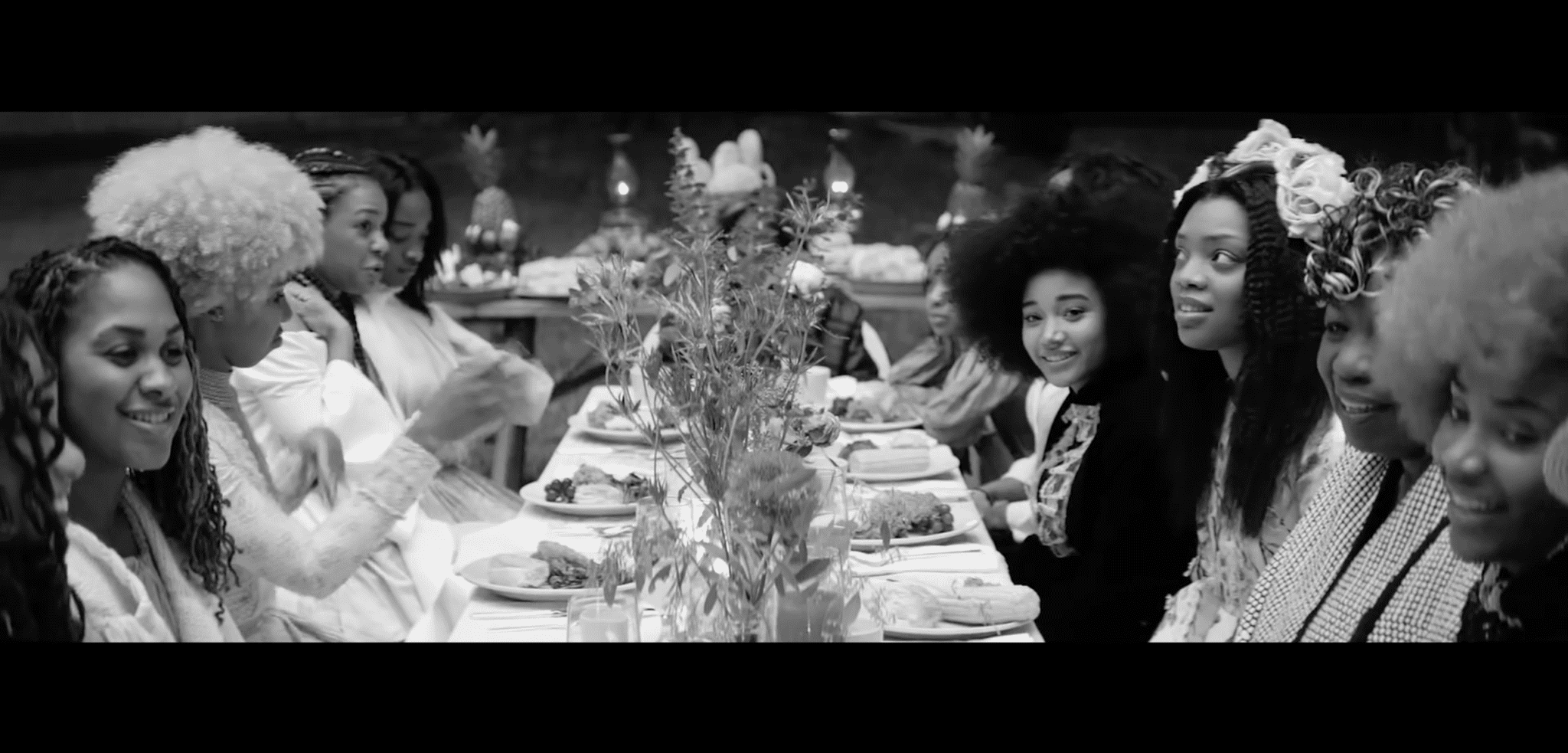 That's eight major releases from prominent, Grammy-nominated/winning artists who took the time to say:
"Lets put the guns down and raise our kids…All lives matter, both sides." -ScHoolboy Q
"The reverends/Preaching self-made millionaire status when we could only eat at Shoney's on occasion." – Frank Ocean
"I'm chillin, felon down to the DNA, crime villain/Sublimate their youth, hypersexualize their women." – A Tribe Called Quest
"Endangered in our own habitat/them gun and dope, man, y'all can have it back." – Common
"Now these broken souls are all I see/Fists have fallen to our side/We may cry alone, I feel we know where all of this is headed." – Donald Glover
"I'm in awe, after all the fame I felt I evolve/I no longer bury demons, I be a vessel for the truth until I'm barely breathing" – J. Cole
"They say true love's greatest weapon to win the war caused by pain/But every diamond has its imperfections, but my love's too pure to watch it chip away." – Beyoncé
In order, that's unity amidst the ghetto, poverty beside dreams, stereotypes being rejected, violence in neighborhoods, dejection after trying, and forgiveness after infidelity. These are the inequalities, insecurities, and inconsistencies that have split America over the past year. That Drake managed to address none of them lyrically while turning his musical attentions further out to embrace the entire diaspora of black music leaves listeners with a binary choice. Either he can't see these problems through the armada of champagne glasses that filter his life, or he chose not to address them to avoid muddling his pop aspirations with anything too political. Whether it's the first or second reason, invites additional questions that a pop icon may not want to answer: no one asks Taylor Swift what she thinks of girls going missing in DC. But as Drake has made more of an issue about being perceived as only a rapper and his rap peers have leaned into social engagement in their music, I don't have to tell you what two and two equal. Kendrick might, thought. April 14th can't come soon enough.
One of the last lines on More Life may be the most illustrative of his social engagement paradox. Near the end of Do Not Disturb, Drake perfectly encapsulates the angst behind the comments section of every Facebook comment:
"Always trying to let go of anything that will burden me, that's the reason you can feel the tension and the urgency…I am a reflection of all your insecurities."
Seven albums and four mixtapes into one of the most commercially successful hip-hop careers to date, Drake remains someone critical to the music business, meme industrial complex, and cultural landscape. Despite being a fully weaponized cornball, Drake has changed the face of what cool looks like and helped reshape what masculinity – especially black masculinity – means. But his choice to pursue the disco of the 1970's over the rock and R&B of the 1960's may make his glass case of emotion increasingly a target. Maybe, like MJ, he knows that everyone buys albums. But choosing Donna Summer over Marvin Gaye may have a greater effect on his impressive longevity than he anticipates.
Michael Gardner, Culture Correspondent, Lima Charlie News
Michael Gardner is a former officer in the US Coast Guard, serving seven years in a variety of anti and counter-terrorism capacities and deploying to support National Special Security Events including the 2011 H8 Summit and 2011 Republican National Convention. Michael graduated with a BS in Government from the US Coast Guard Academy, and is currently a medical sales professional based out of Hoover, AL, having worked with the public health departments of both Alabama and Florida on large-scale health events. An avid tabletop gamer and moviegoer, he also has the misfortune of being a lifelong San Diego (Los Angeles) Chargers fan.
Follow Michael on Twitter | @MGardnerLC 
Lima Charlie provides global news, insight & analysis by military veterans and service members Worldwide.
For up-to-date news, please follow us on twitter at @LimaCharlieNews
Wine glass photo at the top of the page, is from the artist LoveGoodThings on Etsy.