The WC-135 Constant Phoenix, America's nuclear "sniffer" aircraft is deploying to Kadena Air Base in Okinawa, Japan.
Nikkei Asian Review reports that the U.S. and Japanese military are preparing for possible nuclear weapons testing by the North Korean government. The Constant Phoenix has specially equipped sensors that collect atmospheric samples and can detect nuclear weapon detonations.
The U.S. also recently sent the aircraft carrier USS Carl Vinson along with its accompanying strike group to the area to conduct naval exercises with the South Korean Navy. The group was also sent as a show of force directed at the North Korean military.
North Korean state media warned on Tuesday of a nuclear attack on the US in light of US Navy operations. North Korea's state run Rodong Sinmun newspaper stated, "Our revolutionary strong army is keenly watching every move by enemy elements with our nuclear sight focused on the U.S. invasionary bases not only in South Korea and the Pacific operation theater but also in the U.S. mainland."
The Carl Vinson Strike Group started its move on Saturday, leaving its deployment to Singapore for patrols of the South China Sea. It includes an aircraft carrier and several destroyers.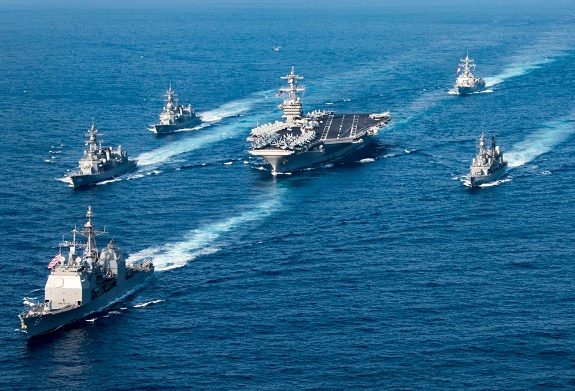 Meanwhile, on the southern end of the peninsula, officials have been downplaying the possibility of direct clashes with the North Koreans.
"It is possible the North may wage greater provocations such as a nuclear test timed with various anniversaries including the Supreme People's Assembly," said South Korean acting President Hwang Kyo-ahn.
This weekend, President Donald Trump met with Chinese president Xi Jinping at the Mar-a-Lago resort in Florida where North Korea was presumably the focus of discussions. Trump tweeted today that North Korea is "looking for trouble" and indicated he was willing to work with China to solve the issue. President Trump has mentioned frustration with China's stance towards North Korea in the past, however it's unclear if he understands China and the U.S. strategic differences in the peninsula.
North Korea is looking for trouble. If China decides to help, that would be great. If not, we will solve the problem without them! U.S.A.

— Donald J. Trump (@realDonaldTrump) April 11, 2017
"For more than 70 years, the U.S. Navy has maintained a persistent naval presence in the Indo-Asia Pacific. The U.S. Navy is committed to continuing this forward presence, which is focused on stability, regional cooperation and economic prosperity for all nations," said U.S. Pacific Command spokesman David Benham in a statement
LIMA CHARLIE NEWS, with Dan Webb reporting.
Follow Dan on Twitter @DanWebbLC .
Lima Charlie provides global news, insight & analysis by military veterans and service members Worldwide.
For up-to-date news, please follow us on twitter at @LimaCharlieNews