A U.S.-led battalion of over 1,100 soldiers will be deployed to Poland starting in April, a U.S. commander announced.
900 U.S., 150 British and 120 Romanian soldiers will comprise the battlegroup in northeastern Poland, one of four battalions in the Baltic region, as a part of NATO's enhanced "Forward Presence" operation.  Russia has condemned the move as aggression on the part of NATO.
"The purpose is to deter aggression in the Baltics and in Poland," U.S. Army Lt. Colonel Steven Gventer, who leads the battle group, said in a press conference.
Britain, Canada and Germany are leading other battlegroups in Estonia, Latvia and Lithuania, which are scheduled to be operational by June. This will bring the total to 4,000 NATO troops, supported by tanks, armored vehicles, aircraft and high tech command centers. With a network of eight NATO outposts, the forces can call on an additional 40,000 alliance troops in case of attack.
#UK troops arrive in #Estonia as part of NATO's enhanced Forward Presence #eFP pic.twitter.com/yK8rkcUXuV

— NATO (@NATO) March 20, 2017
Learn how NATO is projecting stability beyond its borders in the #SGReport https://t.co/ivNfmzO9R6 pic.twitter.com/faswL0SnZy

— NATO (@NATO) March 14, 2017
The United States had 300,000 service personnel stationed in Europe during the Cold War, according to the Heritage Foundation. In 1997, the U.S. and Russia agreed not to permanently station forces on the Russian border.
Ongoing Escalations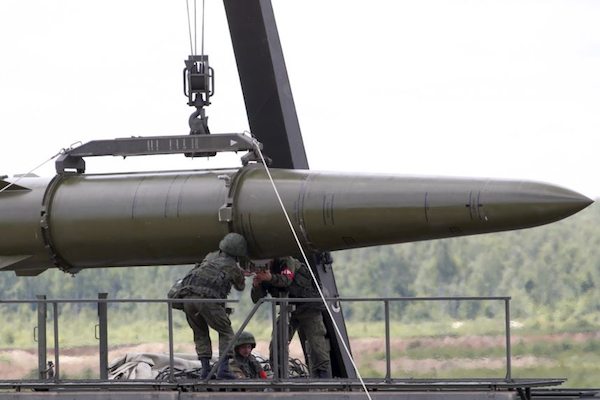 Russia's ground-launched SSC-8 cruise missile has been developed over the past several years, in spite of U.S. complaints that it violates the 1987 Intermediate-range Nuclear Forces (INF) treaty.
President Trump told president Putin that he did not support lengthening the "New START" arms control agreements which president Obama had signed. This raises questions about the administration's commitment to arms reductions, in spite of statements from top generals.
"I have stated for the record in the past, now I'll state again that I am a big supporter of the New START agreement," said Air Force General John Hyten, the head of U.S. Strategic Command.
Cruise missiles are highly accurate and have a low radar profile, making them ideal for first strikes. These weapons can carry nuclear warheads.
President Trump's statements followed criticism this week after it was announced that Secretary of State Rex Tillerson would be skipping NATO's April 5-6 summit. The State Department confirmed that Tillerson would be meeting with Chinese President Xi Jinping at President Trump's Mar-a-Lago estate on April 6-7.
LIMA CHARLIE NEWS
Lima Charlie provides global news, insight & analysis by military veterans and service members Worldwide.
For up-to-date news, please follow us on twitter at @LimaCharlieNews