TEHRAN, IRAN, 5TH FEBRUARY 2017, LIMA CHARLIE NEWS WIRE
The Tehran Stock Exchange (TSE) was severely hit on January 24th, landing at a new 3 month low of 78,249.1 points, equaling 1.28%.
The outcome of this dip is now being made apparent as the Iranian bank Mellat lost 37.5% in one single day of trading.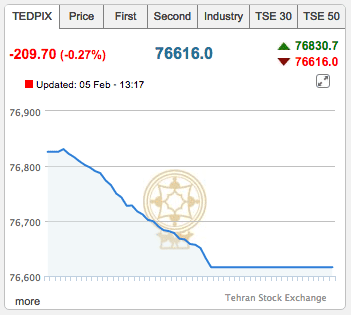 The Central Bank of Iran (CIB) had previously suspended trade of Mellat bank stock due to failure to follow banking regulations, but released it again for trade on February 1st after the bank came into compliance again.
The resumption of trading of the stock sent the Mellat shares down 37.5%, half of its value since the last international yearly indexing reference point last year.
Other bank stocks followed suit, including the shares of the Saderat and Tejarat banks.
MIDDLE EAST BUREAU, LIMA CHARLIE NEWS
US economy experiences massive slow down for last quarter 2016