Over the weekend regional strongman and Libyan Field Marshal Khalifa Haftar launched attacks on the city of al Sidra, the country's largest oil port, which has seen fighting between Haftar's troops and militias. al Sidra is situated in the Gulf of Sidra, across from Benghazi, just under 400km by land.
In the past year, Haftar had managed to secure large portions of Benghazi from Islamist forces. Haftar's attacks on al Sidra were precipitated by the loss of the port to Islamist fighters last week. As reported by Lima Charlie News, in January, amid intense fighting over Benghazi, a MiG-23 from Haftar's air force was shot down by "Islamist extremist militia" wielding what is believed to be shoulder fired MANPAD launchers equipped with heat-seeking missiles.
Recent reports have added to growing allegations of increased Russian influence in Libya, most recently that several dozen Russian armed private security contractors had been operating in Haftar's section of the country. Tuesday, Reuters reported that, according to Egyptian security sources, the Russians had deployed a 22-man special forces unit to an Egyptian Airport, an allegation denied by the Kremlin and Egypt. Russian Defense Ministry spokesman, Igor Konashenkov, told RIA Novosti (Sputnik) on Tuesday, "Certain western mass media have been stirring up the public for years with such false information from anonymous sources."
Exclusive: Russia appears to deploy forces in Egypt, eyes on Libya role – sources https://t.co/RmMXMYWwFp pic.twitter.com/GfJIox7ZWv

— Reuters Top News (@Reuters) March 14, 2017
Last Thursday, the Commander of U.S. Africa Command, Gen. Thomas Waldhauser, appeared before the U.S. Senate Committee on Armed Services (SASC). Gen. Waldhauser acknowledged the belief that Russia is trying to manipulate the political outcome in Libya, stating, "Russia is trying to exert influence on the ultimate decision of who becomes and what entity becomes in charge of the government inside Libya. They're working to influence that — that the decision." In response to a request for clarification from Sen. Lindsey Graham, Gen. Waldhauser agreed with Graham that Moscow was "trying to do in Libya what they've been doing in Syria."
Regarding the region as a whole, Sen. John McCain stated, "the sad reality is, America's strategic position in the Middle East is weaker today than it was 8 years ago, and the positions of Vladimir Putin's Russia, the Iranian regime, and its terrorist proxies have improved." McCain continued, "Russia's cruise missiles crisscross the region, while it's aircraft indiscriminately target Syrian civilians."
Sen. McCain asked Gen. Waldhauser, "Does it bother you that Haftar has been visiting with the Russians and went out to a Russian carrier and, obviously now the Russians may be assuming a role in Libya that they never had before?" Gen. Waldhauser replied, "It is very concerning Senator, Haftar has visited as you said the carrier with the Russians, he's also visited in the country of Russia. Also this week as reported in the open press, Sarraj from the Government of National Accord has also visited Russia." Fayez al-Sarraj is the prime minister of Libya's UN-backed government.
Field Marshal Haftar had risen in prominence in Libya during the overthrow of Muammar Gaddafi, when he held the third most senior position in the forces fighting in the civil war. In 2014, he broke with the political leadership in Libya, when he made a televised announcement that the government had been dissolved, and called for new elections. Two months later, Haftar launched simultaneous attacks against the Libyan parliament and Islamist militants in Benghazi.
In November, Haftar met with Russian Foreign Minister Sergei Lavrov in Moscow, and in December the Russian defense ministry endorsed Haftar. In January, Haftar was invited aboard the Russian navy's flagship, the Admiral Kuznetsov, and given a personal tour.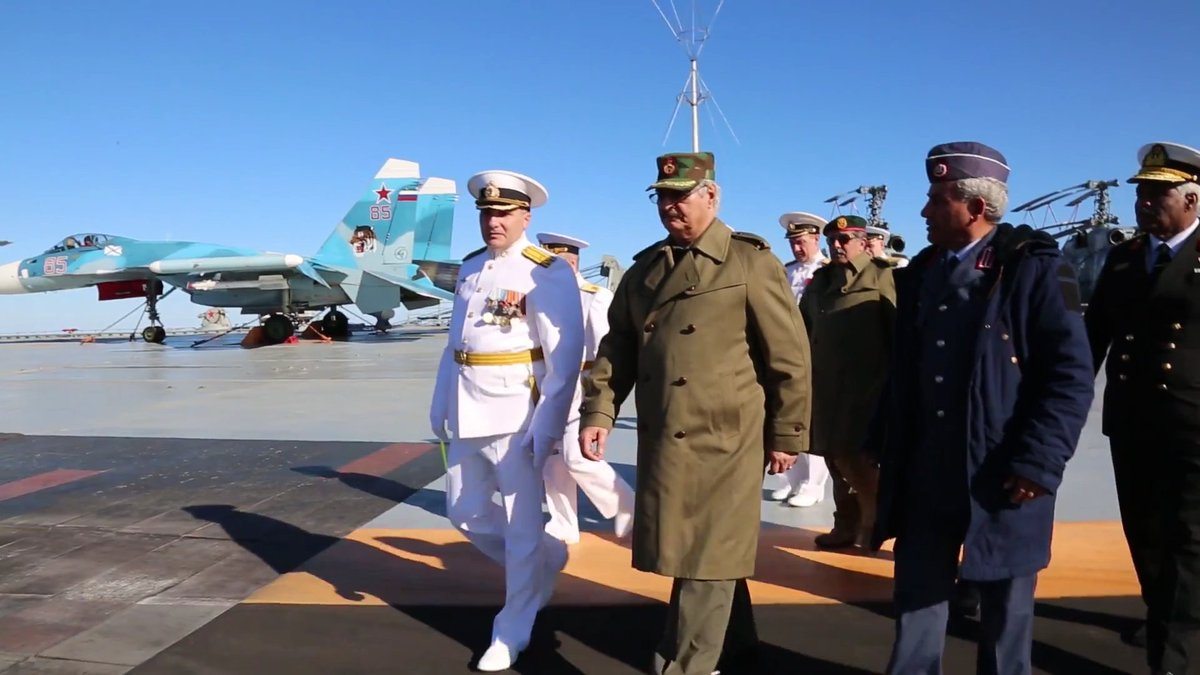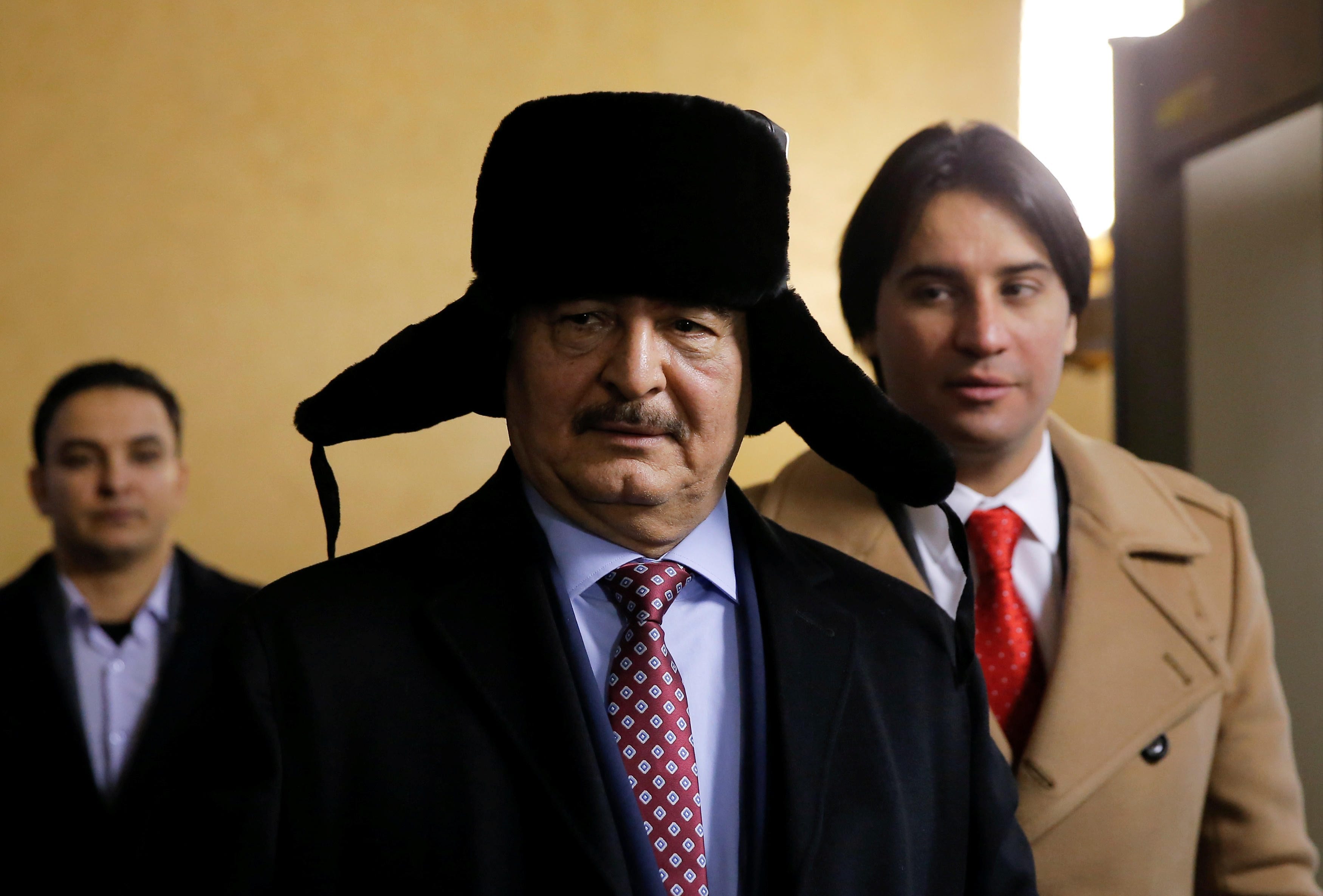 "We believe that the Libyans have to find a compromise on his participation in the new Libyan leadership," Russia's Deputy Foreign Minister said of Haftar, who now controls more of Libya's territory than any other faction.
Libyan strongman's forces lose control of key oil export terminal: The forces of eastern Libya's military strongman Khalifa Haftar… LVSLC pic.twitter.com/SCDdIrnKTY

— Chris Dubon (@dubon_chris) March 4, 2017
LIMA CHARLIE News Wire, MENA Desk
Lima Charlie provides global news, insight & analysis by military veterans and service members Worldwide.
For up-to-date MENA news, please follow us on twitter at @LimaCharlieMENA and John Sjoholm @JohnSjoholmLC