As the Mosul Offensive against ISIL grinds on, brutal fighting in close quarters and a fleeing population have hampered the US led Coalition, with some calling it a nightmare. But something far worse may be on the horizon: the collapse of the Mosul Dam.
Mosul, Iraq – As Americans grapple with post election protests, terror and anarchy continue to rock the city of Mosul. As the US led offensive grinds on, fear and uncertainty have gripped the 1.5 million civilians who have no shelter to escape from the conflict. Many attempt to flee; many more are forced to stay, as the crumbled city burns. The US supported coalition, consisting of Iraqi state forces, Kurdish Peshmerga fighters, Sunni and Shia tribesmen and militiamen, all fight onward towards the city. US air assets pound ground targets ahead.
The Mosul offensive began on October 17th, and has raged fiercely since, with a multitude of reports of IS fighters using the city's inhabitants as human shields. Reports of civilians being shot on suspicion of disloyalty are commonplace. Several days ago 7 men were executed, and the Catholic Sa'a Church in central Mosul was razed.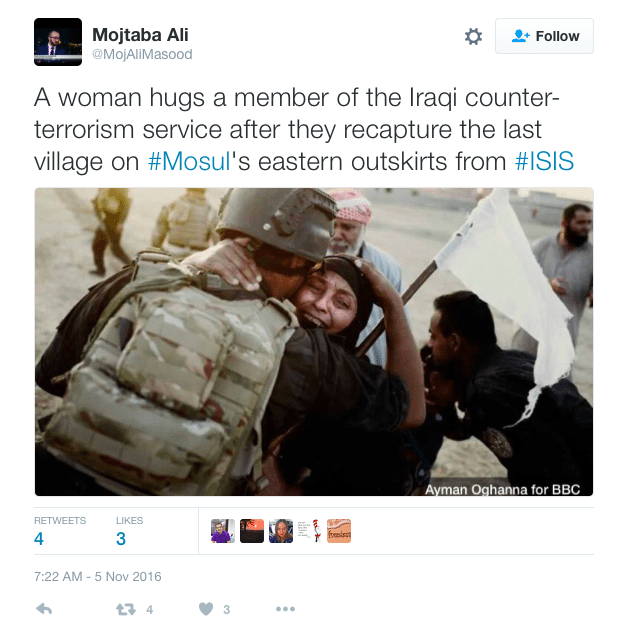 It appears the recent fortunes of war are quickly turning as Iraqi forces battle their way closer to the inner parts of Mosul. Intense urban street fighting, IEDs, suicide bombers, sniper fire, troubling weather developments, secret tunnels, and stretched logistical lines have largely slowed coalition progress.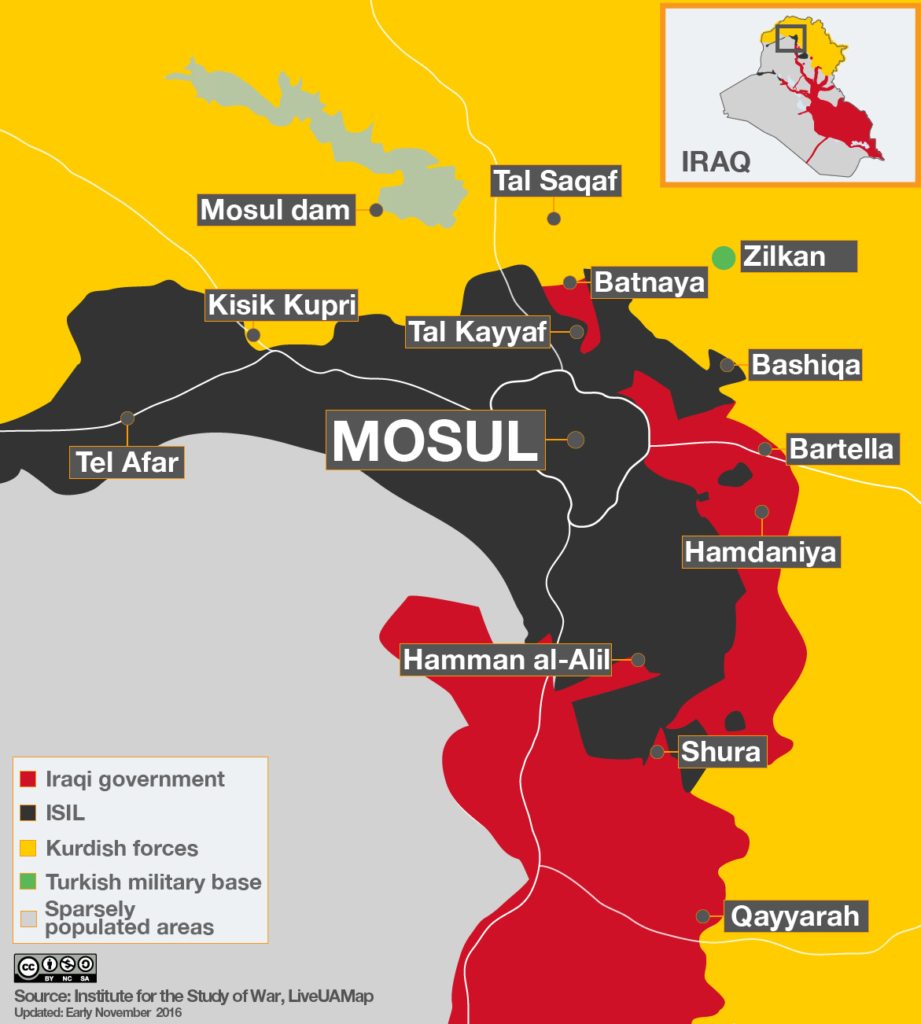 While Iraqi forces have managed to recapture and largely secure, 7 of the 60 neighborhoods in Mosul, the Islamic State has made them pay for every secured street with blood. Iraqi forces are running a deadly gauntlet, where they can never be sure whether a building just secured contains undetected explosives, or an Islamic State fighter will strike from one of the many entrances to IS secret tunnels stretching nearly 50 miles throughout the city.
Lima Charlie's MENA Desk was able to secure a comment from a US veteran with the Army Special Forces community, who was rotating back to the US, and was involved in Iraqi operations. He spoke on condition of anonymity, as he is unauthorized to discuss with media the current situation. "The battles we are seeing on the street level at the outer edges of Mosul are some of the worst we have ever seen," he said. "The Iraqis are doing their best and they are doing well, but the opposition is savage. The Da'esh guys are pulling out all the stops, using every trick in the book, to kill as many of the coalition guys as they can."
In familiar terrorist fashion, IS militants are attempting to blend in with civilians, using them as involuntary shields, as protection from coalition airstrikes and as a means to flee the city and regroup at another IS stronghold. Tens of thousands of civilians, mostly elderly, women, and children, are attempting to flee, with many being forced to harbor IS fighters.
It's becoming a nightmare

– Iraqi colonel
The losses on the Government side are reportedly high. This has forced the Iraqis to pause their ground offensive on multiple occasions for at least a day to regroup. The pause is symptomatic of the advance's overall slowdown as government forces move deeper into the treacherous environment inside Mosul proper.
Exposed, narrow backstreets, and US provided armored vehicles that are too wide to pass through them, have forced the Iraqis into a protracted battle. It is from these unlit backstreets that IS fighters move between buildings, fire off RPG rounds, and quickly fall back. Iraqi forces have described a situation where IS fighters appear able to strike at will, often at night, denying troops rest and rattling frayed nerves. In turn, this has forced Iraqi forces to match tactics and follow the IS fighters into the shadows, thus exposing themselves on those same streets.
The strategy being used by the extremist militants is referred to as "crashing waves" tactics. By sending small waves of fighters that strike quickly, and fiercely, before giving way to the next wave of attacking militants, an insurgent force attempts to maintain continuous pressure on the government's elite counterterrorism units. The terrain and tactics have allowed the rebels—outnumbered 20:1—to resist the coalition's advance.
As a result of this, an Iraqi army colonel stated to Reuters that the fight to drive the militants out of their urban stronghold is "turning into a nightmare." Against a well-drilled, mobile and brutally effective enemy, that exploits the cover of built-up neighborhoods and the city's civilian population, his tanks were useless. Iraqi soldiers appear to be untrained for the urban warfare they now face. "Our soldiers can't recognize them until it's too late, when the attacker either detonates his explosive vest or throws a grenade," the colonel said, adding that he lost two T-72 tanks and an armored vehicle in a single day's fighting. "It's becoming a nightmare and it's nerve-wracking for the soldiers."
Even for the well-trained Iraqi Counter Terrorism Service (CTS), and Iraqi Special Forces units operating in Mosul, the intensity of the battles and the losses incurred have been unprecedented. "We are carrying out the toughest urban warfare that any force in the world could undertake," CTS spokesman Sabah al-Numani said to the media.
One CTS officer reported to Reuters that the biggest threat to him and his men is snipers. They appear everywhere and anywhere moving and attacking as they wish. "You don't know where or when a sniper will strike," he said. That, combined with thousands of civilians trying to escape the fighting is a constant source of stress. As he spoke, a voice on his radio crackled – one of his men on the frontline, "Sir, there are so many civilians, they have these suitcases with them as well. How do I know what's in them? And they're coming towards me".
The situation is undoubtedly taking a toll on Iraqi forces, eroding morale and constraint. Amnesty International has recently accused Iraqi government forces of abusing the civilian population. Multiple reports and videos have emerged showing the assaults of young men seemingly trying to escape the slaughter in the city. As a result, international observers are questioning how much control the Iraqi command actually has within their ranks.
Abdulwahab Sa'aidi shows high professionalism & humanity. This man gives us hope
This how Mosulis welcomed the Iraqi security forces pic.twitter.com/fpsULtmSvO

— Mosul Eye عين الموصل (@MosulEye) November 12, 2016
A recently released report by Amnesty International detailed how 6 civilians with possible, albeit unsubstantiated, ties to the IS movement, had been killed by a mobile death squad on an extrajudicial killing spree. It was reported that the killers were dressed in Iraqi Federal Police uniforms. "Men in Federal Police uniform have carried out multiple unlawful killings, apprehending and then deliberately killing in cold blood residents in villages south of Mosul. In some cases the residents were tortured before they were shot dead execution-style," said Lynn Maalouf, Deputy Director for Research at Amnesty International's Beirut Regional Office.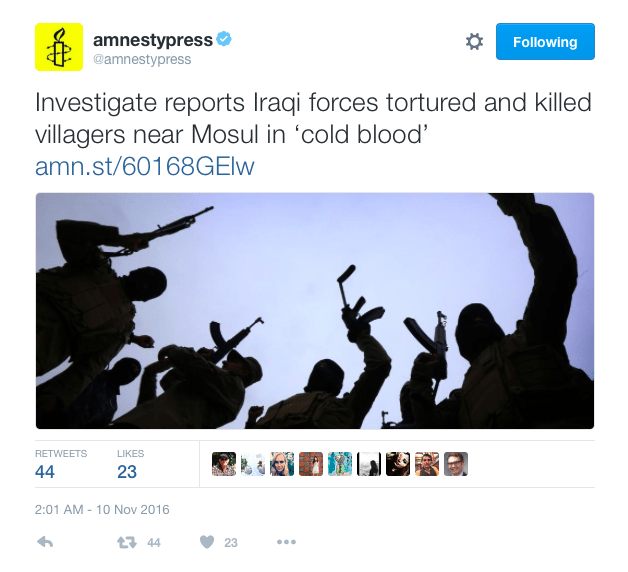 Preventing reprisals against the civilian population was one of the coalition's major concerns before the Mosul offensive. This objective led to the exclusion of Shiite militias from the main coalition moving on the Sunni-majority city. Such abuses could fuel support among local civilians in favor of the militants once their territorial control has been lost.
Mosul Dam is the most dangerous dam in the world

– U.S. Army Corps of Engineers
As the Mosul conflict rages, and the fighting men and women find their humanity being put to the test, darker clouds may be closing in over the area. A disaster that some have described as having far worse horrific implications than the bloodshed brought on by the extremists, may come from a dam holding back the Tigris River.
Built in the mid-1980s, the Mosul Dam, formerly known as Saddam Dam, has a compromised structure that has worsened with time, requiring constant repairs and maintenance in order to keep it from bursting. If the dam, the largest in Iraq, were to burst, the loss of life would be far worse than the death toll from the atomic bombs dropped on Hiroshima and Nagasaki combined. A collapse could potentially release a 20 meter wave of water and kill over 1.5 million people, while also disrupting power and water access to well over 6 million people in the area. As reported previously by Lima Charlie News, the concern is similar to that faced in Raqqa, Syria.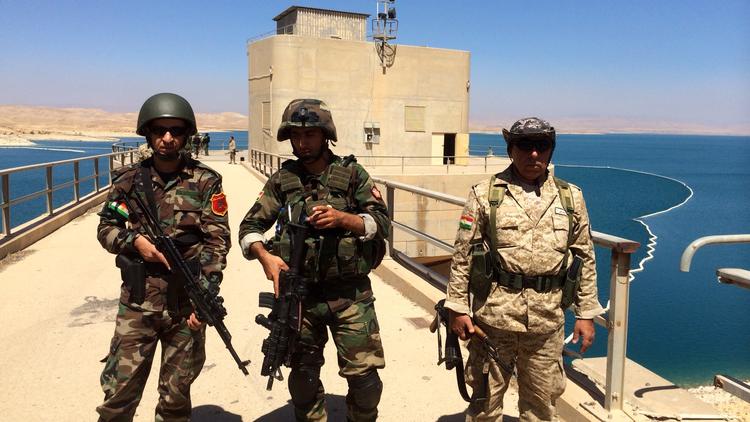 In August 2014, following a series of battles that left Kurdish forces diminished and in need of regrouping, ISIS captured the dam, forcing the Kurds to retreat from the area. During ISIS occupation, they allowed European and Iraqi engineers to conduct minor repairs. However, no major repairs were possible at the time. As the dam was deemed too vital to allow ISIS to hold onto, the US pushed for an immediate recapturing of it. Within a week, the U.S. Air Force began intensely attacking ISIS positions in the area, and Kurdish troops began shelling the area around the dam. On August 17th, Kurdish forces entered and captured 3 nearby towns, with the US providing close air support (CAS) to advancing Kurdish troops. To prevent Kurdish forces from retaking the dam, ISIS militants deployed mines and IEDs. There were severe concerns that the dam might be destroyed by retreating ISIS fighters.
By August 18th, the Iraqi and Kurdish central commands announced that they had managed to recapture the dam intact. U.S. President Obama released a special statement confirming that the Mosul Dam was under complete joint Kurdish and Iraqi control, and that this was a "major step forward" to defeat IS.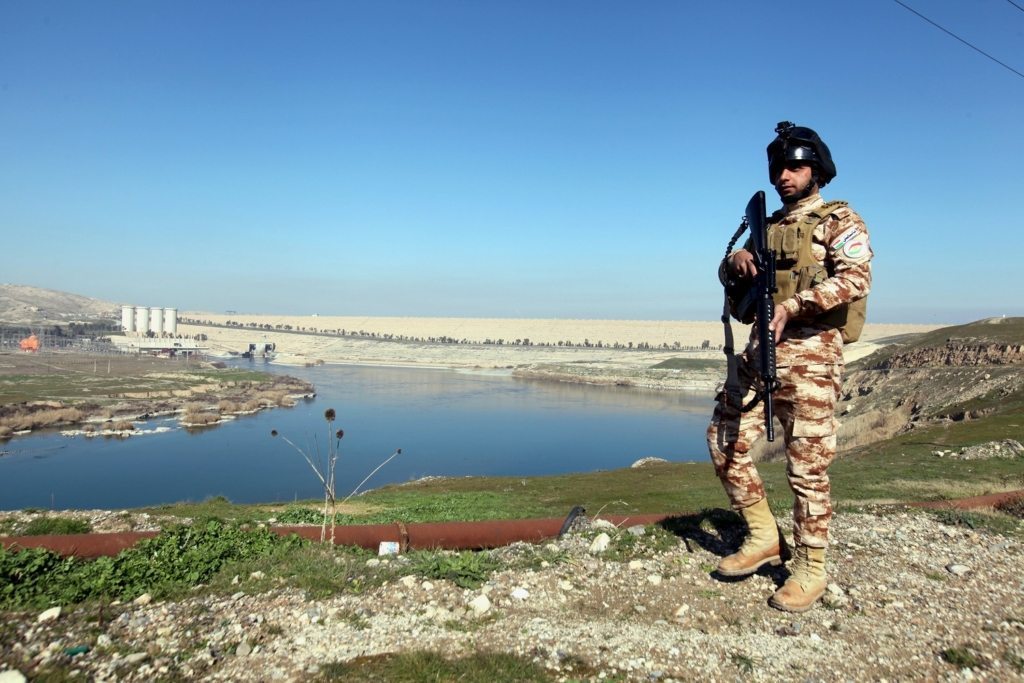 In April, 2016, an Italian engineering team was dispatched by the European Union in response to a request from the Iraqi Government to prevent the dam from collapsing. Italian troops were sent in support. Today, as the Mosul Offensive continues, these Italian forces have come under threat by the Islamic State. A "specific and detailed" threat was made by IS militants causing the troops to go on maximum alert, according to reports made in the Italian media. Through their media channels, IS has expressed that the coming attack on the Mosul Dam, and against the Italian troops stationed there, would be "the biggest attack ever conceived by the Caliphate" in Iraq. While there has been no formal proclamation by IS leadership on the matter, the Italians are reportedly reinforcing their defensive perimeters and have upped their troop numbers on the premises.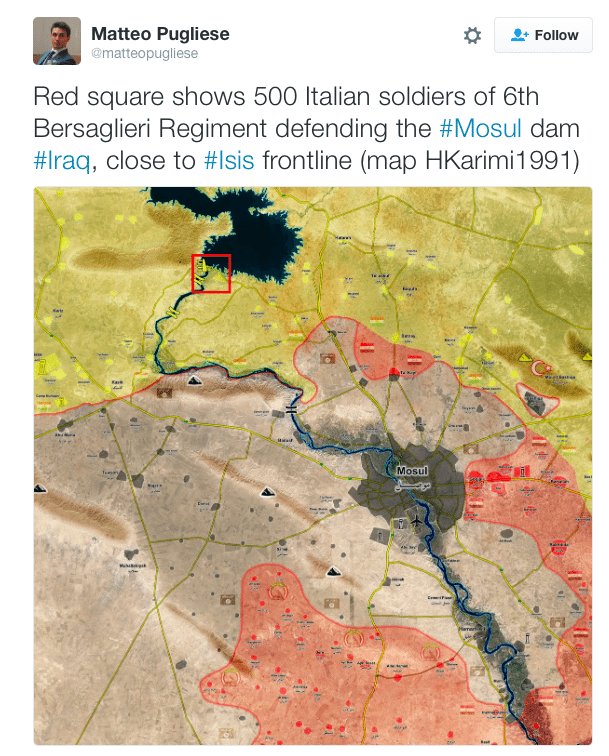 Collapse of the dam was deemed likely as early as September 2006, by the U.S. Army Corps of Engineers. Evaluations by the Corps concluded that "in terms of internal erosion potential of the foundation, Mosul Dam is the most dangerous dam in the world … If a small problem [at] Mosul Dam occurs, failure is likely," said the report.
As the Mosul Offensive rages on, the threat grows.
Follow Lima Charlie News and our Middle East (MENA) Bureau for the latest.
By John Sjoholm, Middle East Bureau Chief, with Mario Figueroa, Lima Charlie News
John Sjoholm is Lima Charlie's Middle East Bureau Chief, and the founder of the consulting organization Erudite Group. He is a seasoned Middle East connoisseur, with a past in the Swedish Army's Special Forces branch and the Security Contracting industry. He studied religion and languages in Sana'a, Yemen, and Cairo, Egypt. He lived and operated extensively in the Middle East between 2005-2012 as part of regional stabilizing projects, and currently resides in Jordan. Follow John on Twitter: @JohnSjoholmLC
Mario Figueroa is a former Marine Corps Infantryman who deployed in support of Operation Iraqi Freedom II. Following his service, Mario completed his B.A. in English Literature at Columbia University in the City of New York. While completing his studies, Mario served on the Executive Board of The US Military Veterans of Columbia University while also working as Director of Veteran Services for United War Veterans Council, a veterans centric non-profit dedicated to honoring service and helping veterans transition back into the civilian world. Follow Mario on Twitter @MFigueroaLC 
Lima Charlie provides global news, insight & analysis by military veterans and service members Worldwide.
For up-to-date news, please follow us on twitter at @LimaCharlieNews
As previously reported by Lima Charlie News: