UConn Women Huskies get 91st win, break all-time NCAA record for consecutive win streak. Why doesn't anyone care?
Sports history was made this past weekend and most people have no idea it happened. The University of Connecticut Huskies women's basketball team beat the Southern Methodist University Mustangs 88-48 this Saturday, January 14, to win their 91st consecutive game. This is the all time NCAA Division I basketball – men and women's – winning streak record, previously held by the UConn women's team since December 2010.
The Huskies started off the season with 75 wins already in the bag and took it one more game at a time. As one of the most successful women's basketball teams in the country, Coach Geno Auriemma has spent more than 30 years at its helm. Auriemma said they go into these games "just focusing on the specific game," which has lead to much success as a program.
The women Huskies' first time setting the record in 2010 unseated the UCLA men's team 88-game streak from the early 1970s.
The team is working toward its twelfth National Championship under Auriemma, so major milestones like breaking records are important, but not the be-all-end-all. It's a good attitude to have, considering not enough people seem to care about the team's incredible performance.
ICYMI: Here are the highlights from win No. 91 #AndCounting https://t.co/Z09A68pWbp #UConnNation

— UConn Women's Hoops (@UConnWBB) January 16, 2017
3,878 fans were present for the 91st win, representing about 43% of SMU's Moody Coliseum seat capacity, a pretty stellar turnout for women's college athletics. More than likely, the potential record-breaking win brought out that many spectators. In comparison, Duke University's loss at Louisville on the same day brought out the second largest crowd in the 20,000-plus seat KFC Yum! Center's history. One major draw for that game was the opportunity to boo college basketball's current villain, Duke Guard Grayson Allen.
There's nothing new about women's athletics not getting the same attention as men's, but this record is a big deal.
The women Huskies' first time setting the record in 2010 unseated the UCLA men's team 88-game streak from the early 1970s. Rather than feel the sports world love over these two monumental feats in less than ten years, the Huskies are left defending themselves against complaints that their dominance is bad for women's basketball. Being the gold standard in a sport does not diminish it; it makes everyone up their game. Ronda Rousey had twelve consecutive wins, including 11 first-round victories, before Holly Holm knocked her out. Her competitors became better in order to beat her. Women's college basketball teams will adjust and get better to beat UConn.
They did it! UConn Women's Basketball wins 91st straight game, and makes history breaking their own NCAA record!!!!

Congrats, @UConnWBB! pic.twitter.com/iAd8UzObTt

— 3Marines Sports Show (@3marinesLC) January 14, 2017
The Huskies' next game is at the University of Tulsa Tuesday, January 17. Lima Charlie Sports #3marines team will be sure to update as the reigning national champs complete their journey through March Madness.
Not too many others will.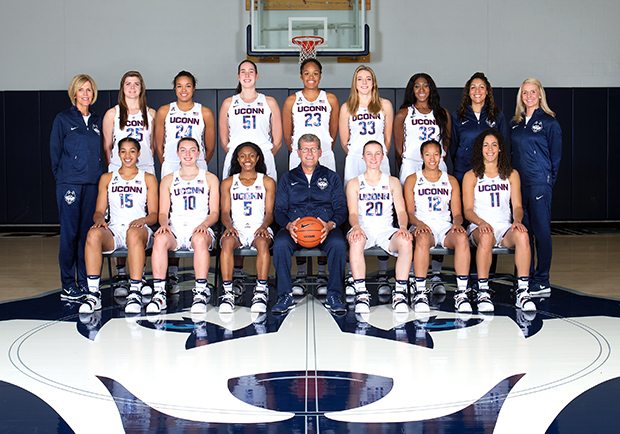 For the latest in sports follow Lima Charlie Sports on Twitter @sportsLC and follow & subscribe to the #3marines podcast @3marinesLC available now on iTunes.
Stephanie Kline, U.S. Marine Corps | Contributing Correspondent
Stephanie Kline is a Department of Energy contractor, managing veteran workforce development programs for the solar technologies division. Previously, she led Environmental Defense Fund's military and veteran clean energy initiatives. She served as an adjutant in the U.S. Marine Corps and was selected for an aide detail as a second lieutenant. She also supported the Marine Corps Installations-East efforts on compatible land use, focusing on farm and forest preservation near high value training areas. Prior to commissioning, Stephanie was a policy analyst for DoD's Sustainable Ranges Initiative. She earned a BA in International Politics and Diplomacy from the University of Richmond and a MA in Environmental Policy from the Monterey Institute of International Studies.  She is a member of the Truman National Security Project Defense Council and an Armed Services Arts Partnership contributing artist. Follow Stephanie on Twitter @StephKlineLC 
Lima Charlie provides global news, insight & analysis by military veterans and service members Worldwide.
For up-to-date news, please follow us on twitter at @LimaCharlieNews