Last month a new study prompted the Imperial College of London to announce that it would double the UK's guidelines for fruits and vegetables, essentially recommending that the "five a day" rule be doubled to ten pieces of fruits and vegetables.
The study, published by the International Journal of Epidemiology, found that 7.8 million deaths could be prevented worldwide every year if people ate 10 portions, or 800 g, of fruits and vegetables a day. The study combined and analyzed sources of data from 2 million people worldwide, concluding that:
"Fruit and vegetable intakes were associated with reduced risk of cardiovascular disease, cancer and all-cause mortality. These results support public health recommendations to increase fruit and vegetable intake for the prevention of cardiovascular disease, cancer, and premature mortality."
Results found that people who ate 800 g a day, relative to 0 g, saw reductions in risk of 24% for heart disease, 33% for stroke, 28% for cardiovascular disease, 13% for cancer, and 31% for premature death. 800 g is the equivalent of an apple or two spears of broccoli.
Although the study applies to both fruits and vegetables, the study showed that vegetables in particular helped with cancer.
Lima Charlie News veteran correspondent Don Martinez, who operates an urban farm in Colorado, continues to report on the benefits of fresh, local fruits and vegetables. Don makes it a point to incorporate local produce into his cooking.
.@DonMartinezLC cooks up delicious dishes using ingredients from local #urbanfarms, a hobby & combat stress relief https://t.co/jRRIUFEVnG pic.twitter.com/mZwfa8750A

— Lima Charlie Food (@LimaCharlieFood) February 9, 2017
Apparently, the health benefits of fresh fruits and vegetables go beyond just enjoying eating them. Don has reported about the therapeutic nature of urban farming, detailing his journey from being a combat officer in Iraq, to finding peace and purpose in becoming an urban farmer.
"Even years later, I reflect with gratitude on that first therapy session I attended, which started the ball rolling on my path to finding a new purpose in life. With half of all farmers likely to retire in the next decade, farming is increasingly becoming the du jour of the younger generation, veterans in particular. It offers our brothers and sisters in arms an opportunity to, once again, be part of a close-knit unit and, more importantly, revives in them a sense of purpose—a responsibility to deliver to the consumer eating their food; to the communities who depend on their product; to a nation dependent on a socially sustainable agricultural cycle."
Don's article can be found here: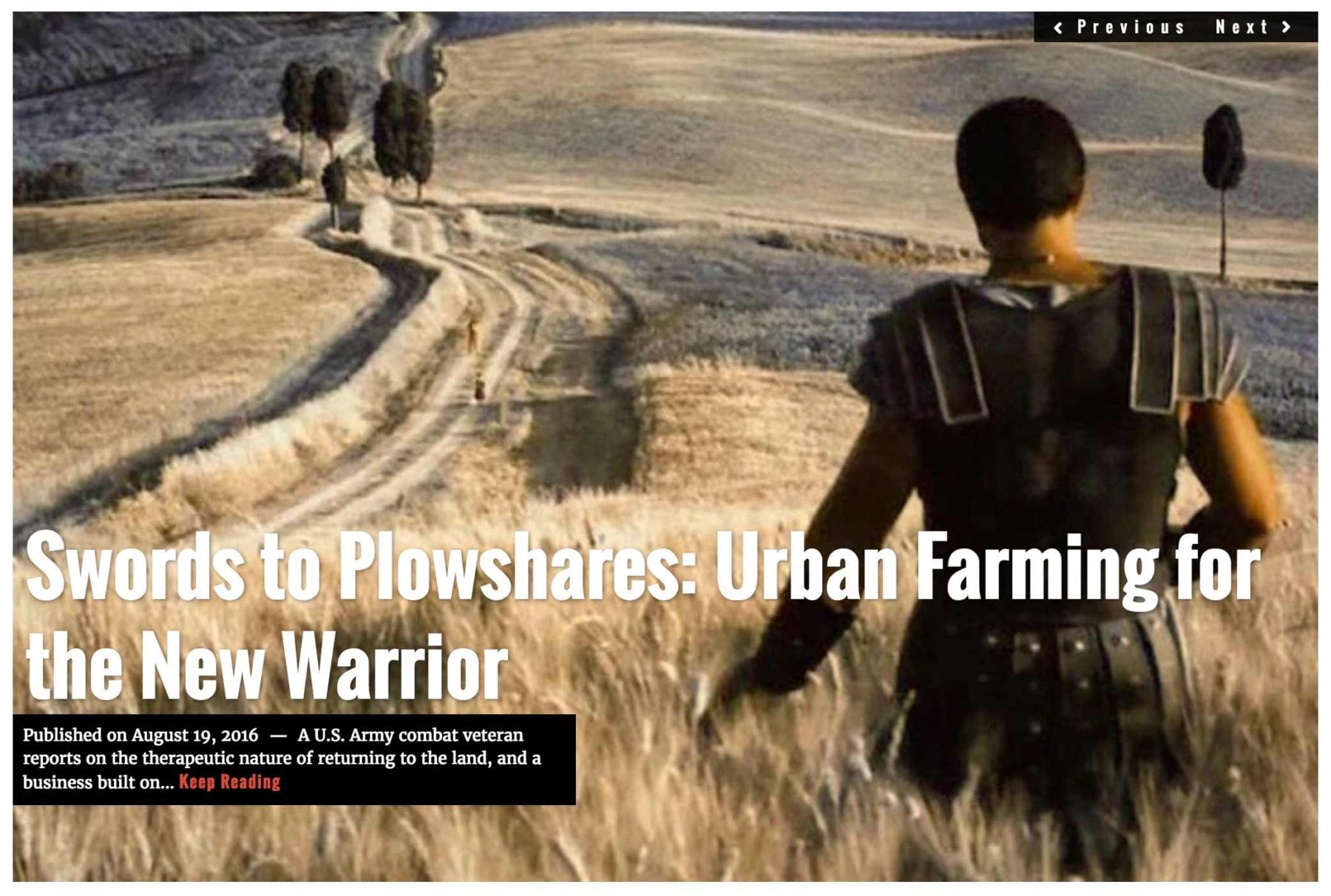 LIMA CHARLIE NEWS, Lima Charlie Food
Follow Lima Charlie Food on Instagram and Twitter and tweet us your favorite foods (and drinks).