Dutch elections will be held today, testing the popularity of the right-wing populist Party for Freedom (PVV) of Geert Wilders. These elections are viewed as a bellwether for upcoming elections in France and Germany.
PVV, founded by Wilders, is one of the most anti-Muslim in Europe with Wilders recently referring to Moroccans as "scum." PVV is expected to be one of the three top vote earners. It has also made a point of campaigning against the establishment of the country, challenging the center-right government of Prime Minister Mark Rutte.
Rutte's government has had a major diplomatic spat with the Turkish government, which has dominated the election cycle domestically. The incident started Saturday, when the Netherlands wouldn't allow Turkish Foreign Minister Mevlut Cavusoglu to visit Rotterdam for a political rally. When denied space to rally, members of the local Turkish minority held the event at the Turkish consulate, which then escalated into a clash with police. An estimated 400,000 Turks live in the Netherlands.
#photooftheday Demonstrators clash w riot police near Turkish consulate in Rotterdam, Netherlands, March 12#tulipcrisis pic.twitter.com/wh1WgttEZF

— Turkey Pulse (@TurkeyPulse) March 13, 2017
In retaliation, Turkey barred the Dutch ambassador from returning to Ankara, and suspended high-level relations with the Hague, accusing the Dutch of "Nazi" tactics. On Tuesday, Turkey threatened sanctions against the Netherlands, and President Recep Tayyip Erdogan accused the Dutch of carrying out a massacre of Muslim men at Srebrenica, Bosnia, in 1995.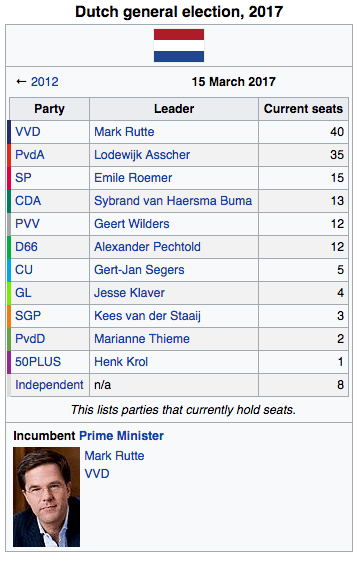 According to Erdogan, "We know the Netherlands and the Dutch people from the Srebrenica massacre. We know how rotten their character is from their massacre of 8,000 Bosnians there."
This escalating diplomatic incident has been the dominant news story in the Netherlands during the election cycle, and Wilders called for the deportation of the Turkish ambassador during a debate over the weekend.
Rutte's response to Wilders' calls for curbs on immigration has been to propose his own immigration restrictions, but the third option, Jesse Klaver, the half Moroccan leader of the Green Party, has an opposite message.
"This year is not only about the election in the Netherlands, but elections in the whole of Europe," said Klaver. "In the Netherlands, we have to show that populism can be stopped and there is an alternative. That alternative is us."
As the elections come to a close, the results will reflect both the strength of the competing ideologies of the candidates, and the impact of the diplomatic incident with Turkey.
#Netherlands protest in #Turkey's #İzmit with pressing oranges(royal colour of #Dutch flag) and drinking orange juice#Holland #Rotterdam

Polling for the month of March shows PM Mark Rutte's People's Party (VVD), at times, leading Wilders' Party for Freedom (PVV) by up to 7 points. However, the two were tied on March 13 according to a De Stemming poll.

The Freedom Party is seen as benefiting from the anti-establishment movements that led to Brexit and Donald Trump, as well as the appeal of France's Marine Le Pen.

Wilders has campaigned to stop the "Islamisation of the Netherlands," he has compared the Quran to Mein Kampf, seeking to have it banned, he advocates ending immigration from Muslim countries, and supports banning the construction of new mosques.

Wilders lives constantly with threats to his life, was once listed as the most threatened politician in the Netherlands, and must constantly be accompanied by a permanent security detail.

Dusseldorf, Germany, Feb. 27, 2017. Political floats at Dusseldorf Carnival. (Photo: Ashley Greb)

Rutte and Wilders squared off for one final debate Tuesday night.

UPDATED (Mar.15: 4:25EST):

BREAKING: Netherlands: exit polls show Mark Rutte likely election winner (31 seats), with far right Geert Wilders PVV winning only 19 seats

— Lima Charlie NL (@LimaCharlieNL) March 15, 2017

LIMA CHARLIE NEWS

Lima Charlie provides global news, insight & analysis by military veterans and service members Worldwide.

For up-to-date news, please follow us on twitter at @LimaCharlieNews

In case you missed it: