The Iraq & Afghanistan Veterans of America brought Hillary Clinton & Donald Trump together to force a conversation about who's more qualified to be Commander-in-Chief.
| By Brendan McKinnon and Michael D. Connolly, Lima Charlie News
While the first presidential debate of the general election does not occur until September 26th, voters have already had their introduction to some of the arguments that will ensue. Both Hillary Clinton and Donald Trump occupied the same stage on the same evening last week—though at different times—to make their case for why they should serve as the next Commander-in-Chief for the United States.
The Iraq and Afghanistan Veterans of America (IAVA), a non-profit advocacy organization for post-9/11 veterans, held their inaugural Commander-in-Chief Forum on September 7th, drawing a television audience of nearly 15 million. The event was touted by IAVA as a groundbreaking opportunity to bring the two main party nominees for President together on one stage, with service members and veterans, and force a conversation about national security and military issues that has been neglected in previous elections. NBC's Matt Lauer served as moderator for the engagement, held on the decks of the decommissioned aircraft carrier USS Intrepid, docked on the Hudson River in New York City.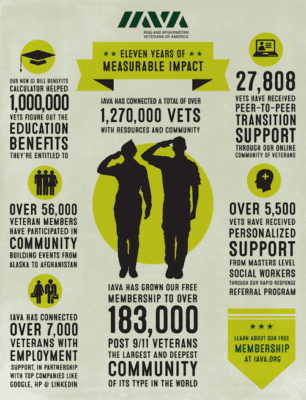 IAVA founder and CEO Paul Rieckhoff praised the event's success, telling MSBNC's Rachel Maddow "This was a truly historic (event). The country's never stopped to focus exclusively on the duties and challenges of being a Commander-in-Chief … and the entire national conversation for the last 24 hours has been about veterans, our military and our military families." Rieckhoff also promised more events in the future, saying "We've set a precedent. I think the Commander-in-Chief Forum is here to stay and it should be a part of every election from now on."
By Rieckhoff's measures the event was an unmitigated success. IAVA, a group that states it is the voice of 2.8 million veterans of Iraq and Afghanistan, drew a higher national audience than previous debates or town hall events, spurred official watch parties for veterans in at least 14 cities, and ignited a conversation about veterans' issues that carried through the week's news cycle. Hillary Clinton and Donald Trump were both forced to talk about reforming the Department of Veterans Affairs, addressing mental health issues and suicide, defeating ISIS, military sexual trauma, enforcing nuclear sanctions on Iran and dealing with Russia's growing influence in Eastern Europe. The candidates also took ten questions directly from veterans on stage who pressed them on judgment, military and national security concerns.
The forum itself wasn't above criticism. Afghanistan veteran Andrew Miller accused MSNBC of using veterans as props, writing that "it was a well-intended gesture that failed to give veterans their voice as promised. Military and veteran supporters of Libertarian candidate Gary Johnson blasted IAVA for not including him in the forum despite his high poll numbers in the military community, with Libertarian National Committee chair Nicholas Sarwark going as far as threatening legal action against IAVA for the slight.
Media personalities on the left and right chided Lauer for his inability to press either candidate on easily refutable statements.
Several veterans in attendance also bemoaned the lack of substantive discussion. Peter Kiernan, president of the Ivy League Veterans Council, was disappointed that Trump "didn't get any questions about his attacks on Gold Star families." Afghanistan veteran Kamal Kalsi was similarly frustrated in Lauer's refusal to press Trump about his claim that he "knows more about ISIS than our Generals do," or his "backtracking on his claim that he's going to privatize the VA."
While the Forum received partisan and nonpartisan criticism, some see the event as evidence of rising power within the veteran community and new organizations like IAVA and others. "It's noteworthy that the first 'head-to-head' event with the two presidential candidates was focused on veterans' issues because it proves the importance of veterans and military families as a voting bloc," said Shaun Rieley. "There's also been a clear rise in the relevance of non-traditional veteran advocacy organizations to broader VA reform conversations, which is a good thing." Rieley is an Army veteran of the Iraq War, and currently serves as an Outreach and Research Analyst with Concerned Veterans for America.
Rieckhoff conceded that the Forum merely scratched the service on veterans' issues, telling MSNBC's Thomas Roberts, "The veterans asked specific questions, and we required specific answers. We didn't really get them … but it did jump start a conversation." Rieckhoff continued, "Veterans issues were finally front and center. It was a win, but it's not the end of the fight."
Michael D. Connolly, Senior Political Correspondent, Lima Charlie News
Michael Connolly is a former Army Staff Sergeant who served in the Infantry, completing two combat tours to Iraq. He currently serves as the Director of Military and Veterans Affairs for the Smith School of Business at the University of Maryland-College Park. Michael is a member of the Truman National Security Project Defense Council. He graduated with an M.S. in Political Science from the University of Nebraska at Omaha. Follow Michael on Twitter: @MConnollyLC
Brendan McKinnon, National Political Correspondent, Lima Charlie News
Brendan McKinnon is a Juris Doctor candidate at Boston College Law School. He previously served for ten years in the U.S. Coast Guard, including three afloat tours and one deployment in support of Operation Iraqi Freedom. Brendan earned a BS in Government from the U.S. Coast Guard Academy and an MPS in Strategic Public Relations from George Washington University. He interned on the Capitol Hill staff of a Congressman while a Cadet at the Coast Guard Academy, has field and operations experience on additional Congressional campaigns, is a member of the Truman National Security Project Defense Council and a Mentor with Veterans in Global Leadership. Follow Brendan on Twitter: @BMcKinnonLC
Lima Charlie provides global news, insight & analysis by military veterans and service members Worldwide.
For up-to-date news, please follow us on twitter at @LimaCharlieNews