A veteran who suffers from PTSD was asked to describe his scuba diving experience: "I could hear my breathing. It reminded me that I'm alive."
For veterans who have been wounded, physically or mentally, diving can have an incredible therapeutic effect on the mind, body and spirit. The ocean, with its weightless environment, is the great equalizer among those fully able and those differently abled. Paraplegics can dive as can those with a host of other maladies that might otherwise create limitations on land.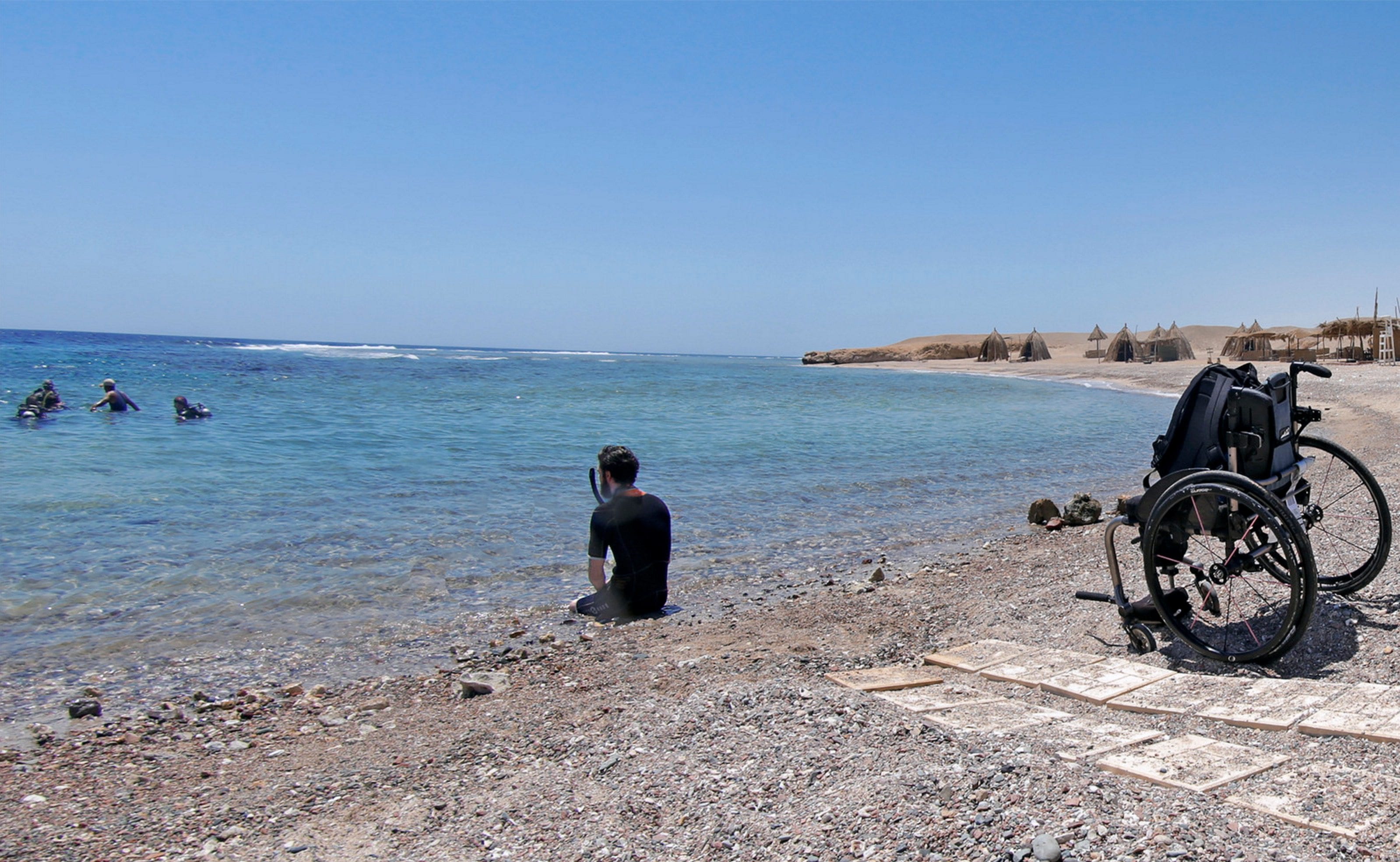 I just finished a dive among spectacular coral reefs on the northwestern Guanacaste Coast of Costa Rica. Manta rays, with wing spans as broad as 20 feet, and schools of eagle rays nearly as large, glided by me and the kaleidoscope of coral gardens.
Ernst Van der Poll who was my guide on the dive, has some 10,000 dives under his belt and is a PADI Course Director, meaning he certifies instructors to teach for the largest worldwide scuba diving organization. That's all great, but when speaking with Ernst it's not numbers or specifics on mantas that impress me most. Ernst spoke of his work with veterans. They can "cut away from the chains of wheelchairs and crutches … they're not restricted by gravity," says Ernst.
The clear indigo waters by the seaside village of Las Catalinas are the perfect setting. This time with Ernst inspired me to research the topic of diving for healing and writing this article.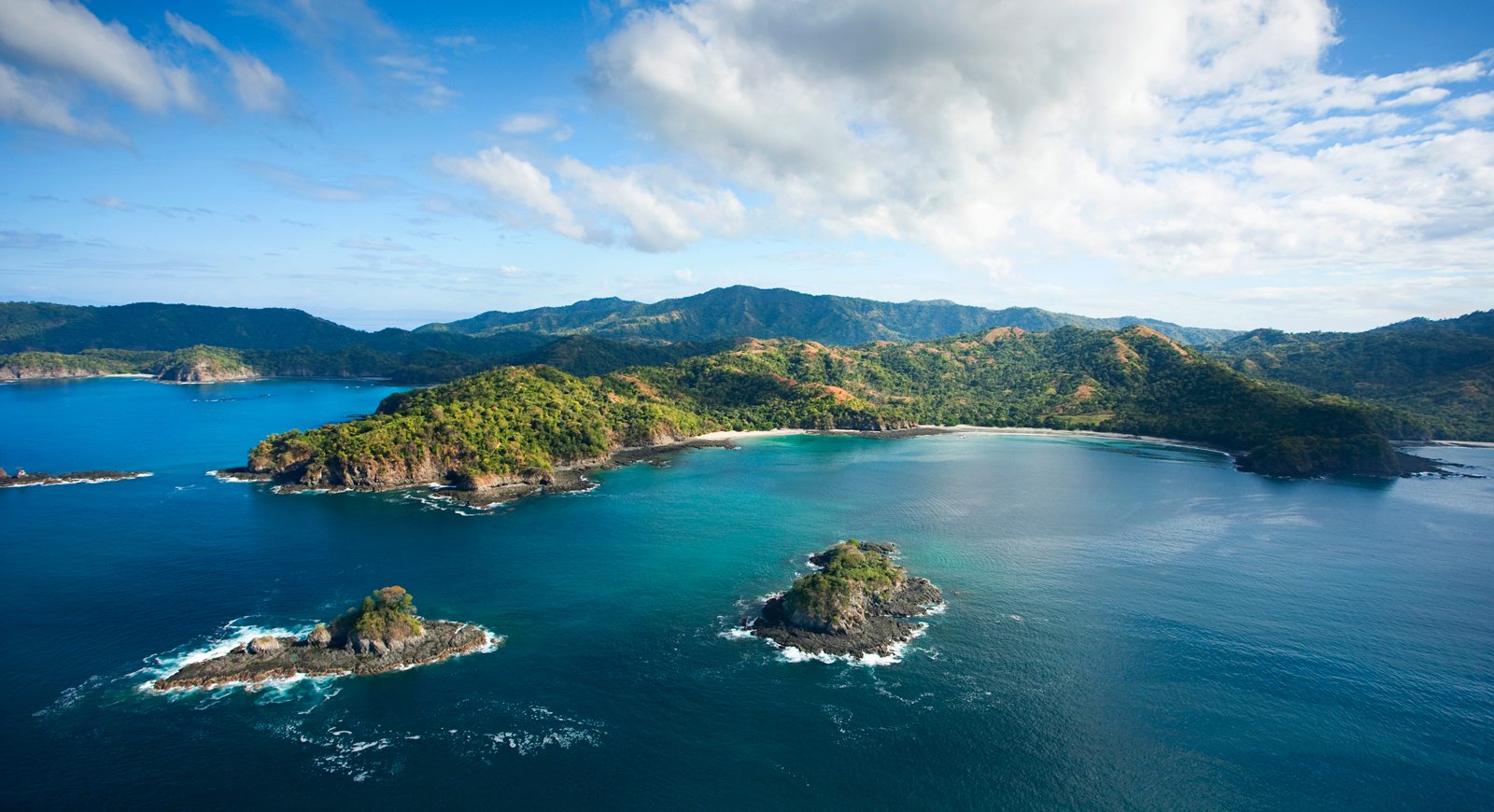 Las Catalinas is a beautiful new "Old World" village in Costa Rica that draws its design inspiration from historic Central American cities like Antigua, Guatemala and Granada, Nicaragua. There are no cars in this compact and walkable town, which was the vision of Charles Brewer, a technology maven who founded MindSpring (an ISP that merged into EarthLink).
Cobblestone streets at Las Catalinas wind past pretty villas with shady overhangs, flowering balconies, and open public esplanades. Every street was designed with a destination in mind, whether a beautiful fountain, the town hall, a church (to be built) or an open-air bar with views of the nearby Catalina Islands.
Above all, the village is modeled to be a place where neighbors and visitors connect. That makes it the perfect home base for Ernst Van der Poll's aquatic academy and dive center, ConnectOcean (www.connectocean.com). The organization aims to be a steward of the environment and of socially responsible programs—including empowering people with differing abilities to develop new skills like diving. (Ernst conducts adaptive surfing and canoeing programs as well).
Ernst knows well the healing powers of the water from which he draws inspiration.
War-Torn Inspiration
Van der Poll was 14, growing up in South Africa, when he went on a mission trip to a refugee camp in Mozambique, a country consumed by a civil war that killed a million people and displaced five million. In the refugee camp, Ernst met a 10-year-old orphan, Mariam, who had lost both her legs when her mother, who was carrying her, stepped on a landmine.
When Ernst met Mariam, she was in a catatonic state. With plenty of coaxing, however, Ernst and his friends got Mariam's eyes to sparkle, and she smiled for the first time in years.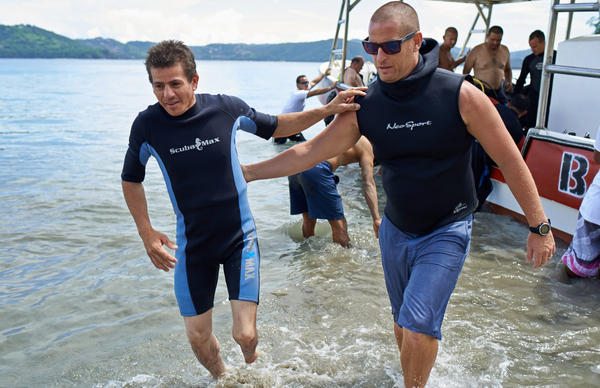 The hope in that smile inspired Ernst, and a decade later he became involved with a group in Dubai, the Palestinian Children's Relief Fund, which sought to heal the wounds of war among children in the Middle East. That led to Ernst meeting 16-year-old Khalil, who had lost both his legs in a Gaza bombing. To buoy his spirits, Ernst tried to get Khalil to go diving. That was out of the question to Khalil since in Gaza kids didn't go to the beach, only poor people did who needed to wash their donkeys. Ernst was persistent and before long, diving became a passion in Khalil's life; he went on to study to become a doctor.
"It was about a paradigm shift. It was about making him realize he can achieve the unthinkable in spite of what happened," recalled Ernst of that experience with Khalil.
They can cut away from the chains of wheelchairs and crutches … they're not restricted by gravity.

-Ernst Van der Poll
Diving for Spinal Cord and PTSD Healing
Fast forward to Ernst's work with divers today. He refers to research done by Johns Hopkins University School of Medicine that showed stunning improvements to injured veterans who participated in diving. Daniel Becker, M.D. a co-researcher on the scuba study, reported "We saw dramatic changes in a matter of days in a number of people with spinal cord injury who went scuba diving." Some individuals showed 20 to 30 percent improvement in tone, sensation or motor function, and 10 percent had an increased sensitivity to light touch.
Co-researcher Adam Kaplin, M.D. Ph.D. noted, "What we saw in the water strongly suggests there is some scuba-facilitated restoration of neurological and psychological function in paraplegics. It's very provocative."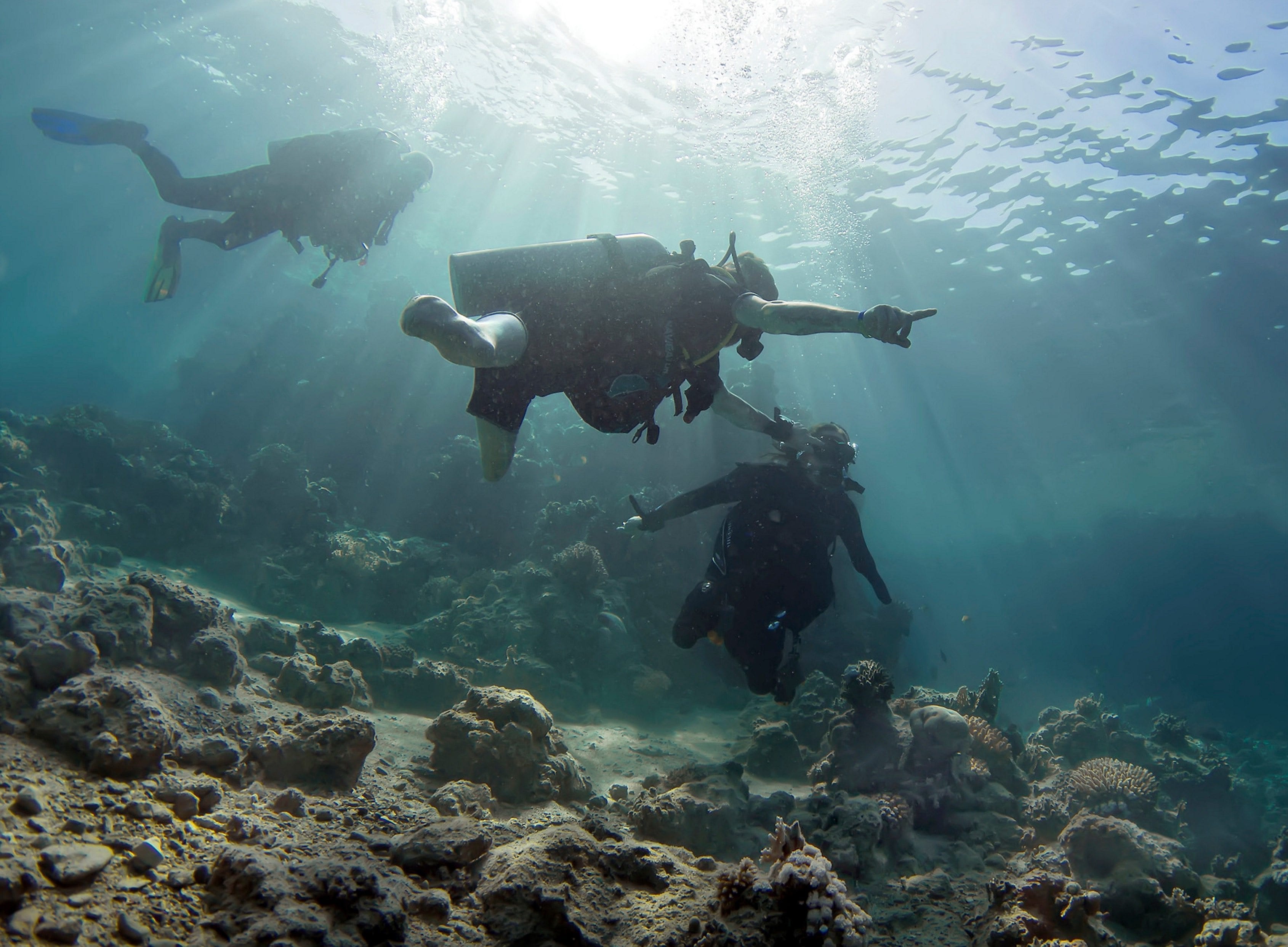 The most striking news to come out of that study in 2011, however, was diving's impact on those with PTSD. Symptoms decreased, on average, by 80 percent in veterans who went diving. "They were challenged with something that made them anxious and they mastered it," said Kaplin. The regulated breathing underwater may have also served to relax veterans and aid them in controlling their symptoms.
Depth Therapy
And that brings us back to Ernst Van der Poll and veterans like the one that told him, "I could hear my breathing. It reminded me that I'm alive."
Ernst's goal with ConnectOcean is to create a community hub without walls, a place where families, divers and guests can visit and be positively impacted by learning and their experiences. While the stunning Las Catalinas location may be home base, his initiatives reach far beyond the borders of Costa Rica. He worked with MIT, for example, to bring down a couple injured in the Boston Marathon bombings to dive. He has also teamed with organizations such as the UK-based non-profit Deptherapy, www.deptherapy.co.uk, which promotes rehabilitation via scuba diving of UK armed service personnel who have suffered life-changing mental or physical injuries. That charity hopes to one day extend its work to the more general population of those physically and mentally challenged. But for now, the focus is on veterans.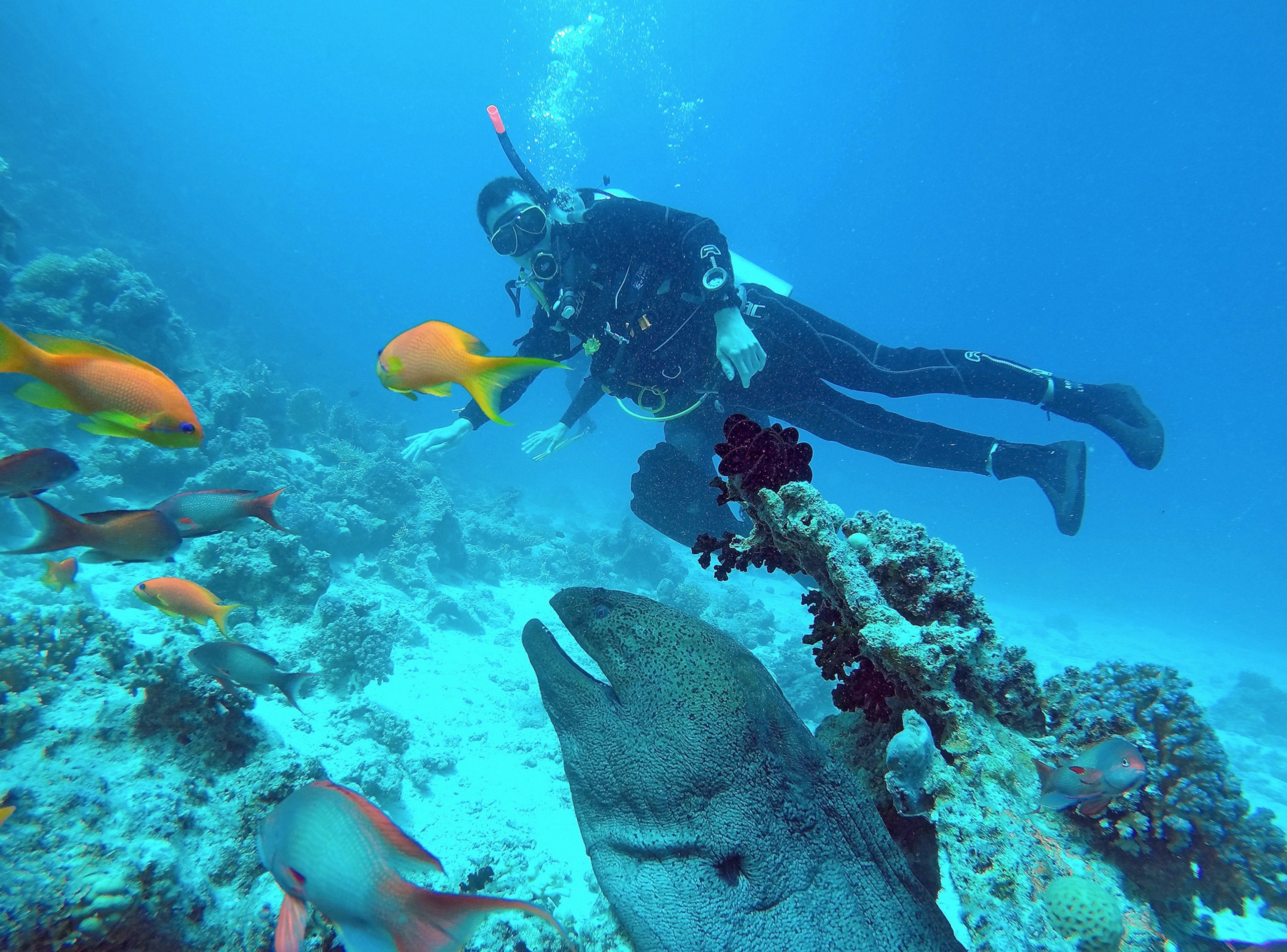 A recent independent medical study (January 2017) by the University of Sheffield Medical School confirmed the significant benefits of the Deptherapy program. There was a 60 percent improvement in the psychosocial wellbeing of participants, particularly when it came to anxiety, insomnia and depression. The study also found that since diving enables those with severe physical impairments to perform similarly alongside able-bodied divers, it bolstered self-confidence and self-esteem.
Deptherapy's president, Royal Air Force Air Vice-Marshal (ret.) Dr. Jon Lamonte, says, "For those of us lucky enough to come back, we share a total determination that we will do our best to support those who returned with injuries, some visible, more often than not, not so visible." Diving, he noted, restores confidence. "More than that, it starts to rebuild lives."
The most striking news to come out of that study in 2011, however, was diving's impact on those with PTSD. Symptoms decreased, on average, by 80 percent in veterans who went diving.
Coral Gardens in Paradise
Arguably, diving in tropical waters like those off Las Catalinas doesn't hurt in speeding up the healing process, especially since it's so easy to become distracted by manta rays, King Angelfish, moray eels, and colorful coral gardens. On one dive, I was literally caught up in a tornado of fish with thousands upon thousands of gilded grunts spiraling in a surreal whirlwind around me.
I found plenty of distractions onshore as well. Howler monkeys pranced about in trees overhead; I kayaked to an islet where hundreds of frigate birds circled overhead. There's miles of hiking, biking and horseback riding trails (of 1,200 developable acres, Las Catalinas is built on only 200 with the remainder left for conservation and trails). And then there were stunning sunset views from a cliff-side bar. The plunge pool in my rental villa wasn't too shabby either.
VA Funding?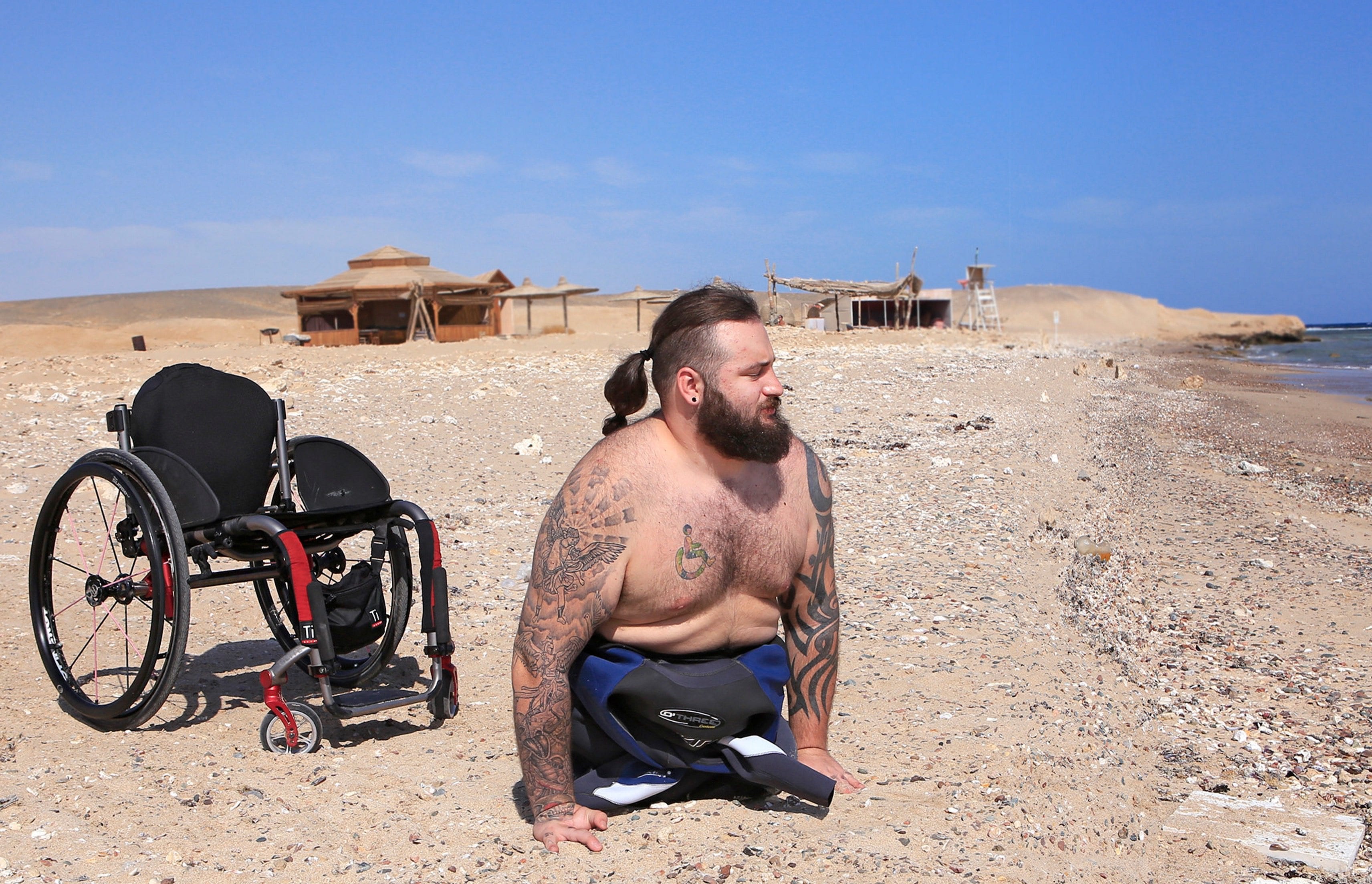 I had come to Las Catalinas for a vacation to just unwind and do a little diving. But I left with so much more; I left inspired and impassioned by the noble work of more than just a few good men and women.
Among them is James Timney.
Timney was a First Sergeant with the U.S. Army Military Police Corps. He injured his back, used diving as rehabilitative therapy, moved to Costa Rica and became a diving instructor. He is among about two dozen instructors that Ernst trained in Costa Rica to work with adaptive diving. Leave it to a determined Army veteran to now set his sights on loftier goals: he wants the VA to approve veterans' use of their VA rehabilitative funds or the GI Bill to learn how to scuba dive—to speed up their rehabilitation and/or enable veterans to become diving instructors.
Timney is now chasing the "rabbit down the VA hole," trying to find ways to navigate the bureaucracy of the Department of Veterans Affairs. (If any reader has fast-track suggestions, please email me). Certainly, the chase is worthwhile.
Timney's hope reminds me of a haunting scenario that Ernst relayed to me. A veteran decided to flip a coin. Heads, he'd kill himself, tails he'd join an adaptive diving trip to Costa Rica.
The veteran learned to dive with Ernst.
###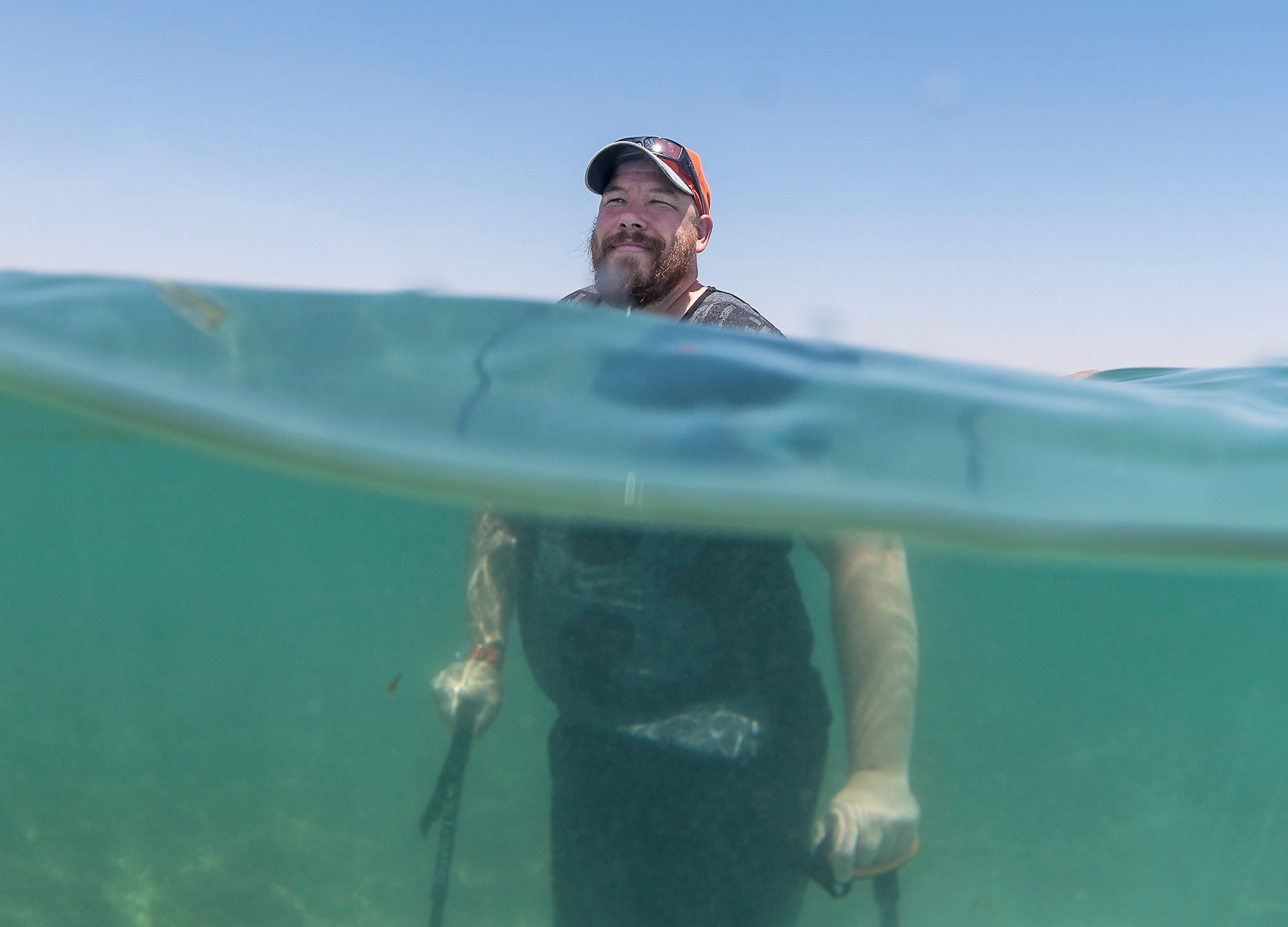 Getting to Las Catalinas
Major airlines such as Jet Blue and American Airlines offer nonstop flights into Liberia airport, which is approximately a 1-hour drive from Las Catalinas.
Accommodations
Luxury flats and villas: Las Catalinas in-town luxury accommodations start at US $180 per night in low season and range up to six-bedroom villas to accommodate families and larger groups. www.lascatalinascr.com
Scuba Diving
ConnectOcean Aquatic Academy and Dive Centre, www.connectocean.com, is a social and environmental enterprise focused on ocean conservation and stewardship. Differently abled divers include paraplegics, amputees, hearing and sight impaired divers, as well as cancer survivors. Watch here to see local cancer survivors participate in one of ConnectOcean's programs.
Resources for Veterans Interested in Diving
There are a number of other organizations that have recognized the potential healing power of diving.
Dive Warriors is a non-profit organization based in California and is operated by volunteers. It offers free classes to disabled veterans.
The Waves Project is also a non-profit based in California. It was "established to provide an opportunity for American Veterans with service connected disabilities and their families to experience scuba diving. Each veteran and a dive companion of their choice can experience the freedom of scuba diving for free."
Veteran's Dive Locker is a non-profit organization operating in Florida "dedicated to helping disabled veterans rehabilitate themselves through scuba diving. Disabled Veterans receive training to be certified scuba divers in order to open the door to the freedom of recreational scuba diving for fun and reintegration with society."
Veterans! Learn to Scuba Dive This Summer! OBP April Class starting soon. Sign up now! https://t.co/lFyjWrtMfg pic.twitter.com/ff30bkjHSW

— Operation Blue Pride (@OBP_Boston) March 22, 2017
Anne Kazel-Wilcox, for Lima Charlie News

Anne Kazel-Wilcox is author of West Point '41: The Class That Went To War and Shaped America, which she wrote in collaboration with seven U.S. Army generals. The book follows the West Point class of 1941 through three war – WWII, Korea and Vietnam – as well as through the Cold War and periods of peacetime military innovation. Her spouse and co-author, PJ Wilcox, served for more than 20 years in intelligence and in the U.S. Marine Corps. Anne can be reached by email (akazel@unsealedbooks.com).
[Main image: photo by Dmitry Knyazev]
Lima Charlie World provides global news, featuring insight & analysis by military veterans, intelligence professionals and foreign policy experts Worldwide.
For up-to-date news, please follow us on twitter at @LimaCharlieNews
In case you missed it: