The much anticipated hearing by the House Intelligence Committee began this morning, ending shortly after 3:pm. FBI Director James Comey and National Security Agency Director Mike Rogers testified before the committee that is seeking to ascertain whether Russia interfered with the 2016 election, whether President Trump and his team colluded with Russia, and whether there is any evidence to support President Trump's claims that President Obama had arranged to wiretap Trump Tower.
Russian Interference in Election 2016
As to the question of whether Russia interfered with the 2016 election, the answer from both Director Comey and Director Rogers was clear. Yes, and Russia will interfere again. When asked by Rep. Ileana Ros-Lehtinen (R-Fla.), whether Russia will amplify its interference in future U.S. elections, Director Comey responded:
"They'll be back in 2020, they may be back in 2018. And one of the lessons they may draw from this is that they were successful, because they introduced chaos and division and discord and sowed doubt about the nature of this amazing country of ours and our democratic process. It's possible they're misreading that as, it worked. And so we'll come back and hit them again in 2020. I don't know, but I think we have to assume they're coming back."
Director Comey confirmed the intelligence community's belief that Vladimir Putin's "hatred" of Hillary Clinton, particularly Secretary Clinton's anti-Putin stance leading up to Russia's 2012 election, was the primary motive to discredit her, leading to the hacking of the DNC. Director Comey confirmed that via the hacker known as Gucifer 2.0, Russian intelligence provided the damaging emails to Wikileaks. The FBI first disclosed this to the DNC in August 2015.
Director Comey would also testify that while there was no evidence of direct Russian hacking of U.S. voting systems, there is evidence of Russian efforts to "penetrate voter registration rolls" to influence the election.
Trump Russia Collusion
Director Comey said, in his opening statement, that while it is against policy to discuss an ongoing investigation, this is one of those "unusual circumstances where it is in the public interest" to do so:
"Because it is an open ongoing investigation and is classified, I cannot say more about what we are doing and whose conduct we are examining. At the request of congressional leaders, we have taken the extraordinary step in coordination with the Department of Justice of briefing this Congress' leaders, including the leaders of this committee, in a classified setting in detail about the investigation but I can't go into those details here. I know that is extremely frustrating to some folks. I hope you and the American people can understand. The FBI is very careful in how we handle information about our cases and about the people we are investigating."
Director Comey admitted that the FBI is currently investigating alleged links between Russia and the Trump campaign, and whether criminal activity was committed. Comey emphasized that as the investigation is ongoing, he is limited as to the level of detail that he could go into.
When questioned specifically about Paul Manafort, the president's former campaign chairman, Roger Stone, a Trump campaign surrogate who claimed on twitter to have a back channel with WikiLeaks, Carter Page, referred to as Trump's foreign policy advisor, or Rex Tillerson and connections to Russia, Directors Comey and Rogers generally refused to comment.
Both directors also refused to comment on most questions about former National Security Advisor Michael T. Flynn, who resigned in February after it was revealed that he had misled Vice President Mike Pence and other top White House officials about his conversations with Russian ambassador Sergey Kislyak. The conversations had been recorded during US intelligence surveillance and then leaked to the Washington Post last year, leading to Flynn's firing.
Obama Wiretap 
As to President Trump's claims of wire tapping ("Terrible. Just found out that Obama had my wires tapped in Trump Tower just before the victory. Nothing found. This is McCarthyism), Director Comey responded:
"With respect to the president's tweets about alleged wiretapping directed at him by the prior administration, I have no information that supports those tweets and we have looked carefully inside the FBI. The Department of Justice has asked me to share with you that the answer is the same for the Department of Justice and all its components. The department has no information that supports those tweets."
Terrible! Just found out that Obama had my "wires tapped" in Trump Tower just before the victory. Nothing found. This is McCarthyism!

— Donald J. Trump (@realDonaldTrump) March 4, 2017
NSA Director Rogers also called the president's claims that Obama had asked British intelligence to surveil Trump, "frustrating." Both Comey and Rogers admitted that while relationships with British and German intelligence may have been tested by President Trump's allegations, they remained strong.
Rep. Adam Schiff (D-CA), a former assistant U.S. attorney, tweeted, "FBI Director stated there's no evidence of baseless wiretapping claim. Only remaining question: Does @POTUS have the decency to apologize?" Schiff and Chairman Rep. Devin Nunes (R-CA), both said last week that they had found no evidence to support Trump's wiretapping claims, a conclusion repeated by top members of the Senate intelligence committee, chairman Richard Burr (R-NC), and ranking member Mark Warner (D-VA).
FBI Director stated there's no evidence of baseless wiretapping claim. Only remaining question: Does @POTUS have the decency to apologize? pic.twitter.com/4zy9jp9KEg

— Adam Schiff (@RepAdamSchiff) March 20, 2017
Throughout the hearing, Republican committee members, including Rep. Trey Gowdy (R-SC), Committee Chairman Rep. Devin Nunes (R-CA), and Rep. Peter King (R-NY), focused primarily on allegations surrounding the illegality of the Mike Flynn leak, a felony punishable by up to 10 years in prison. When pressed repeatedly by Trey Gowdy as to whether the FBI was investigating the Flynn leak, Director Comey stated, "I can't but I hope — I hope people watching know how seriously we take leaks of classified information. But I don't want to confirm it by saying that were investigating it. And I'm sorry I have to draw the line, I just think that's the right way to be." Rep. Gowdy warned Director Comey that until these issues are resolved, "a vacuum exists" and "I hope that you go find every single witness and every single document."
Republican House representatives also focused on former Director of National Intelligence James Clapper's recent statement that there was no current evidence linking the Trump team to Russian collusion. Clapper, while agreeing that President Vladimir Putin had a "clear preference" for Trump, and had supported Trump's re-election efforts through hacking and the selective leaking of damaging emails, stated in a March 5th interview on Meet the Press, "We did not include anything in our report … that had any reflection of collusion between members of the Trump campaign and the Russians."
President Trump began the day in anticipation of the hearing with a tweet storm expressing his opinion.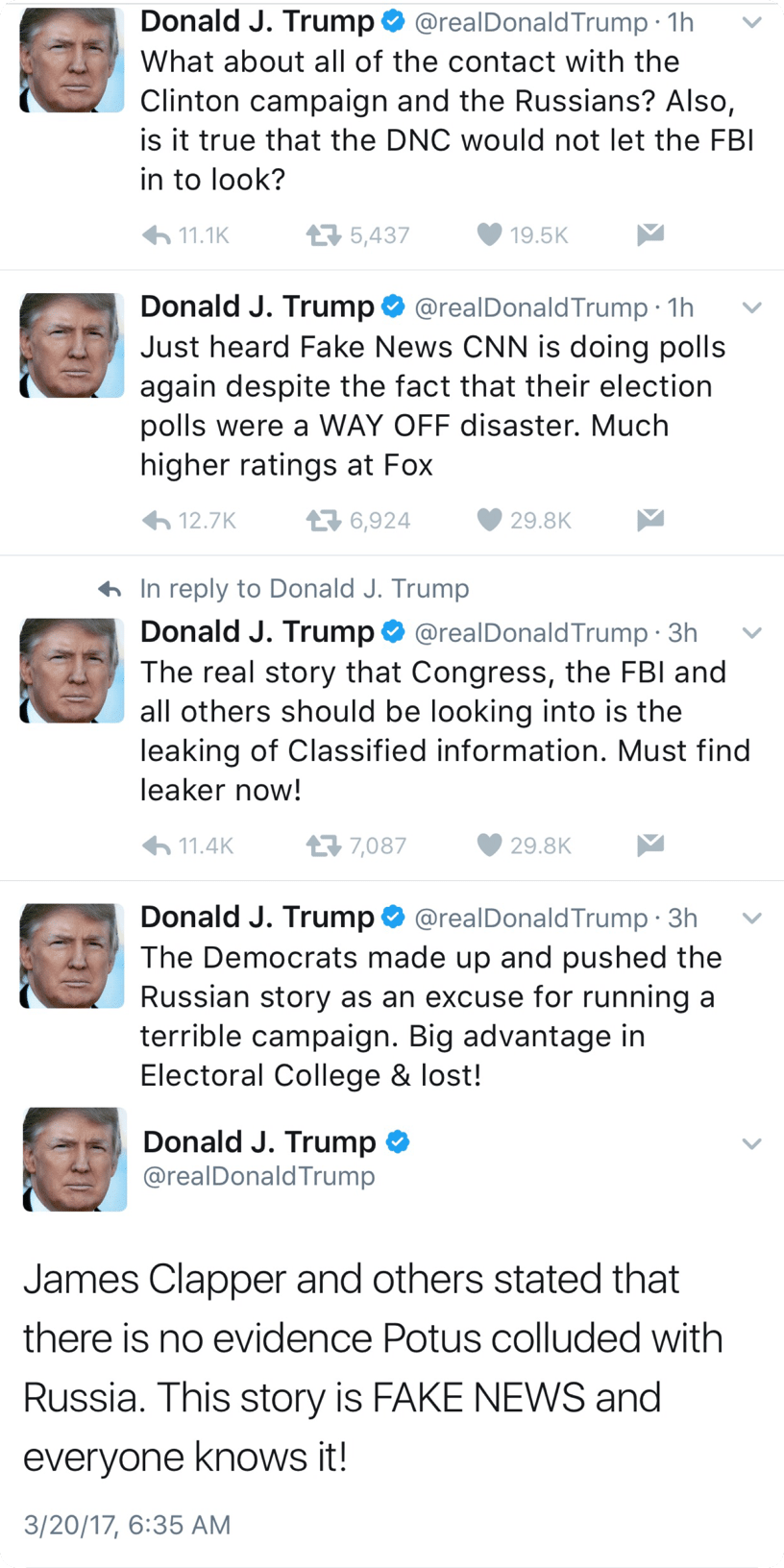 In a White House press conference today, efforts were made by Press Secretary Sean Spicer to downplay the role of Roger Stone and Paul Manafort in the Trump campaign, prompting strong reaction from the press.
Wow – Spicer now describing Manafort as playing a "very limited role" for a "very limited" time. He was chairman of the campaign!!!

— Maggie Haberman (@maggieNYT) March 20, 2017
Stone has been Trump's friend since the 1980s and was involved in every near-campaign Trump ran, and the one he did eventually run.

— Maggie Haberman (@maggieNYT) March 20, 2017
Director Comey's opening remarks, and statement on the investigation:
For a full transcript, courtesy of the Washington Post.
WATCH LIVE:
LIMA CHARLIE NEWS
Lima Charlie provides global news, insight & analysis by military veterans and service members Worldwide.
For up-to-date news, please follow us on twitter at @LimaCharlieNews