Lima Charlie News
On June 6, 1944, the Normandy landings (codename: Operation Neptune) began the liberation of German-occupied Europe from the Nazi regime. In the largest seaborne invasion in history, about 156,000 American, Canadian and British troops landed in France's Normandy region on five beaches along a 50 mile heavily fortified coast. In the invasion, which included over 5,000 ships and 11,000 airplanes, 10,000 servicemen would be killed or wounded, with the bloodiest fighting at Omaha beach where three thousand alone fell. In the end, D-Day (the military term for the day an operation is initiated) would mark not just the liberation of France but the beginning of the end of the war in Europe.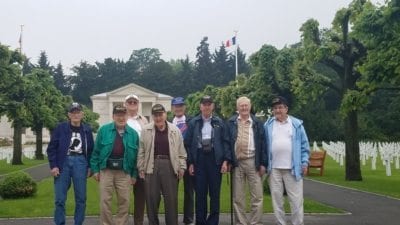 Days before the 72nd anniversary of D-Day, preparations were underway throughout France to celebrate and honor those who fought for liberation. The Greatest Generations Foundation, a non-profit organization, organized a return to Normandy program, taking nine World War II U.S. veterans back to the battlegrounds on which they fought so long ago. As the veterans, now in their 90's, make their way through France, locals stand in awe at their presence. Many of the French express this sentiment in long, warm stares of gratitude. Many engage the veterans, thanking them and reminiscing about family members who served alongside them during the war.
As most of Europe celebrates D-Day and honors these superheroes, many Americans still struggle to remember
As someone who has served in the military, it is remarkable to witness these displays of genuine sincerity between our American heroes, and the people of France, Britain, Poland and the Netherlands. They show nothing but total respect and appreciation for our veterans, audacious men who were part of the American might that destroyed Hitler's regime.
All across Europe, there are celebrations and reenactments of the events that transpired 72 years ago. In France, in particular, locals carry the United States flag through the streets and fly it alongside their national flag. Every year since the war, these celebrations and stories remind us never to forget.
In France, the global effects of WWII are taught to students to remind them of how easily peace can slip away. I watched as French school children, having the chance to ask questions of these veterans, stood in wonder listening intently to D-Day stories as if in the presence of "superheroes." From their eagerness to learn more and the looks on their faces, it is evident that what happened here 72 years ago will not be forgotten.
As most of Europe celebrates D-Day and honors these superheroes, many Americans still struggle to remember.
Liz Perez-Halperin, Lima Charlie News
Liz Perez-Halperin (Aviation Logistics Specialist, U.S. Navy) is a Senior Correspondent for Lima Charlie News. Liz served in the Navy for over eight years with several deployments in the 5th and 6th Fleet, before founding GC Green Incorporated, a veteran-owned "Green Build" general contracting and consulting firm.
Follow Liz on Twitter @LizPerezLC
#Normandy #WW2 #DDay #veterans #France #Army #Navy #Marines #USAF #TGGF #LimaCharlie #LimaCharlieNews