One week into the Mosul Offensive, Coalition Forces continue to advance amidst ISIS sleeper cells and suicide bombers in Kirkuk, while U.S. troops suffer another loss and increased engagement.
IRAQ – As the Islamic State's defensive perimeter around the city of Mosul falters from the blitz of Coalition troops, Daesh has begun to resort to familiar and effective routines of terrorism. On Friday (OCT21), IS began carrying out counterattacks in Kirkuk against primarily civilian targets, activating IS sleeper cells in the Kirkuk province, killing approximately 52 people.
Just before dawn, 12 militants initiated a series of attacks that continued throughout Friday, and did not end until the last one had been killed by the responding Security Forces. Images from the city show columns of smoke rising from the attack sites. The militants used the all too familiar suicide-bomb (PBIED) to attack an Iranian owned and operated power station under construction in al-Debis, part of northwest Kirkuk province, killing 16 people. Kurdish and Iraqi Security Forces responded to the scene, killing one of the attackers in close quarter combat before he was able to detonate his suicide belt. The remaining two militants detonated their belts as they exhausted their ammunition. The explosions from the two militants damaged the power plant and killed several Iraqi and Iranian individuals.
"Three suicide bombers attacked the power plant at around 6am, killing 12 Iraqi administrators and engineers and four Iranian technicians," al-Dibis mayor, Abdullah Nureddin al-Salehi, told the wire service AFP reporter.
Armed with a suicide belt, one militant crept into a mosque, where only moments earlier, the Imam had canceled Friday prayer out of fears his congregation would get caught in the violence. Reports indicate that the Imam was able to talk the militant into surrendering to authorities, after the Imam struck a deal with Security Forces that they show "kindness" towards the attacker.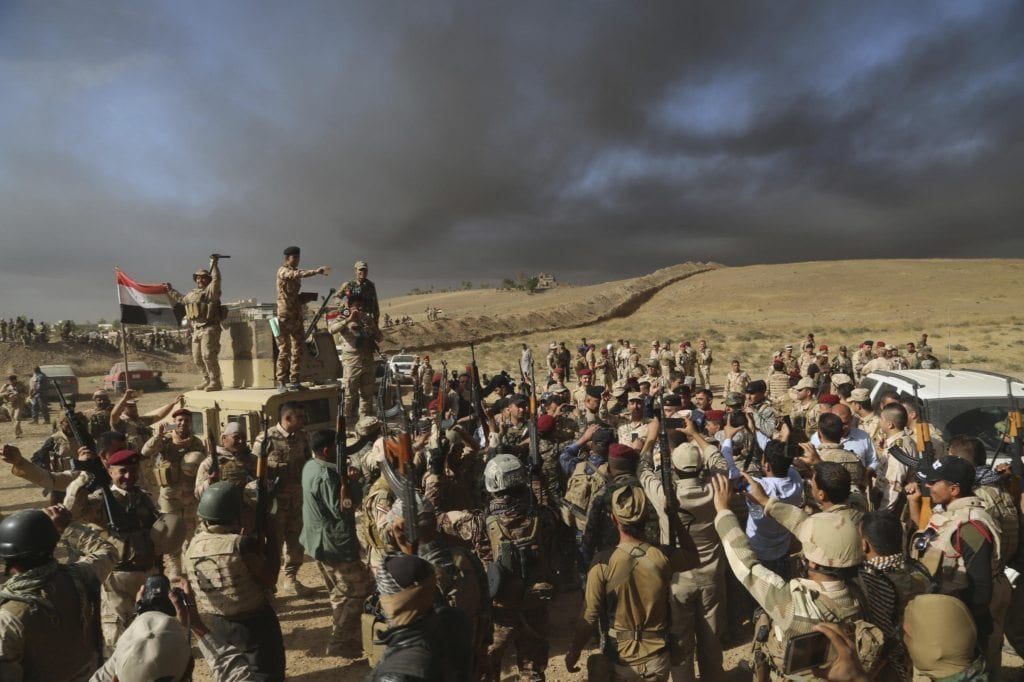 The assault included IS sniper attacks against a hotel, and a school. The hotel attack reportedly resulted in the death of a Turkish reporter, Ahmet Herceroglu, from Turkmeneli TV who was heading out the front door to begin covering the events on the streets. Reportedly, the militants also attempted to attack a prison, presumably to free other IS sympathizers, helping further the cause of disrupting the city.
While the local government ordered its civilian population indoors for safety, many instead took to the streets armed with personal rifles to protect their homes. These impromptu neighborhood militias often linked up with Security Forces, engaging in combat alongside them. As seen in video interviews by the Kurdish news network Rudaw, many civilians who joined the fight on the streets expressed enthusiasm over their opportunity to fight the Islamic State.
At the end of the day, reportedly 30 of the 52 killed in Kirkuk were from the Kirkuk Security Forces that were responding to the attack. Ten or more of the dead were reported to be from militant forces. Reports indicate that Kirkuk Security Forces believe there are more assailants on the loose, and the search for them is ongoing. The risk is considered high for repeated attacks from terrorist cells in the area.
The battle for Mosul is taking place 105 miles to the northwest of Kirkuk, which in turn, is 146 miles north of Baghdad. Kirkuk is an ethnically mixed city of Kurds, Arabs and Turkmen, with control of one of the territories disputed by the central government and the Kurdistan Regional Government (KRG). Kirkuk has long been the scene of ethnic tensions and sporadic violence, and IS has previously played on these tensions to set up sleeper cells, launch small suicide attacks, and set off roadside bombs.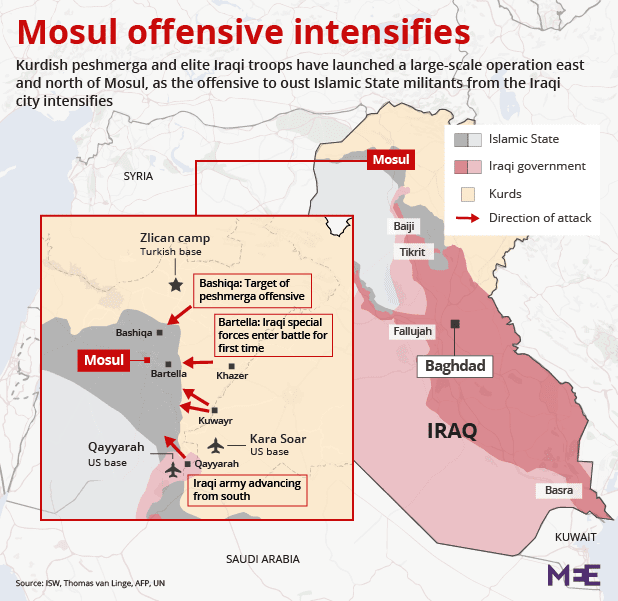 The Mosul offensive marks the first time Kurdish and Iraqi troops have fought under their respective flags alongside each other. Since the initial OCT17 attack Iraqi and Kurdish government forces, with affiliated militias, have been successfully advancing, despite IS militants use of VBIEDs, IEDs, and suicide bombers, on three fronts. The coalition also has worked to clear villages and towns ahead of the larger offensive–the battle for Mosul proper. Despite hardships on the front, the offensive is said to be going much more efficiently than anticipated by coalition leadership. Iraqi Prime Minister Haider al-Abadi stated on Thursday (OCT20) that Iraqi Forces were moving "faster than expected," and that the coordination between the various factions is working well.
Observers traveling with Iraqi forces referred to the fighting on Friday as "intense," and that the resistance was escalating as they moved closer to the outskirts of Mosul. Reportedly IS forces appeared more motivated and equipped to resist the Iraqi forces.
Since the beginning of the offensive, coalition airplanes, artillery, and rocket artillery, have been in use around the clock, hitting dozens of targets in and around Mosul. The targets include bridges, tunnel entrances, supply caches, and communication infrastructures held by IS elements. According to US CENTCOM, the Mosul offensive is bound to result in some of the heaviest fighting in Iraq since the 2003 U.S. invasion of Iraq.
Speaking from a Kurdish occupied forward operating base, the President of Kurdistan, Masoud Barzani, stated that they had achieved "more than we had expected in one day" during a press conference on the second day of the offensive. At that point, the coalition had seized 200 square kilometers of enemy territory.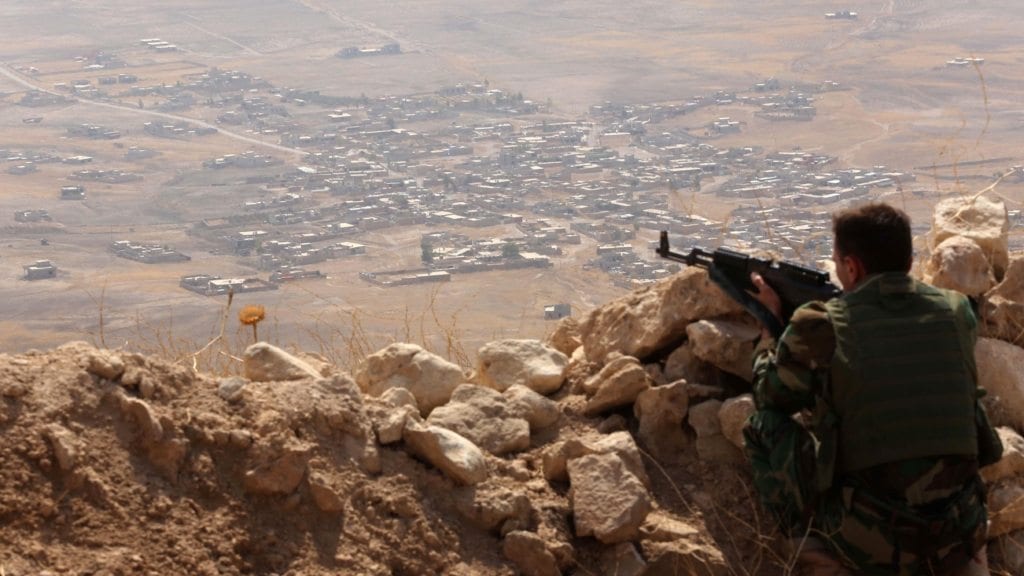 By OCT20, the Kurdish flag had been raised by liberating Kurdish forces in more than 15 villages, but the resistance began to intensify. Kurdish frontline troops had to call in massive artillery barrages to ease their advance as the battle for Borima raged. IS militants used vehicle borne suicide bombers during the battle of Fazeliya on OCT19-OCT20, and while the Kurdish Peshmerga were able to disable several approaching suicide bombers, at least one large truck got close enough to detonate and wound several fighters. At least one fighter was reported to be in serious condition, having lost both his legs. Kurdish forces do not release official numbers of their casualties, but reports indicate that casualty rates are high, with at least 40 Peshmergas having died since the start of the offensive. The high death toll on the Kurdish side has caused a slowdown on their front.
Communications intercepted and reported by regional media display a predictably callous attitude by IS leadership towards their fighters' lives, commanding them to not just hold frontline positions as long as possible, but also overtly encouraging them to give their lives in doing so. One resulting militant tactic is to remain hidden until coalition fighters have entered a town to clear it, then suddenly emerge, attacking with gunfire and explosive belts.
IS has also built extensive tunnel systems in order to move around villages unhindered, attacking coalition forces from behind. Advancing Peshmerga forces have reported finding large deposits of T.N.T., with T.N.T being the Kurdish nomenclature equivalent of what Western soldiers would call ready to deploy IED's. Kurdish General Kamal has stated that 2-3 more days will be needed to clear and secure already captured villages before they can fully engage in offensive tactics again.
On Thursday, OCT20, an American adviser sent to Iraq from the US Department of Defense was killed outside of Mosul by an IED explosion. Chief Petty Officer Jason Finan, 34, was from Anaheim, California, and had joined the US Navy in 2003. Finan became an Explosive Ordnance Disposal (EOD) technician in 2006.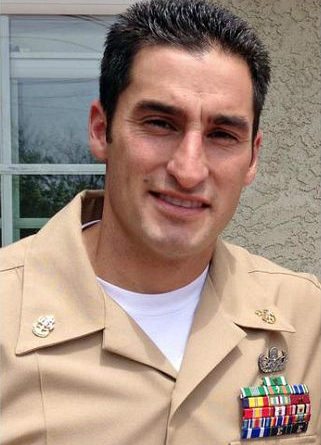 This marks the second American sailor killed in action while operating in Iraq this year. In May, a Navy SEAL, Special Warfare Operator 1st Class Charles Keating IV, 31, was killed in a firefight after his quick reaction force came to the aid of an advisory team whose base was under attack by militants. In March, Marine Staff Sgt. Louis Cardin, 27, died when Islamic State militants attacked a firebase about 60 miles south of Mosul. In 2015, Master Sgt. Joshua Wheeler, 39, died in a Kurdish-American Special Forces raid seeking to free 70 hostages being held by IS elements at a complex.
The Pentagon stated that Chief Petty Officer Finan was deployed as part of Operation Inherent Resolve, the mission of which is to remove Daesh from Iraq and Syria. At present there are about 5,000 U.S. troops in Iraq, deployed in training and advisory roles, operating as support, or directly involved with Operation Inherent Resolve. About 100 of these troops are embedded with Iraqi units engaged in the Mosul operations. Most Americans in Iraq are stationed at the recently liberated and still under repair, al Qayara air base, about 30 miles south of Mosul, from which intelligence and logistical support is provided for advancing troops.
The offensive on Mosul has yet again proven the importance of proper use of Joint Terminal Air Controllers, or JTACS, on the ground working closely with allied forces on the frontlines. The U.S. has deployed a large number of JTACS to Mosul, often embedded alongside Kurdish and Iraqi forces, officially never leaving the safety of being "behind the forward line of troops" – to direct air support effectively. U.S. Special Operations AC-130 gunships have also been deployed to provide close air support to advancing troops.
"It's safe to say that there are Americans on the outskirts [of Mosul]."
– Peter Cook, Pentagon Spokesperson
The Pentagon has taken the position that some U.S. troops are "playing an advisor role, an enabler role for these Iraqi forces," and that they stand in stark contrast to the majority of deployed U.S. military personnel in Iraq, who are nowhere near the official front line. This position stands in contrast to the actuality of combat operations in Middle Eastern terrains where "frontlines" are often not as defined. Pentagon spokesperson Peter Cook stated, "To be sure, there are Americans in harm's way in this fight." The Pentagon announced in September that in order to effectively conduct operations in Iraq, it will need to deploy another 600 troops to the al Qayara air base, and that the number might increase as the Mosul offensive continues to escalate.
Civilians living in Mosul continue to face horrific conditions. The United Nations Human Rights office has launched an investigation into reports that IS is not only abusing civilians behind IS lines, but also using them as human shields. Reports indicate that IS is preventing civilians from escaping the conflict, and also moving a number of families towards the frontlines, and chaining them in open areas that would otherwise be targeted by the coalitions air capabilities or by artillery.
Turkish aid officials have said as many as 400,000 people could be displaced, contributing to a "large migration wave". On Friday, U.S. Defense Secretary Ash Carter announced that Turkey and Iraq had reached an amicable agreement, in principle, that could allow a Turkish role in the Mosul campaign, but details on the practical aspects of the agreement are still open.
A Christian town that had been seized by Daesh militants has been liberated. Late Friday (OCT21), the Iraqi Popular Mobilization Forces announced that for the first time in 28 months, the church bells of Bartella, a Christian Assyrian village south of Mosul, chimed again in celebration and for the call to mass. Bartella was once home to thousands of Assyrian Christians, but emptied in August 2014 when IS seized control. Speaking at Saint Matthew's Syriac Orthodox Church, Iraqi commander Major General Maan Saadi said, "Bartella is now safe and secured. It is under our complete control." Lieutenant General Talib Shaghati, who heads the Joint Operations Command said, "This ancient church which was desecrated by the terrorists has today been liberated."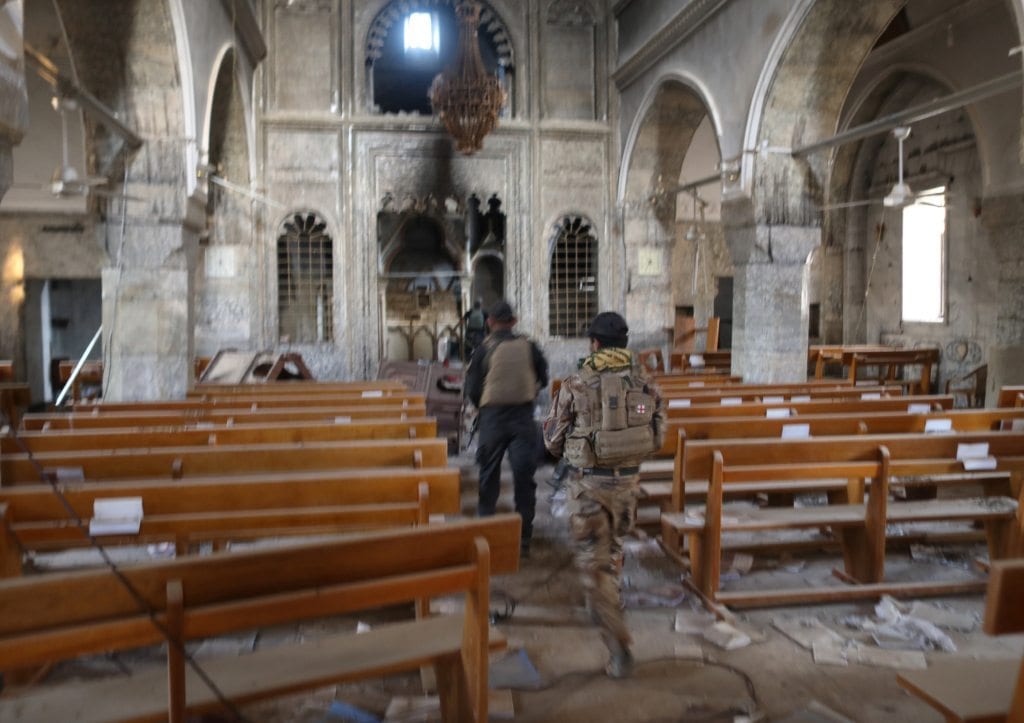 Follow Lima Charlie News for the latest on the Mosul Offensive.
By John Sjoholm, with Mario Figueroa, Lima Charlie News
John Sjoholm is the Lima Charlie's Middle East Bureau Chief, and the founder of the consulting organization Erudite Group. He is a seasoned Middle East connoisseur, with a past in the Swedish Army's Special Forces branch and the Security Contracting industry. He studied religion and languages in Sana'a, Yemen, and Cairo, Egypt. He lived and operated extensively in the Middle East between 2005-2012 as part of regional stabilizing projects, and currently resides in Jordan.
Follow John on Twitter: @JohnSjoholmLC
Lima Charlie provides global news, insight & analysis by military veterans and service members Worldwide.
For up-to-date news from the Middle East, please follow us on twitter at @LimaCharlieNews and @JohnSjoholmLC