Day 2 of operations to liberate Mosul, Iraq, saw Shi'a, Kurdish and Iraqi forces work together against fierce ISIS resistance. Reports indicate that Operation Conquest may be a long one.
IRAQ – The offensive against ISIS held Mosul continued on its second day, after a somewhat successful Day 1 of Operation Conquest (Operation Fatah), the coalition push to liberate Iraq's second largest city. Iraqi troops advanced from the south, putting into action artillery against enemy positions, still some 40 kilometers away from the outer edges of Mosul.
In the face of bitter ISIS resistance, officials expect the Mosul operation to last weeks or months. The official number of Daesh fighters is stated to be upwards of 15,000, but in actuality between 4,000 and 8,000 are believed to remain in the city. The coalition, which includes Shi'a, Kurdish and Iraqi forces, is supported by U.S., British and French special forces and air support. The U.S. maintains 5,000 troops in Iraq, many having trained Iraqi forces specifically for this operation.
As the battle for both Mosul and Hawija unfolds, local and international observers anticipate the sectarian rift to widen, watching Shi'a, Kurdish, and Iraqi Army forces closely, for an overt sectarian war that might shift as Mosul falls.

Saudi Arabia's Foreign Minister, Adel al-Jubeir, expressed concern that the battle for Mosul could turn into a massacre if the Baghdad government allows Shia militias to enter the city, as it has in other liberated Iraqi cities. Mosul's civilian majority is Sunni. According to Jubier, "We oppose any kind of involvement by the Shia militias. If they go into Mosul … I would expect the negative reaction will be tremendous and if there are mass killings, it could end up being a bonanza for violent extremists, and recruitment for Daesh. It could add fuel to the sectarian fires raging in the region and so we have urged the Iraqi government not to use the Shia militias. That is the greatest danger that we see." Jubier also expressed the commonly held belief that if IS were forced out of Mosul, they would simply relocate and reinforce the Islamic State frontline elsewhere.
The Iraqi Army's 9th Division has been able to reach and liberate the Christian town of Baghdida (also known as Qaraqosh, and al Hamdaniya), and soldiers are performing clean up operations at the street level. The Iraqi Army also took control of the Abbas village, and reports that they are continuing to advance from that position. However, reports are materializing that the advances are slowing due to lack of air assets readily available, and explosive devices on the ground. Reports have also surfaced that despite gains, Kurdish fighters have voiced frustration over Iraqi Army delays slowing the pace of the coalition advance.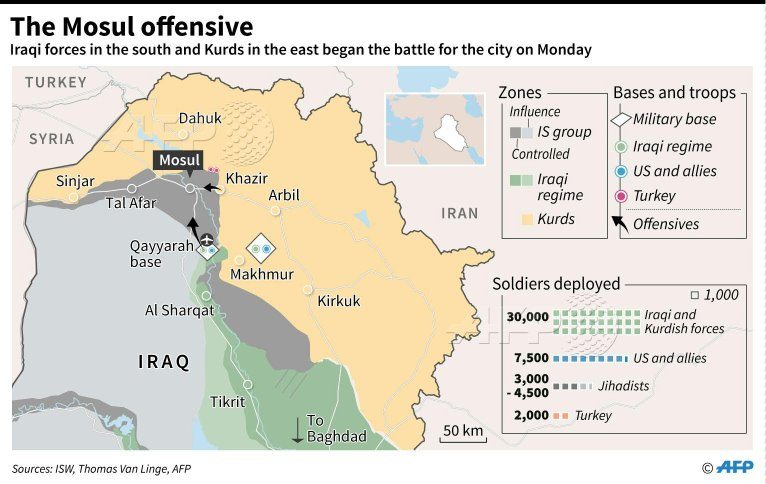 IS affiliated media outlets reported that Daesh unleashed 12 suicide attackers on Peshmerga and Iraqi troops yesterday. Despite this type of resistance, alongside the fierce regular combat resistance, reports indicate that 20 villages were brought under coalition control.
While Kurdish Peshmerga and Iraqi forces advance under the cover of air cover, the controversial Shi'a militia Popular Mobilization Units (PMU) has been told to stand down and redirect their forces towards taking Hawija. Hawija is a smaller city in Northern Iraq with a population of 200,000, and a stronghold for IS militants. The belief is that once Mosul falls, IS fighters will attempt to reach Hawija as a safe point before entering Syria to travel onwards towards Aleppo. Hawija is also infamous for the site where Daesh brutally executed at least 100 people in August of 2016.
The UN High Commissioner for Refugees (UNHCR) has warned that up to 100,000 Iraqis may flee to Syria and Turkey to escape the conflict, adding to an already strained refugee support system. UNHCR reportedly has five camps open and ready to shelter 45,000 people, hoping to have a total of 11 camps ready which could shelter 120,000 people.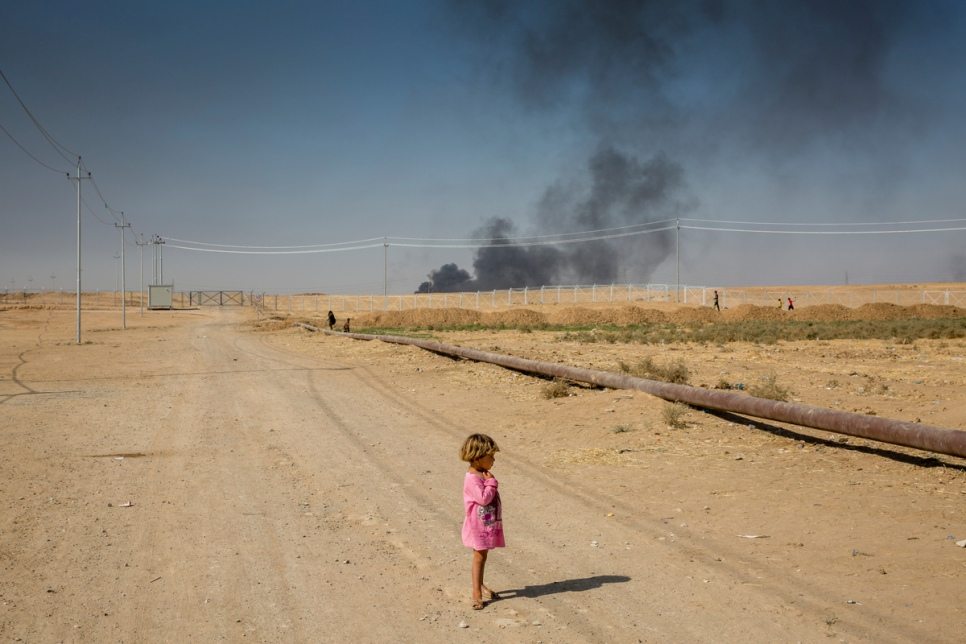 Turkey's Prime Minister Binali Yıldırım stated that Turkish fighter jets attacked ground targets in Mosul on Day 1 of operations. While reports of Turkish participation in operations primarily come from Turkish media, it appears to be overstating the impact of Turkish operations. Accusations have surfaced that Turkish media has been attributing U.S. Air Force sorties as Turkish. Iraqi officials have restated the demand that Turkey pull out from the Mosul battleground, despite Turkish advances and liberation of the vital IS village of Dabiq yesterday.
Thousands of #Iraq-is gathered outside the Turkish Embassy to protest Turkey's interference in #Mosul. pic.twitter.com/Svxakr3riC

— andreas korinov (@andreaskorinov) October 18, 2016
Turkish Foreign Minister Mevlut Cavusoglu stated in a press conference in Tashkent, Uzbekistan, that a delegation from Iraq is expected in Turkey later this week for discussions towards resolving the dispute over Turkish troop presence in northern Iraq. Critical to air operations, the U.S. has extensively deployed its B-52 bomber squadron out of the NATO air base Incirlik, in Turkey.
The question remains whether Turkish, Shi'a, Kurdish and Iraqi forces can maintain the alliance amidst sectarian and political dissent through the long road ahead.
John Sjoholm, Lima Charlie News
John Sjoholm is the Lima Charlie's Middle East Bureau Chief, and the founder of the consulting organization Erudite Group. He is a seasoned Middle East connoisseur, with a past in the Swedish Army's Special Forces branch and the Security Contracting industry. He studied religion and languages in Sana'a, Yemen, and Cairo, Egypt. He lived and operated extensively in the Middle East between 2005-2012 as part of regional stabilizing projects, and currently resides in Jordan.
Follow John on Twitter: @JohnSjoholmLC
Lima Charlie provides global news, insight & analysis by military veterans and service members Worldwide.
For up-to-date news from the Middle East, please follow us on twitter at @LimaCharlieNews and @JohnSjoholmLC