Law & Order: Cleveland
Cleveland, Ohio – 4:00PM local time, multiple protests converged at the Republican National Convention, coming to a head at Public Square near the Soldiers and Sailors Monument. The monument is the property of the county, despite efforts to make it part of the city. Columbus police guard it proudly.
On Day 2 of #RNC2016, a great divide occurred in the Square. Progressive and Black Lives Matter movements, along with socialist groups, positioned themselves to counter the words of right-wing radio host and Infowars founder, Alex Jones. Jones was rumored to be about to speak from a podium that had been set up for such speeches.
The energy in the crowd had been rising as disparate groups arrived with their posters. In the east were the ever present street preachers declaring doom on every imaginable category of sinner. At nearly the same time, a Black Lives Matter crowd arrived with a display of victims of police shootings. A recorded message blared over a bull horn. Then, an anti-police group sprouted up between them.
Shouts of "Infowars!" and "Nazi scum!" erupted nearly simultaneously. The police seemed to be hurrying someone from the crowd. Jones' words had been met with instant chaos. The police were forced to escort him off stage and into a waiting patrol car.
The intensity continued in the square when pro-Christian groups wielding signs that warned "Jesus is Angry with you sinners" and "Hellfire Awaits!" began to chant damning rhetoric via megaphone. Pro-life activists challenged the Black Lives Matter movement shouting "why aren't you Black Lives Matter people saying, 'black babies lives matter?'"
The first to act were the extremely effective bicycle cops. They arrived quickly, bisected the crowd, and then used their bicycles as makeshift barriers. Within minutes dozens of officers in regular patrol uniforms descended on the plaza. They immediately established an external perimeter and then reinforced the bike officers with enough manpower to start to separate the groups.
Such efforts by law enforcement were well designed and quick.
The standoff between cops and the protesters eventually settled down into a sweaty standoff in the heat of the day. Press of various types were so numerous that their monopod and selfie sticks made the square look like an overgrown lawn, with random spikes and long grass blades intermixed.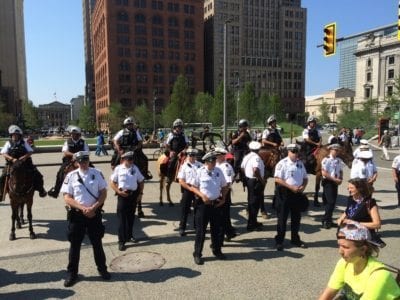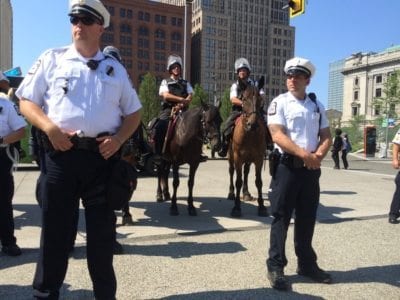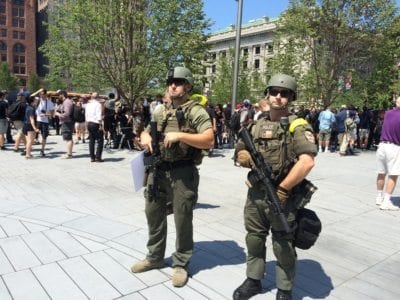 Undramatically, the police continued to increase their numbers until they outnumbered the crowd. They bisected the blocks of crowd until each group only represented a few dozen protesters. Their actions served to calm the situation and, by 4:45, the tensions had begun to defuse with disparate groups walking away under the sound of fading pro-Christian megaphones. Eventually, the Black Lives Matter group decided to quit the effort and begin their march down Euclid Street. Their uneventful march disappeared to the east, with shouts of tearing down the whole damn system.
Opposite rallies continue, but remain peaceful at the #rnc. Police are equal in number to protestors. pic.twitter.com/Rs1mrF0CwH

— Joshua Gates (@JoshuaGatesLC) July 19, 2016
Left behind were the street preachers who eventually became exhausted and retired to the shade of the mall a block away. Left behind were also a dozen or so Montana Militia, who came to show off their plate carriers and rifles. The police mostly ignored them, though they did eventually move a handful of seemingly bored state troopers over to mill around near them. The militia members exchanged a few disinterested words with the troopers that seemed more like musings about how much it sucked to stand in the sun in your body armor than any actual confrontation. The nearby police horse unit and troopers in their campaign covers made for striking imagery.
Through it all, the combined efforts of multiple law enforcement agencies served to maintain peace and accord. It appeared as though rehearsal efforts were effective. And all of this, some distance from the main RNC at the convention center, where internal politics mirrored what was happening outside.
Eventually, around 6 p.m., time came for the last few votes to be cast for Trump's nomination. As they were cast, the crowd around the Soldiers and Sailors memorial didn't seem to be aware.
The younger members of Code Pink danced in the fountain while holding signs expressing their hatred of war. They wore stickers that said "Make out, not war". When asked why the classic slogan "Make love, not war" had been abandoned, they just shrugged. It wasn't clear to anyone present whether the lack of intensity in the new slogan was reflective of an ongoing conflict with a body count 90% lower than that of Vietnam, or possibly a more Orwellian reason. In the end, the best answer was that making out is fun, and they were just looking for a fun slogan.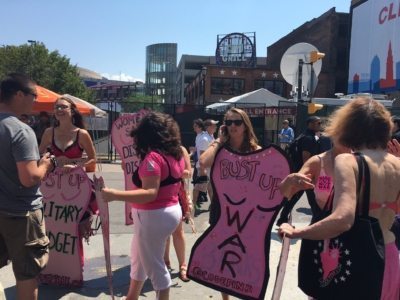 Inside this arena, former rivals of Donald Trump now deliver speeches in support. Tonight's theme "Make America Work Again," continues from last night's "Make America Safe Again". Some of the big-name speakers taking to the Quicken Loans stage are Senate Majority Leader Mitch McConnell, Dr. Ben Carson, New Jersey Governor Chris Christie, and Speaker of the House Paul Ryan.
Just after 7:00 PM, the State of New York cast their delegates for Donald Trump, giving him the majority, making the nomination official. Whether he can make America safe again and work again, is up for peaceful debate among the enthusiastic crowd gathered outside.
Trump nears delegate benchmark at #rnc. Republicans have decided.

— Joshua Gates (@JoshuaGatesLC) July 19, 2016
Day 2 of the Republican Nation Convention ended with a cloudless, amber sunset. The crowd at the people's park enjoyed a quiet and extremely safe early evening due to the presence of dozens of police officers from several agencies. The California Highway Patrol was posted for the evening at the Soldiers and Sailors monument, relieving a scorched and sweat soaked day shift. A day shift crew that had their hands full.
So, the sun set on dancing in the fountain and latecomers wondering where all the protesters were. At times on Day 2, it looked as if the tension was going to get out of hand. But, quick, efficient police response cut problems down to a manageable size. The open question is whether tomorrow will bring crowds angered by Trump's nomination, or whether the inevitability of his position as the party's nominee takes the wind out of protestors' sails.
Joshua Gates, with Cy Derringer, Lima Charlie News
Joshua Gates (U.S. Marines, Combat Veteran) is a Senior Correspondent for Lima Charlie News. A 10 year veteran of the Marine Corps, Joshua conducted special operations and intelligence work in joint environments on four continents, which included time served in Kosovo, Iraq and Afghanistan. He has also worked in humanitarian relief to areas such as Mozambique and Northern Africa. Joshua is a documentary and narrative filmmaker and his fictional work has been published in literary journals and fiction collections. Follow Joshua on Twitter @JoshuaGatesLC
Cy Derringer joined the USMCR in 1990, served as a radio operator and intelligence analyst until 2005, deployed twice in support of OIF in 2003 and 2004, and has worked as a police officer since 2002.
Lima Charlie provides global news, analysis and opinion by military veterans and service members Worldwide.
For up-to-date news please follow us on Twitter at @LimaCharlieNews
#LimaCharlie #LimaCharlieNews
Image credits: Joshua Gates, Cy Derringer