Hurricane Irma's impact on Florida's economy, the forth largest in the United States, and the 18th largest in the world if ranked by GDP, could be severe as the Category 4 storm surges north bringing with it winds exceeding 130 mph and 10-15 feet surge flooding. The storm, described as "a record-breaker" "unprecedented" and "catastrophic" by the National Oceanic and Atmospheric Administration, reached Category 5 status and became the most powerful Atlantic hurricane on record, as it made landfall in the Caribbean days ago sustaining winds of over 185 miles per hour with gusts over 200 mph.
Heeding Governor Rick Scott's pleas, thousands fled the storm in a mass evacuation while gas stations became short of fuel and stores announced shortages of water and other supplies. According to CNN meteorologist Chad Myers, the storm will be devastating for central Florida, Tampa, Fort Myers, Naples and Key West. As Hurricane Irma moves inland, more than 45 million people will face tropical storm conditions affecting Georgia, Alabama, Tennessee, South Carolina and North Carolina.
Florida, with an economy worth $927 billion annually, ranks 18th out of 224 of the world's countries and US states by GDP, ahead of Indonesia, Turkey, Saudi Arabia, Israel and Pakistan, according to 2015 IMF figures.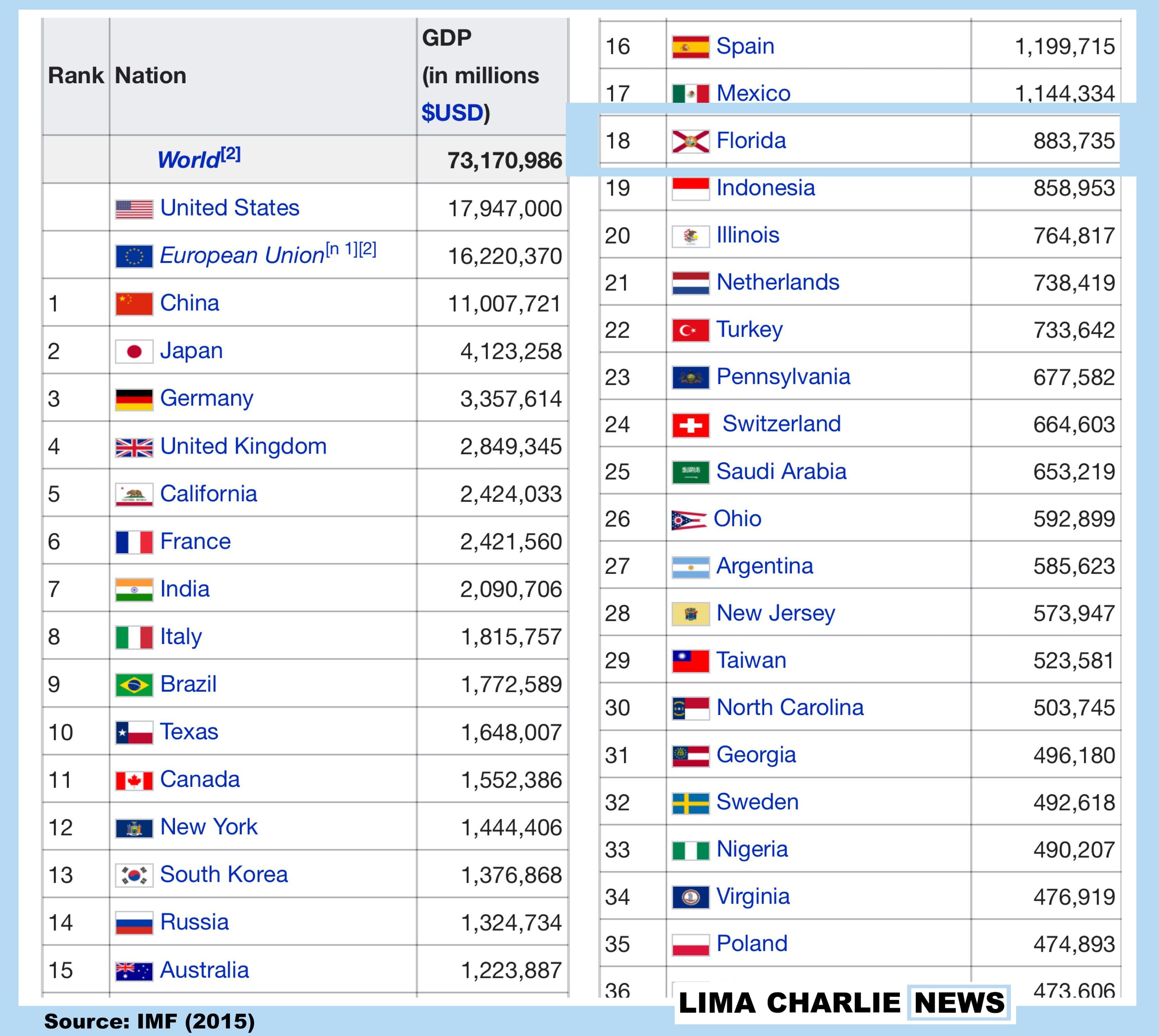 [See also US Dept. of Labor, Bureau of Labor Statistics, for 2017]
Some economists say losses from Irma could top both Hurricane Katrina ($160 billion in damage, 2005) and Hurricane Harvey, which could cost up to $180 billion. Estimates as to Irma's impact range from $125 billion to $200 billion in economic losses to Florida alone. The last Category 5 storm to hit the state, Hurricane Andrew in 1992, caused $26.5 billion in damage, which, according to an estimate would cost $100 billion if it hit today.
Taking into account impacts to Florida's agriculture industry (as the nation's top citrus producer, also leading in sugarcane, tomatoes, watermelons and cucumbers), its fishing and horticulture industries (all totaling $150 billion per year), add tourism, which is Florida's single largest industry ($2.7 billion a year and 54% of jobs in the region), and Irma's effects could be devastating.
Florida is also one of the largest export states in the U.S. and a major gateway for merchandise trade between North America, Latin America, the Caribbean and other world regions. Forty percent of all U.S. exports to Latin and South America pass through Florida, where merchandise exports shipped from and through Florida totaled $81.7 billion in 2014.
As of 2014, over 2,000 aerospace and aviation companies were located in Florida, and the annual economic impact of aviation-related activities in Florida is estimated at $144 billion. Florida is also home to 21 major military installations, each near coastal areas.
The US National Weather Service has advised that Hurricane Irma "will bring life-threatening wind impacts to much of Florida" and there is "imminent danger of life threatening storm surge flooding along much of the Florida west coast" along with "catastrophic storm surge flooding".
Here are the Key Messages for #Irma advisory 46. pic.twitter.com/UbkLU4AUPm

— NHC Atlantic Ops (@NHC_Atlantic) September 10, 2017
Most of Florida remains under a hurricane warning that affects at least 36 million people, while Georgia Gov. Nathan Deal has expanded its state of emergency to include all 159 Georgia counties. As of Sunday morning, more than 1.43 million electric customers across 24 counties were without power, according to Florida Power and Light. Yesterday, FP&L CEO Eric Silagy, said in a statement, "With a storm of this magnitude, there will be widespread destruction throughout our service territory, and most of it will be in the most densely populated areas of South Florida … This likely will be one of the most challenging restorations that our country has ever seen." FP&L also announced that it would be shutting down two nuclear power generating stations.
The US National Guard and US Coast Guard are in ongoing missions bringing much needed assets to the region to assist local operations.
PHOTOS: National Guard members continue to respond in the Caribbean and prepare for #HurricaneIrma in Florida: https://t.co/UZPRTQXFrc pic.twitter.com/HLIDME0VdI

— National Guard (@USNationalGuard) September 10, 2017
Your #USCG has pre-staged helicopters, boats, and people in AL, SC, & GA and coming from as far as Alaska to respond to #IRMA impacts. pic.twitter.com/yD2RwQyLvd

— USCGSoutheast (@USCGSoutheast) September 10, 2017
[Satellite Animation Sees Category 4 Hurricane Irma Approach South Florida, Sept. 8-10, 2017, NASA-NOAA GOES Project]
+++END
LIMA CHARLIE NEWS, NEW YORK BUREAU
(CNN, CNN MONEY, THE WEEK, WIRED AND BLOOMBERG CONTRIBUTED WITH INFORMATION TO THIS REPORT)
[Main image: Alfredo Lee / AP]
Lima Charlie provides global news, insight & analysis by military veterans and service members Worldwide.
For up-to-date news, please follow us on twitter at @LimaCharlieNews