President Trump's weekend twitter accusations that President Obama had his "wires tapped" in Trump Tower have dominated the news cycle, and politicians, legal professionals, cyber and intelligence experts and entertainers have rushed to weigh in.
Terrible! Just found out that Obama had my "wires tapped" in Trump Tower just before the victory. Nothing found. This is McCarthyism!

— Donald J. Trump (@realDonaldTrump) March 4, 2017
In a series of Saturday morning tweets, the president expressed his outrage at the Obama administration, and his contempt for the current host of Celebrity Apprentice.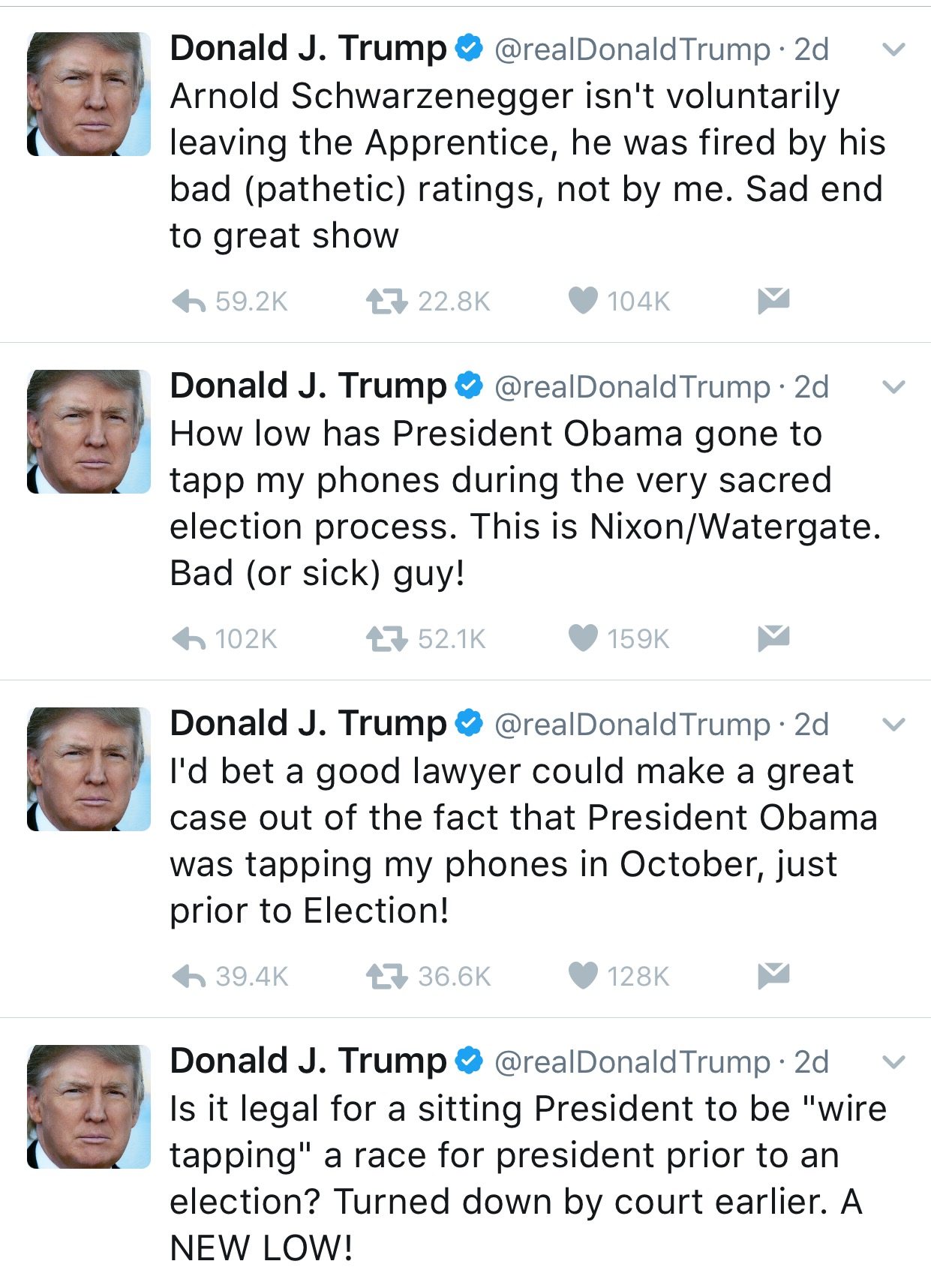 Arnold Schwarzenegger was quick to tweet back.
You should think about hiring a new joke writer and a fact checker. https://t.co/SvAjuPdHfa

— Arnold (@Schwarzenegger) March 4, 2017
What began as a conspiracy theory put forth by right-wing radio host Mark Levin, fanned by Brietbart News, Rush Limbaugh and Sean Hannity, now dubbed "DeepStateGate" or "ObamaGate," has occupied the news and Twitter universe. President Trump has since produced no evidence to support any of his claims, nor has he produced any FISA warrant or order.
Levin has pressed his theory on Fox News and social media, dismissing skeptical news reports as "fake news" and insulting journalists who disagreed with him.
The intelligence community immediately weighed in with incredulity. James Clapper, former Director of National Intelligence, appeared on NBC's Meet the Press, and flatly denied the wiretapping accusation.
Sitting FBI director James Comey was "incredulous" after President Trump's allegation and requested that the Justice Department publicly reject the claims in order to maintain the credibility of the FBI.
President Obama's spokesperson restated the Obama administration's official policy on non interference with FBI investigations:
A cardinal rule of the Obama Administration was that no WH official ever interfered with any independent investigation led by the DOJ. pic.twitter.com/c5QD50nXac

— Kevin Lewis (@KLewis44) March 4, 2017
Members of Congress also responded to the accusations. Senators Lindsey Graham, John McCain and Rep. Adam Schiff (D)(Intelligence Committee) were quick to demand evidence of the alleged wiretap.
"I'm very worried…"

Sen. Lindsey Graham speaks on Trump accusing Obama of illegal wiretapping pic.twitter.com/tP05KgXfke

— BuzzFeed News (@BuzzFeedNews) March 4, 2017
An attack on one political party should be considered an attack on all. We must push back on Russian election interference at home & abroad.

— Lindsey Graham (@LindseyGrahamSC) March 7, 2017
.@POTUS made serious wiretapping allegation against @BarackObama and urged House Intel to investigate.

We accept. Americans deserve truth. pic.twitter.com/5NiO8mT6OF

— Adam Schiff (@RepAdamSchiff) March 8, 2017
On Sunday, President Trump had requested that Congressional committees investigate whether the Obama administration abused investigative powers. By Wednesday, Senators Lindsey Graham and Sheldon Whitehouse wrote to James Comey and Acting Deputy AG Dana Boente requesting "copies of any warrant applications and court orders" related to the alleged wiretaps.  The letter added, "We would be equally alarmed to learn that a court found enough evidence of criminal activity or contact with a foreign power to legally authorize a wiretap of President Trump, the Trump Campaign, or Trump Tower".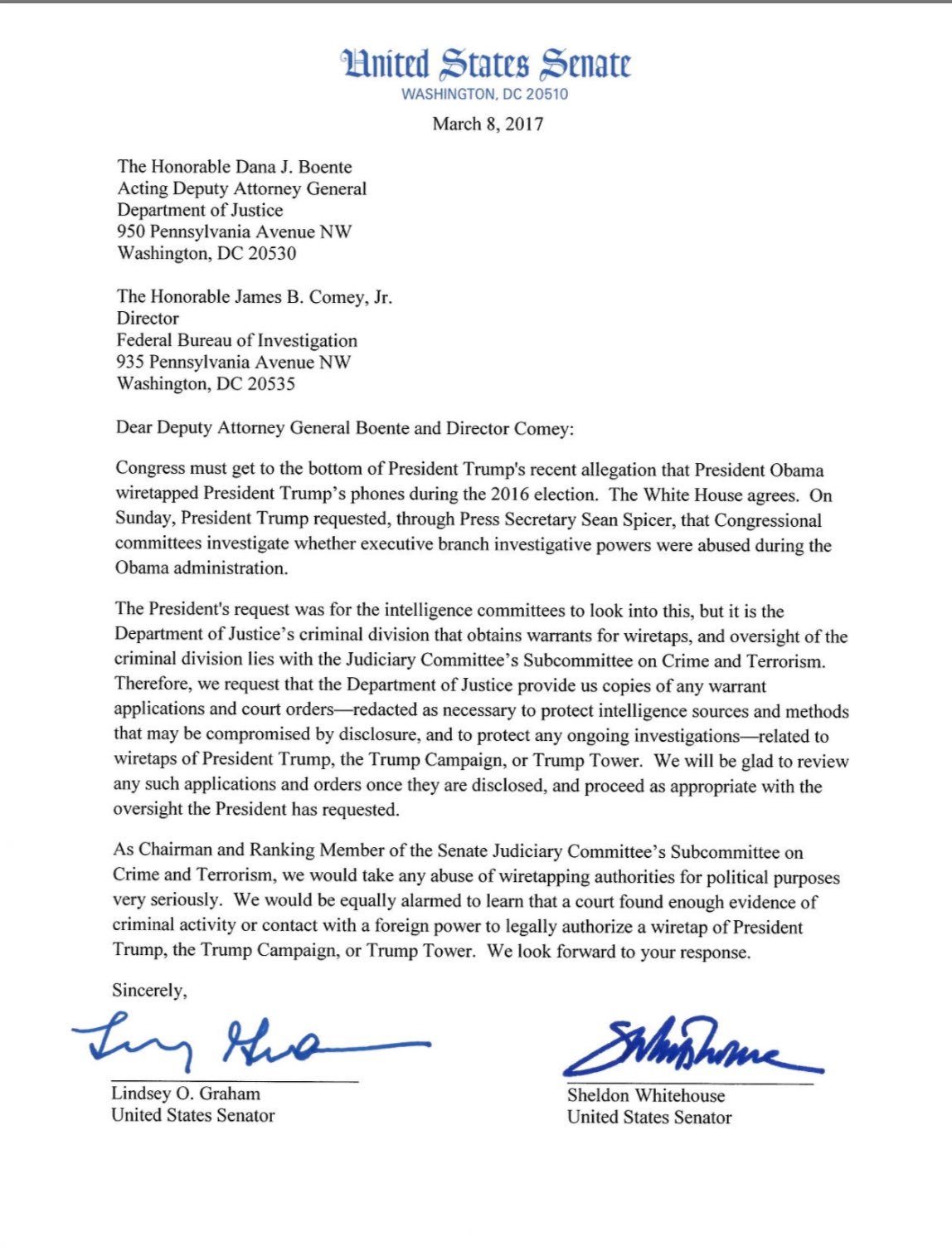 Like any good intelligence op. Russian[s] know how to deceive on all levels. Another FSB/@wikileaks release to save Trump. Almost laughable.

– Malcolm Nance
In the midst of the controversy, as if on cue, Wikileaks announced another document dump. On Tuesday, the controversial organization released a "trove" of alleged C.I.A. hacking methods used to break into smartphones, computers and Internet connected televisions, dubbed "Vault 7 Part 1 'Year Zero': Inside the CIA's global hacking force." It appears, however, that none of the documents have any relevance to the President's allegations of an Obama wire tap, or any examples of how these CIA methods have been used against actual foreign (or domestic) targets.
Intelligence experts were quick to question whether the Wikileaks dump was merely a classic diversion from the real issues surrounding the Trump campaign of Russian influence on Election 2016.
Malcolm Nance, US Navy veteran, intelligence expert and author of "The Plot to Hack America: How Putin's Cyberspies and WikiLeaks Tried to Steal the 2016 Election," tweeted, "Like any good intelligence op. Russian[s] know how to deceive on all levels. Another FSB/@wikileaks release to save Trump. Almost laughable."
Like any good intelligence op. Russian know how to deceive on all levels. Another FSB/@wikileaks release to save Trump. Almost laughable https://t.co/oWNAjgfVV0

— Malcolm Nance (@MalcolmNance) March 8, 2017
In context of new revelations the "Russian hackers" scandal looks like a diversion called to hide huge global hacking operations by the U.S.

— Алексей Пушков (@Alexey_Pushkov) March 7, 2017
In January, the CIA, NSA and FBI all assessed with "high confidence" that Russian intelligence was behind the anonymous hackers Guccifer 2.0 and DCLeaks.com, which had stolen personal and sensitive information from the DNC and passed it on to WikiLeaks.
Lima Charlie News Cyber & Homeland Security expert, Capt. Gail Harris, commented, "We know that Russian intelligence utilized Wikileaks as a platform against the Clinton campaign … if the timing of this recent Wikileaks release is highly suspicious, then it is a possible diversion from the current investigation into a Trump-Russia connection."
In an interview with Chuck Todd on Meet the Press, Senate Minority Leader Chuck Schumer (D-NY), voiced the opinion that President Trump is merely "trying to divert things here," and called for a special prosecutor to investigate ties to Russia.
President Trump's close relations with Russia span at least 30 years, detailed in a timeline published recently by Steven Harper at BillMoyers.com. Despite significant evidence tying the Trump campaign and associates to Russian influence, there is still no evidence of Trump's wiretapping claim.
In the meantime, while White House correspondents gaze hypnotically at an ever moving laser point dot, Twitter feeds and the late night circuit are having a field day.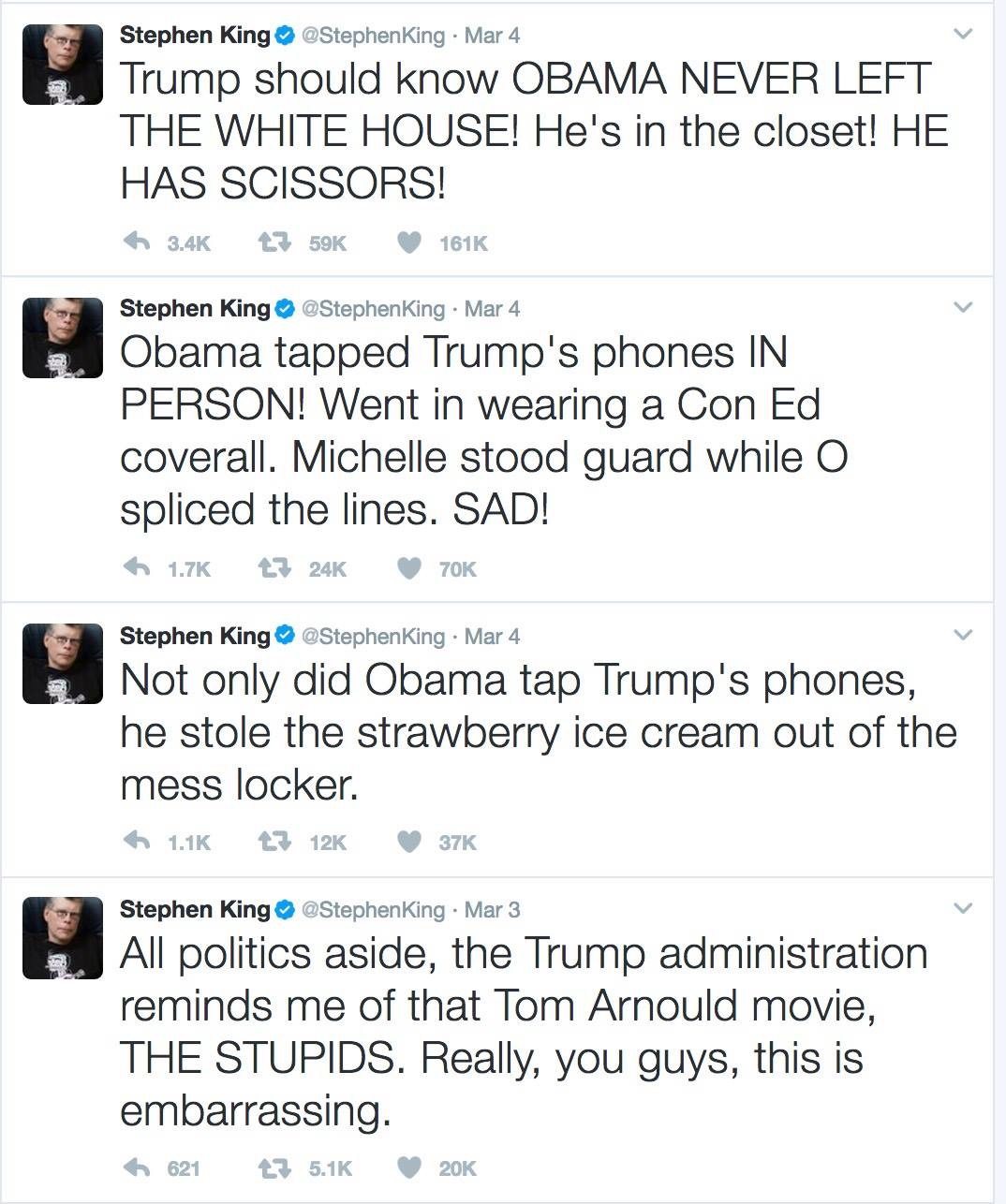 http://https://vimeo.com/207365233
LIMA CHARLIE NEWS, with Anthony A. LoPresti
For up-to-date news, please follow us on twitter at @LimaCharlieNews