Phoenix, Arizona [LC]
President Trump addressed a crowd of supporters last night during a 77 minute speech described by Fox News as, "A defiant President Trump rallied with his base for more than an hour Tuesday in Arizona, trashing the media over its coverage of his response to the recent violence in Charlottesville, Va., while criticizing the state's Republican senators for not getting behind him."
The President spent about the first half of his speech attacking the media and defending his response after Charlottesville. Trump quickly began by criticizing the press stating, "the very dishonest media, those people right up there with all the cameras … and I mean truly dishonest people in the media and the fake media, they make up stories." Trump continued, "they don't report the facts … just like they don't want to report that I spoke out forcefully against hatred, bigotry and violence and strongly condemned the neo-Nazis, the White Supremacists, and the KKK."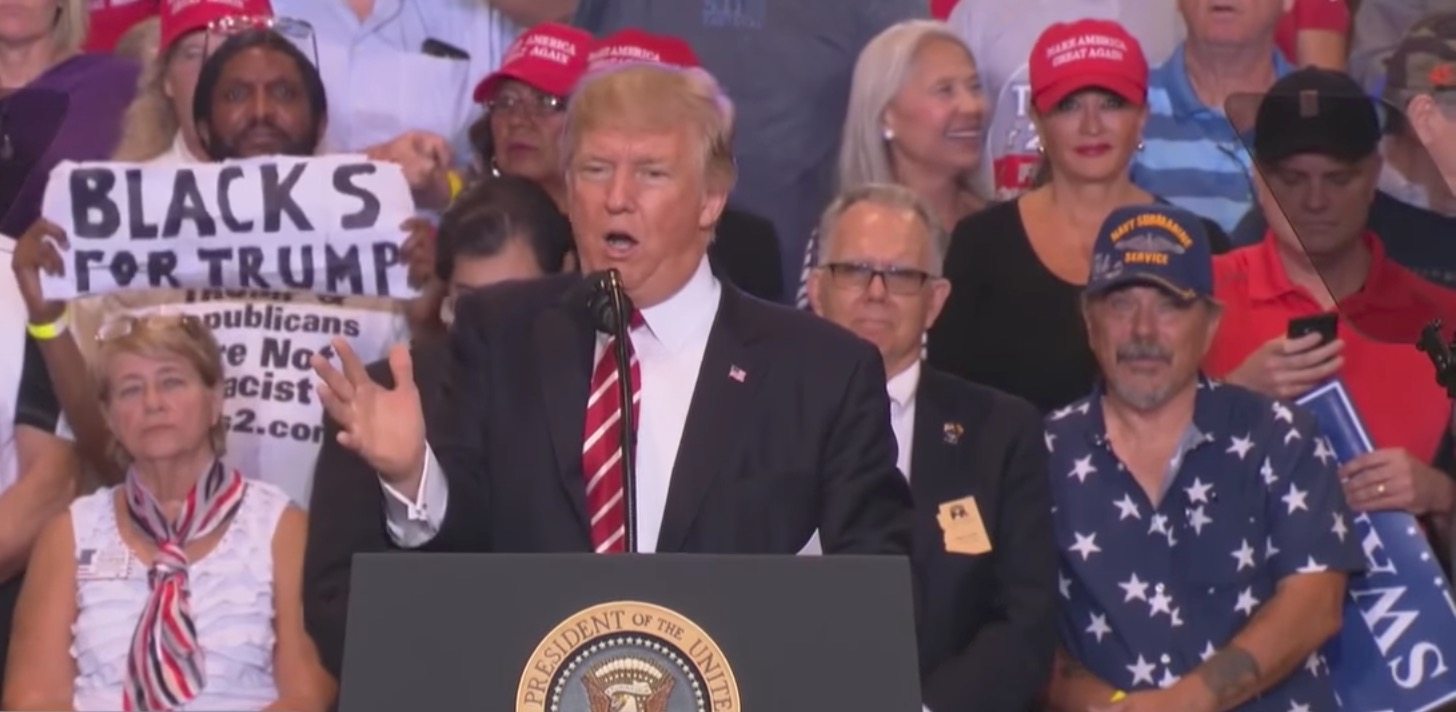 In defending his response, Trump omitted any reference to his comments that "many sides" or "both sides" were responsible, and that there were "very fine people on both sides".
Trump also raised the issue of the removal of Civil War statues and blamed the media for "trying to take away our history and our heritage". He repeatedly mocked the media present at the rally claiming that cameras shooting the event, particularly CNN, were "turning those red lights off fast". CNN aired the entire rally live without interruption.
Without mentioning them by name, Trump also attacked Arizona's two Republican senators, Jeff Flake and John McCain. Trump vowed to follow through on his promise to crack down on illegal immigration amid chants of "build that wall!" and he said he will "probably terminate NAFTA".
Trump stated he is not giving up on repealing ObamaCare and he criticized former President Barack Obama for not specifically referring to "radical islamic terrorism" during his term in the White House. Regarding the 17 year war in Afghanistan, Trump promised an "honorable and enduring outcome in a very tough place," while he expressed belief that North Korea's Kim Jong Un is "starting to respect us" and that "maybe something positive can come about."
Phoenix crowd last night was amazing – a packed house. I love the Great State of Arizona. Not a fan of Jeff Flake, weak on crime & border!

— Donald J. Trump (@realDonaldTrump) August 23, 2017
Trump faced significant criticism in the media following the rally. At the conclusion of his speech, CNN's Don Lemon called President Trump "unhinged" and stated that his speech was a "total eclipse of the facts."
"What we have witnessed was a total eclipse of the facts," CNN's Don Lemon says after Trump's rally in Phoenix https://t.co/KxdoNGxO2v

— CNN Politics (@CNNPolitics) August 23, 2017
James Clapper, former director of national intelligence, said he questions President Trump's fitness for office and that his speech was "downright scary and disturbing."
James Clapper, former director of national intelligence, says he questions President Trump's fitness for office https://t.co/IRRXg7paZM

— CNN (@CNN) August 23, 2017
Outside the rally, counter demonstrators held protests that escalated into a confrontation with the police later in the evening.
my view of when things rly started getting bad. thank God we thought of going up to the parking strucure just mins before #PhoenixProtests pic.twitter.com/HlktKYzpfb

— alejandra ☕ (@alejandrasofia_) August 23, 2017
Police just fired teargas canisters on the north side of the Phoenix convention center pic.twitter.com/3L9Bzcj6bE

— Bob Ortega (@Bob_Ortega) August 23, 2017
Following is video of the speech, courtesy of PBS News Hour, and a full transcript.
Transcript from the rally: [from 25:50]
TRUMP: What a crowd.
(APPLA– USE)
TRUMP: And just so you know from the Secret Service, there aren't too many people outside protesting, OK. That I can tell you.
(APPLA– USE)
A lot of people in here, a lot of people pouring right now. They can get them in. Whatever you can do, fire marshals, we'll appreciate it.
TRUMP: And I want to thank our great vice president, Mike Pence, for the introduction.
(APPLA– USE)
As well as my friend Dr. Ben Carson.
(APPLA– USE)
And thank you to a very, very special man, Franklin Graham, Reverend Franklin Graham, for leading us in prayer.
(APPLA– USE)
And thank you too Alveda King, the niece of the great Dr. Martin Luther King.
(APPLA– USE)
It really shows you that America is indeed a nation of faith, we know that.
(APPLA– USE)
Well, I'm thrilled to be back in Phoenix, in the great state of Arizona.
(APPLA– USE)
With so many thousands of hard-working American patriots.
You know I'd love it if the cameras could show this crowd, because it is rather incredible. It is incredible.
(APPLA– USE)
It is incredible.
As everybody here remembers, this was the scene of my first rally speech, right?
The crowds were so big, almost as big as tonight, that the people said right at the beginning, you know, there's something special happening here. And we went to center stage almost from day one in the debates. We love those debates.
(APPLA– USE)
But we went to center stage and we never left, right? All of us, we did it together.
You were there at the start. You've been there every single day since, and I will never forget. Believe me, Arizona, I will never forget.
(APPLA– USE)
And I'm here tonight to send a message: We are fully and totally committed to fighting for our agenda, and we will not stop until the job is done.
(APPLA– USE)
This evening, joined together with friends, we reaffirm our shared customs, traditions and values. We love our country. We celebrate our troops. We embrace our freedom. We respect our flag. We are proud of our history. We cherish our Constitution, including, by the way, the Second Amendment.
CROWD: USA! USA! USA!
TRUMP: We fully protect religious liberty. We believe in law and order. And we support the incredible men and of law enforcement.
(APPLA– USE)
And we pledge our allegiance to one nation under God.
(APPLA– USE)
You always understood what Washington, D.C. did not. Our movement is a movement built on love. It's love for fellow citizens. It's love for struggling Americans who've been left behind, and love for every American child who deserves a chance to have all of their dreams come true.