Listen in on The Horse Race podcast, Episode 08: Special Edition, with veteran advocate Kristofer Goldsmith.
|The Horse Race podcast (sans Brendan McKinnon & Dan Webb), returns for a Special Edition follow up to Sr. Political Correspondent Michael Connolly's coverage of the push behind the Fairness for Veterans Act of 2016 (HR.4683). The FVA (#Fairness4Vets) would ease reclassification of discharges for veterans suffering from conditions such as PTSD, Traumatic Brain Injury, or Military Sexual Trauma.
In this episode 08, Connolly interviews US Army veteran and veteran advocate Kristopher Goldsmith, the impetus behind the FVA. Goldsmith, a decorated combat veteran, who served with the Army's Third Infantry Division in Iraq in 2005 as a Forward Observer, is also the Founder & Chair of High Ground Veterans Advocacy (@HighGroundVets), a non-profit organization that seeks "to empower service members and veterans to become advocates and leaders in Washington D.C., their home states, and local communities." A Truman National Security Project Fellow, Goldsmith is also Assistant Director for Policy at Vietnam Veterans of America.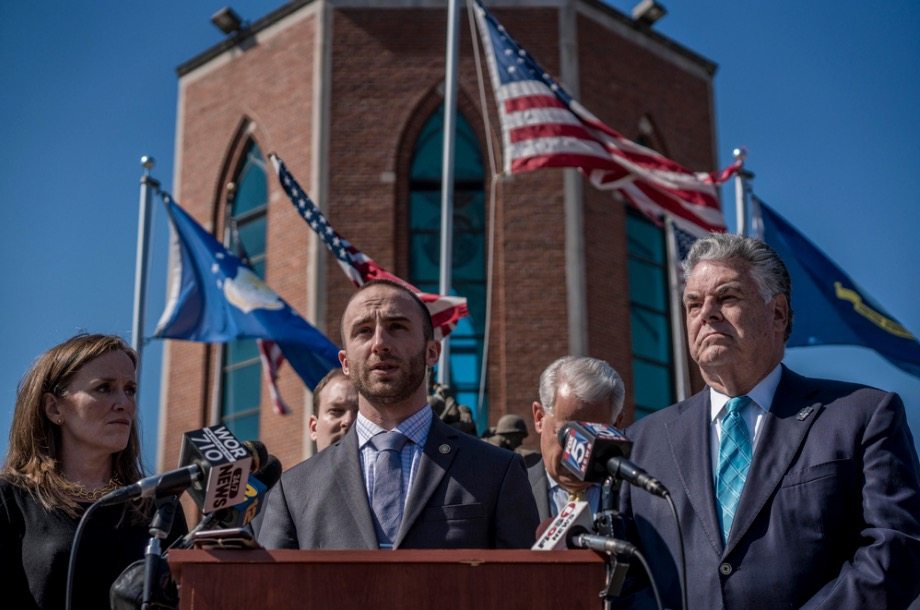 In addition to listening to Goldsmith's compelling interview, his inspiring story can be found here:
U.S. Veterans Push for Legislation to Correct 'Bad Paper' Discharge Effects
Stream the podcast below, or download for offline enjoyment. The Horse Race is also available on iTunes.
[soundcloud url="https://api.soundcloud.com/tracks/286416198″ params="auto_play=false&hide_related=false&show_comments=true&show_user=true&show_reposts=false&visual=true" width="100%" height="450″ iframe="true" /]
Please stay tuned for more podcasts from our Lima Charlie news team.
Lima Charlie provides global news, insight & analysis by military veterans and service members Worldwide.
For up-to-date news, please follow us on twitter at @LimaCharlieNews and follow The Horse Race at @HorseRaceLC.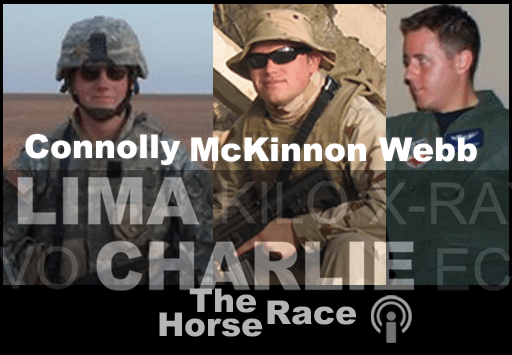 Michael D. Connolly, Senior Political Correspondent, Lima Charlie News
Michael Connolly is a former Army Staff Sergeant who served in the Infantry, completing two combat tours to Iraq. He currently serves as the Director of Military and Veterans Affairs for the Smith School of Business at the University of Maryland-College Park. Michael is a member of the Truman National Security Project Defense Council. He graduated with an M.S. in Political Science from the University of Nebraska at Omaha. Follow Michael on Twitter: @MConnollyLC
Brendan McKinnon, National Political Correspondent, Lima Charlie News
Brendan McKinnon is a Juris Doctor candidate at Boston College Law School. He previously served for ten years in the U.S. Coast Guard, including three afloat tours and one deployment in support of Operation Iraqi Freedom. Brendan earned a BS in Government from the U.S. Coast Guard Academy and an MPS in Strategic Public Relations from George Washington University. He interned on the Capitol Hill staff of a Congressman while a Cadet at the Coast Guard Academy, has field and operations experience on additional Congressional campaigns, is a member of the Truman National Security Project Defense Council and a Mentor with Veterans in Global Leadership. Follow Brendan on Twitter: @BMcKinnonLC
Dan Webb, Political Correspondent, Lima Charlie News
Dan Webb is a former U.S. Air Force Airborne Systems Engineer on the RC-135 Rivet Joint aircraft. He completed three deployments to Southwest Asia in support of Operation Enduring Freedom and Operation Iraqi Freedom totaling over 1200 combat flight hours. He currently works as a software engineer for an Omaha based marketing agency. Previously he worked for the Office of Military and Veteran Services at the University of Nebraska Omaha where, as a student, he received his B.S. in Political Science with a minor in Economics. Additionally, as a student he completed internships for Nebraska Senator Deb Fischer and NE-2 Congressman Lee Terry. He also worked on current NE-2 Congressman Brad Ashford's 2013 independent campaign for Mayor of Omaha, Ne. Dan's interests include domestic economic policy, veteran's issues, and national security. Follow Dan on Twitter | @DanWebbLC